Friday October 12, 2018
Together, we HOPE
While October is oft-celebrated with candy and creepy crawlies, don't forget to take time and reflect on this month's message of hope. Find out more below with Pharmacist Matt Baker's discussion of Breast Cancer Awareness.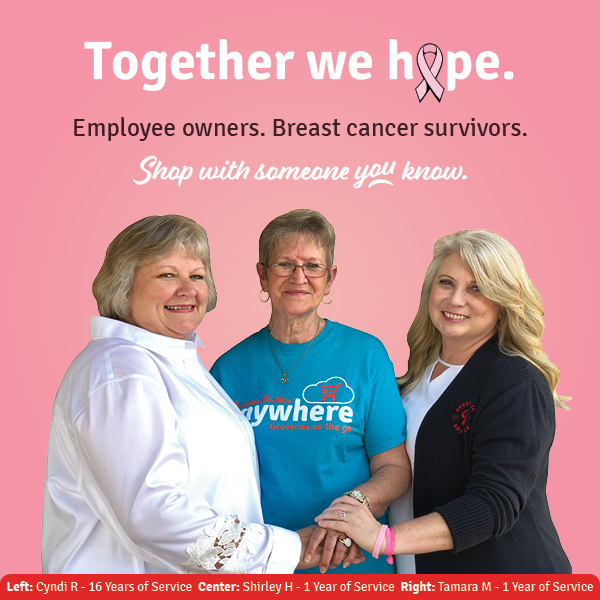 October has always been that charming time of year where your otherwise normal neighbors erect an 18-foot blow-up witch and fake tombstones across their yard. Large spiders adorn the hedges while the fake webs from whence they crept waft eerily in the breeze. Whatever in the world possesses such people to flaunt all their haunts, I will never know.
PS - Don't miss these Wicked Good Snacks from Catering Coordinator Kate Rudasill (perfect for Halloween!)
Thankfully, October means more than just a month of ghosts and ghouls these days. Halloween no longer defines October (blow-up scary things notwithstanding); instead, the month boasts something far more altruistic—Breast Cancer Awareness.
The rampant colors of candy corn now compete with pink ribbons pinned everywhere as a reminder to celebrate those who have survived the awful disease and to remember those who did not. Pink also serves as a signpost of the seriousness of this diagnosis and the benefits of screening and early detection.
As it stands, 1 in 8 women across the U.S. will be diagnosed with some type of invasive breast cancer in their lifetime. That's 12.4% of our mothers, wives, sisters, and daughters.  And while mortality rates have been declining since 1989, almost 41,000 women are expected to die in 2018—a figure more frightening than any front-yard Frankenstein.
Read more: Find out Pharmacist Kelly Kinney's four suggestions on how to "Fight Like A Girl" when it comes to breast cancer awareness
There's good news though: women under age 50 have experienced an even larger decline in death rates due to advances in treatment and October's message of awareness. While society is moving in the right direction, this small step is no reason to rest on our laurels; breast cancer is still dangerous and awareness remains a key weapon in the battle against this disease.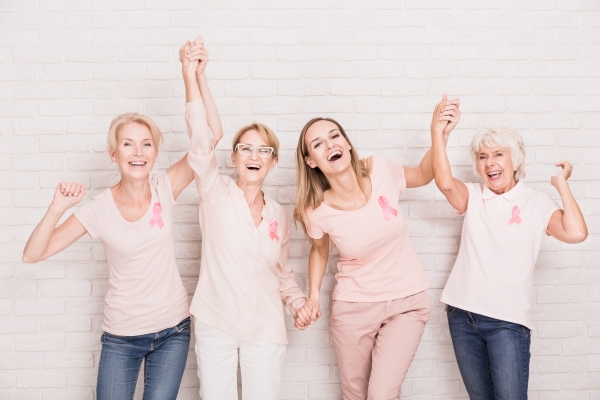 As such, it is important to remember a few important points about breast cancer in order to fight it more effectively:
A woman's risk of breast cancer doubles if she has a first-degree relative (mother, sister, or daughter) who has/had the disease; however, 85% of breast cancers develop in women with no family history.
Mutations of the BRCA1 and BRCA2 genes result in a significantly higher lifetime risk of developing breast cancer.
In women under age 45, African-American women are more likely to be diagnosed with breast cancer. Among women of all ages, African-American women are more likely to die from breast cancer.
All women should begin having mammograms at age 45 and can decrease to every other year at age 55.  Women who wish to start screening early can do so beginning at age 40.
An astounding 2,550 cases of breast cancer will be diagnosed in men in 2018. A man has about a 1 in 1,000 chance of developing breast cancer over his life.
Next time you see pink ribbons or pink socks (or even pink gloves on an NFL wide receiver), be hopeful.  As awareness increases among the population, we can hope for more frequent screenings, more early detection, and more survivors of this dreadful disease.
---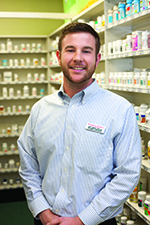 Matt Baker is a pharmacist with Brookshire Brothers Pharmacy in Lufkin.  He received his undergraduate degree from Texas A&M University in 2005 and his Doctor of Pharmacy from the University of Houston in 2010.  He writes a monthly pharmacy and wellness article for the Lufkin Daily News and is active in the community.  Matt's passion is serving his patients while ensuring that they are equipped to understand and take their medications properly. 
Wednesday October 21, 2015
Selfies & Sutter Home Deliver Hope
Get involved with Sutter Home's campaign for hope by sharing a Sutter Home wine selfie using the #sutterhomeforhope. For every selfie received, Sutter Home will donate $1 to National Breast Cancer Foundation, up to $50,000. Everyone at Sutter Home are as committed as you are to showing support toward finding a cure in the fight against breast cancer, which is why the Sutter Home for Hope initiative began in 2001. Thanks to you, Sutter Home has been able to contribute over $900,000 to National Breast Cancer Foundation. The goal for this year is $1,000,000! 
To continue the efforts this year, we are asking you to share how much you care by posting your Sutter Home wine selfie through Twitter, Instagram or Facebook. Just remember to tag it #sutterhomeforhope and make your posts public so Sutter Home can capture them.
By partnering with National Breast Cancer Foundation, the Sutter Home goal is to provide women with early detection, education and support service, while inspiring hope.
#SutterHomeForHope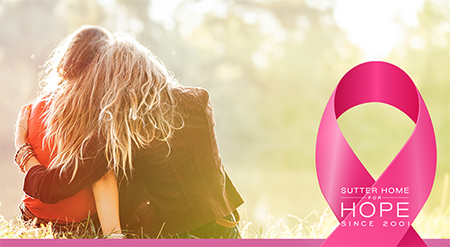 Monday September 28, 2015
Fight Like A Girl: Breast Cancer Awareness
Is there a party somewhere? Everywhere we look, we can spot silky pink fabric twisted into elegant ribbons.
Although these ribbons are beautiful and festive, most people know that the disease they represent is anything but a party.
October is breast cancer awareness month, and the statistics may seem boring…but cancer is the second leading cause of death in the United States. And of that, breast cancer is the second most common kind of cancer.
Although 1 in 8 women will be diagnosed with breast cancer, men are at risk too. With all diseases, our best chance at surviving is early detection. Follow these early detection tips:
1)     Self-examination: Many physician visits originate from the discovery of a lump or oddity. Take the time to listen to your body and recognize any abnormalities by performing monthly self-examinations.
2)     Mammogram: For those women who have low or average risks, the mammogram is the most common procedure for early detection. The American Cancer Society recommends one every year starting at age 40 and continuing as long as the individual is in good health. 
3)     MRI: In certain cases, the self-exam and the mammogram may both miss the detection. If you are at a higher risk, ask your doctor for an MRI which will more accurately show the involved area.
4)     History: One of the most important considerations is family history. In those families who have a history of breast cancer, testing for mutated genes may be appropriate. Talk closely with your physician and make him/her aware of your risks.
Unfortunately, this disease does not discriminate or only affect patients with a higher risk. As October unfolds, encourage your grandmother, mom, sister, friend, daughter and any other woman in your life to schedule a mammogram.
Annual mammograms are our first line of defense against this life-robbing cancer. Let's make a commitment to follow the suggestions of the experts and get ourselves healthy, and when we prevent this disaster from affecting even one life, we can consider those pretty pink ribbons a reason for a party after all.  
Kelly Kinney, RPh
Brookshire Brothers Pharmacy – Rusk, TX
Tuesday September 22, 2015
Nature's Health Food - Apples
A staple on everyone's shopping list becomes the catalyst for welcoming fall into our lives! Add the smell of apples in your house as you bring out all your fall decor.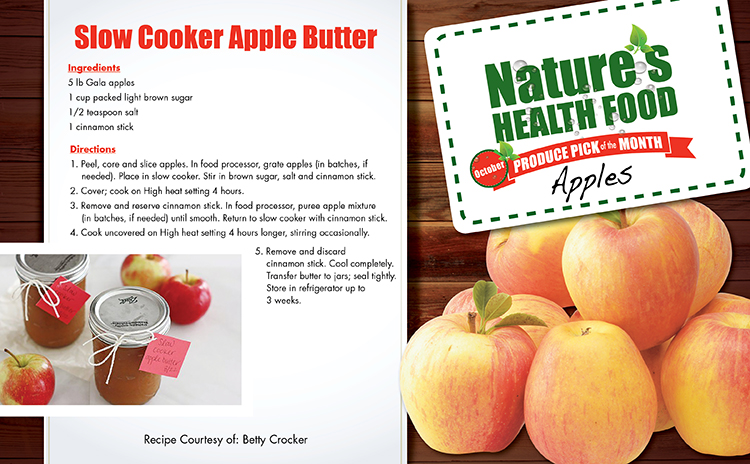 To download PDF, click here