Tuesday March 6, 2018
Spring Cleaning: How to Dispose of Your Medicines
Last summer I decided that instead of paying someone a reasonable amount of money and waiting ten minutes in the air conditioning for the oil in my truck to be changed, I would do it myself.  Frugality—hmmmpf!
So I purchased the necessary supplies, realized I bought the wrong filter wrench and not enough oil and headed back to the auto store.  Finally half a day later and after spending $20 more than what I planned, I was all set—except for a gigantic basin full of used motor oil that can't just be thrown in the trash (according to Google).
Apparently there are very specific ways to dispose of used oil making my DIY attempt even more annoying. So I called the auto store this time and asked a question similar to one that I hear from folks at the
pharmacy
all the time.
"How do I get rid of all the unused and expired drugs in my medicine cabinet?"
Like motor oil, there are certain procedures that should be followed when discarding old medications to ensure safe disposal.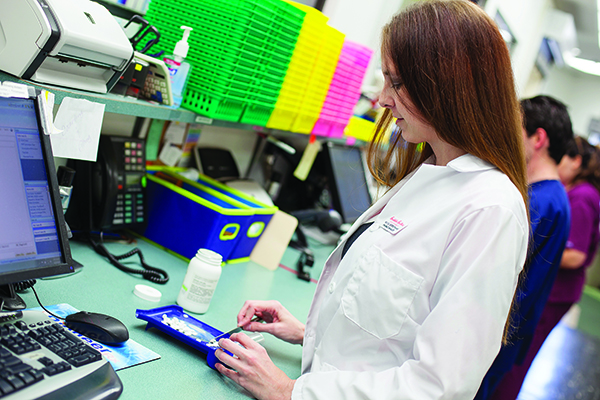 FDA'S GENERAL RECOMMENDATION
The general recommendation from the FDA for disposing of old or unused medications at home is to mix the tablets or capsules with coffee grounds, cat litter or something otherwise undesirable in a sealable bag and discard in the trash. This process makes the pills unattractive to naïve children or pets and unrecognizable to someone rummaging through the garbage in search of medications.
CAN I FLUSH IT?
While it is mostly true that you should never flush medications down the toilet or sink, there are some drugs that require this method due to their inherent danger. Fentanyl is a drug that is up to 100 times more potent than morphine. Fentanyl patches, used in opioid-tolerant chronic pain, are worn for 3 days at a time, but even after 72 hours there is still some drug left in the patch.  If a child or pet were to retrieve a fentanyl patch from the garbage, the results could be fatal. While fentanyl is one of the more common medications that should be disposed of via flushing—in addition to hydromorphone, oxycodone, and morphine-containing products—a full list is available on the FDA website.
CAN I GIVE IT AWAY?
Never give unused medication to a family member or friend.  Just because your prescription was safe for you when prescribed does not mean it will be safe for someone else.
WHAT ABOUT "TAKE BACK" DAYS?
Another great option for disposal is the DEA's National Prescription Drug Take Back Day.  These events are held twice a year in April and October at local law enforcement agencies, fire departments, etc.  For questions about the next take back day and a nearby collection site, visit
www.dea.gov
or call 800-822-9539.
WHAT ABOUT THE LABEL?
Don't forget to conceal personal information on empty pill bottle labels before throwing them away. Protect your health information by removing the label entirely and shredding it, or by scratching out your name and
prescription
number.
If you are still in doubt about how to get rid of old medications, ask
your Brookshire Brothers pharmacist
!  We will help you figure out a solution that won't leave you with seven quarts of used oil in your garage—so to speak.
---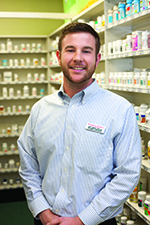 Matt Baker is a pharmacist with Brookshire Brothers Pharmacy in Lufkin.  He received his undergraduate degree from Texas A&M University in 2005 and his Doctor of Pharmacy from the University of Houston in 2010.  He writes a monthly pharmacy and wellness article for the Lufkin Daily News and is active in the community.  Matt's passion is serving his patients while ensuring that they are equipped to understand and take their medications properly. 
Tuesday January 2, 2018
Recommended Winter Remedies
Top 10 Items for Your Medicine Cabinet this Cold & Flu Season
When the common cold and the associated runny nose, congestion, and cough attacks, the best medicine is usually rest, hot chicken noodle soup, and a favorite movie. The last thing anyone wants to do while under the weather is slog up and down aisles of medicines looking for relief.
Take the opportunity now to stock your medicine cabinet with some valuable over-the-counter products that will ease your suffering from typical cold and flu symptoms. It's always a good idea to talk with your doctor or pharmacist before treating yourself just to rule out a more serious bacterial infection that may require antibiotics. Most cases of sore throat, cough, and congestion are viral though and can be treated safely over the counter. Here are my Top 10 items for beating the cold this season:
Antihistamine plus Pseudoephedrine.  There are a multitude of brands—Zyrtec-D, Claritin-D, Allegra-D, and their respective generics—that can help reduce nasal congestion, runny nose, and drainage. If you have high blood pressure or a heart condition, check with your doctor or pharmacist before taking these.  They are kept behind the counter at a pharmacy so be prepared to show a driver's license or state identification before you purchase.
Nasal steroid spray. When Nasacort and Flonase (both formerly presciption-only) moved to being offered over the counter, the options for people seeking relief from nasal allergies and congestion expanded greatly. Use two sprays in each nostril once per day for at least two weeks. These sprays are a great option for individuals who cannot tolerate or take decongestants due to other health conditions.
Cepacol Sore Throat Lozenges. These cough drops are no ordinary cough drops! They contain benzocaine which actually numbs the throat providing relief from irritation and soreness.
Mucinex. The active ingredient in Mucinex is guaifenesin, an expectorant that helps the body clear mucus trapped in the lungs. Take guaifenesin to help make your cough more productive and rid yourself of stubborn phlegm. 
Children's Dimetapp. With several different formulations, make sure you at least have the Cold & Allergy product containing an antihistamine and a decongestant. It's approved for use in kids older than six years and may cause a little drowsiness.
Breathe Right Nasal Strips. For a non-medication option to ease nasal congestion, these nasal strips fit over the bridge of the nose and increase airflow into the nasal passages. They are a great option for folks with chronic nasal congestion, but also work well for congestion related to the cold or flu.
Afrin Nasal Spray. Oxymetazoline, the active ingredient in Afrin, is a powerful nasal decongestant that relieves even the toughest sinus congestion. Its effects are noticeable in a matter of minutes and last for up to 12 hours. The problem with Afrin is that its use is limited to no more than 3 days due to rebound congestion that can occur. Use Afrin sparingly and for severe congestion only.
Saline Nasal Spray. Use to help moisten nasal passages when they become dried out due to decongestant use. Saline spray is non-medicated and can be used as much as needed.
Nyquil Severe Cold & Flu. Use at bedtime when your cold symptoms are preventing you from sleeping well. This product contains a decongestant, a sedating antihistamine, a cough suppressant, and acetaminophen (Tylenol) to cover all the bases for a good night's sleep.
Plenty of Tissues. You will likely still be blowing and wiping your nose long after the worst of your symptoms are gone. Stock up on tissues now both at home and at work. It's also not a bad idea to keep a couple of travel tissue packs in your car for yourself or a sniffling friend.
 

Find a nearby Brookshire Brothers Pharmacy

today to stock up your medicine cabinet and talk to a pharmacist about any other needs.
---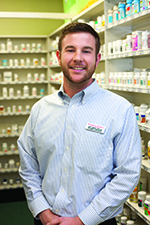 Matt Baker is a pharmacist with Brookshire Brothers Pharmacy in Lufkin.  He received his undergraduate degree from Texas A&M University in 2005 and his Doctor of Pharmacy from the University of Houston in 2010.  He writes a monthly pharmacy and wellness article for the Lufkin Daily News and is active in the community.  Matt's passion is serving his patients while ensuring that they are equipped to understand and take their medications properly. 
Thursday September 22, 2016
The Emerging Role of the Pharmacist
There is a certain chemical process that occurs somewhere deep in the brain of individuals that I meet casually at galas, museum openings, or at the Chick-fil-a where I really hang out.  The obligatory "How are you?" is uttered by myself and the other party summarily followed by the standard "So, what do you do for a living?"
"I am a pharmacist."
Now, no one has ever told me that I don't look like a pharmacist or that they are shocked I am not in the NBA, but it is at this point in the conversation where I usually get a semi-sideways head tilt followed by a slow nod and then, "Oh, ok!"  Once my conversational counterpart comes to terms with my occupation and my extreme good looks (not pharmacy related) I get an array of questions that generally follow a similar pattern.
"What can I take for this runny nose?"
"Why did my medicine go up in price?"
"My insurance won't pay for my blood pressure pills anymore.  What do I do?"
While I love to answer these important questions and others, a concern of mine underlies our back and forth.  Maybe pharmacists as a profession are doing a poor job of communicating what we do besides dispensing to the public.  Maybe we talk more amongst ourselves about our desire to be a healthcare resource for our patients than with our patients.
Ask any pharmacist, especially one who has been practicing for decades, the pharmacy game has changed dramatically.  Dispensing has always been the mainstay (and still is) of the profession, but in the last 10 or 15 years pharmacists have also taken on vaccination as a critical component of pharmacy practice.
With cough and cold and flu seasons in our near future, you will most likely visit a local pharmacy at some point over the next few months.  While you are waiting you will witness flu vaccines being administered right there at the pharmacy to well individuals (let me remind you here that the flu shot is the best way to avoid getting the flu and it will not make you sick!)
Pharmacists, though, are not limited to giving only flu vaccines.  We can also administer pneumonia, shingles, pertussis, tetanus, hepatitis, meningitis and a host of other vaccines all without a prescription.  Traveling abroad?  You may be advised to visit a pharmacy to receive the appropriate vaccines required by your destination country.  Pharmacists undergo continual training related to immunizations and are valuable resources when it comes to determining if you are eligible or not to receive a particular vaccine.
Medication therapy management is another initiative embraced by pharmacists nationwide.  Participating insurance plans pay for face-to-face and telephonic medication reviews where side effects, cost-savings opportunities, adherence problems, duplicate therapy, therapy omissions and more can be addressed before a trip to the doctor or hospital is needed.  In a day and age where healthcare costs are dominating much of our political conversation, this proactive approach is the future.
Of course, pharmacists are still available to help with practical things like helping you figure out your blood glucose meter, questions regarding compounded or specialty products and helping you select an over-the-counter product to fix what ails you.
Pharmacists are pharmacists because we love to help people.  If you don't already, imagine your pharmacist as part of your healthcare team.  We genuinely value your wellness and offer many services to keep you that way.  Get to know your pharmacist and you'll begin to experience their authentic desire to meet your healthcare needs.  See you at Chick-Fil-A.  
Matt Baker, PharmD
Brookshire Brothers Pharmacy – Lufkin, TX