Monday April 3, 2017
How to Brunch 101
Dinner parties may be in your wheelhouse, but can you transition into a 10am brunch? With the Easter season around the corner, we're here to teach you how to make your next brunch extra delightful!
Brunch Buffet
We love a good brunch because it's easy on the host, and who doesn't love good coffee cake? Most of the menu items can be prepared ahead, giving you ample opportunity to mingle and enjoy the party along with your guests.
A staple brunch recipe is some kind of egg bake, along with a breakfast meat and lots of cheese. Many casserole recipes can be interchanged for your preference of bacon or sausage. 
*Expert tip: A vegetarian dish is always a good backup idea!
Fresh Flowers
Nothing says "brunch" like a bouquet of Spring's best flowers. Pick up whatever blossoms look the prettiest at your local Brookshire Brothers and scatter informal bouquets throughout your home. 
*Expert tip: White ceramic pitches make charming vases!
Ribbons & Bows
Traditionally, brunches are a "women only" kind of gathering. The men usually stick to the football game on prime time TV, sitting on the sofa with a rack of ribs. With this in mind, don't skimp on the feminine touches. Wrapping your forks and spoons with a simple ribbon can give a bit of cheer and elegance to your brunch. 
*Expert tip: Your floral department can assist in making large bows!
Final Touches
We love seeing a host go the extra mile in creating the perfect scene for any occasion. To really set the stage for a perfect spring-theme brunch, try your hand at creating the perfect adornment for your guests' glasses below.
Easy Candied Mandarins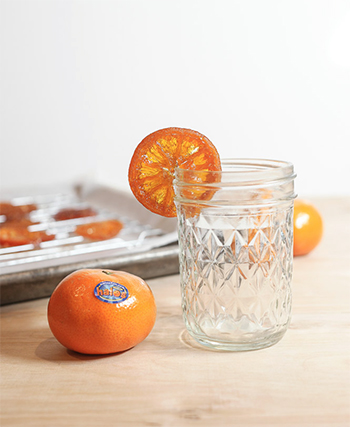 Recipe courtesy of Halos Mandarins
Ingredients
1/3 cup honey
1 cup water
5 Halos mandarins
Directions
1. In a wide-base pan, mix honey with water and heat over low until combined completely.
2. Slice mandarins as thin and uniform as possible, discarding the end pieces. Gently add them to the honey-water, and add a small amount of additional water if necessary to keep the mandarins completely submerged.
3. Cover and heat on low for 45 minutes to an hour, checking it occasionally to ensure that the mandarin slices don't burn.
4. Turn the heat up to a low-medium and keep covered for another half hour, checking frequently. Remove from the stovetop as soon as they start to bubble. The honey will have formed a caramel-colored syrup that hardens as it dries.
5. Remove the mandarin slices onto a slotted stainless steel baking rack or broiler rack placed on top of parchment paper on a baking sheet. Cook in a 250-degree preheated oven for thirty minutes. Turn them over and cook for another thirty minutes. Let cool completely.
Expert tip: If they're still slightly tacky, you can dust with coconut sugar to help make them easier to handle!
Tuesday January 26, 2016
A Sweet, Natural Valentine's Day
Looking for ways to have a more natural Valentine's Day? There are a ton of fun options when you think outside of the candy box!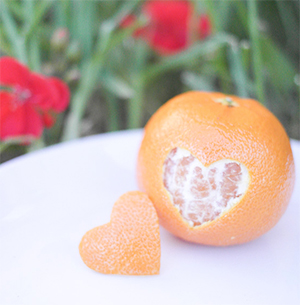 Use a small paring knife to cut this heart shape out of a mandarin and leave it for your sweetie. You can also stick melon balls on popsicle sticks and stand them upright in a jar of rice for a wacky lollipop display! Shape strawberries into hearts or cut fruit leather strips into cute designs. You can even naturally dye popcorn for cool popcorn balls to give to friends.
Non-candy gifts can be thoughtful as well, and minimize the risk for people with allergies. It doesn't have to be anything major. A sentimental sticker makes a nice trinket for kids to swap with their friends. You could even forego gift-giving altogether and do an activity with friends and family to remind each other of the meaning of love. Try Valentine's-themed games or make natural Valentine's Day crafts together. Focusing on the spirit behind the holiday is far more special than sugary treats.