Sunday March 10, 2019
Real Fresh, Real Delicious: Crawfish Boil
17 Pro Tips, Creative Fixins, Nutritional Fun Facts & More
Crawfish season is here! I love that a crawfish boil brings people together in an old-fashioned "food ritual" where everyone participates in the cooking before joining together to eat. The community part of it is almost as much fun as the eating!
My husband is from south Louisiana, and he can work through a pile of crawfish in short order. PRO TIP: For veteran crawfish eaters, plan for 4-5 pounds of live crawfish per person. For crawfish-eating amateurs, estimated 2-3 pounds and have plenty of fixins for filling tummies. 
While eating crawfish is mostly about having fun, they're pretty nutritious too! DID YOU KNOW these little critters are rich in a variety of vitamins and minerals? Specifically, mudbugs provide B vitamins, folate, vitamin E, and other minerals such as selenium (an antioxidant mineral).
Getting creative with the "fixins" can be a wonderful way to make the meal more filling, delicious, colorful, and nutritious. The boiling liquid makes a tasty "stock" that can be used to flavorfully cook a variety of sides. Mesh bags are available for keeping veggies and other sides separated from the crawfish in the boil. Some pros use frozen corn to help cool the water down and allow the crawfish to cook gently.
Need some inspiration for the fixins? Try some of these options for a fun and festive crawfish feast. Just remember to add sturdier sides with potatoes at the beginning of the boil and add more delicate veggies later in the cooking process.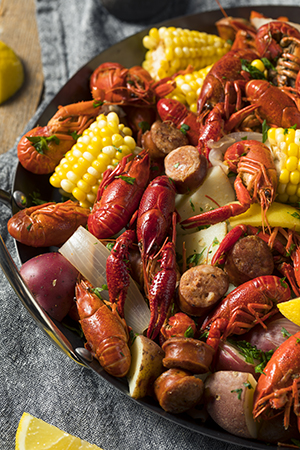 Sausage, especially smoked or andouille varieties
Potatoes
Garlic bulbs, cut in half
Corn on the cob
Onions, sliced in half
Celery
Lemons, cut in half
Asparagus
Mushrooms
Brussels sprouts
Cauliflower
Broccoli
Fresh green beans
Carrots
Let the good times roll! Or, as the Louisiana French migh say "Laissez les bons temps rouler!"
---
First crawfish boil? Here is everything you need to know!
Cooking crawfish is an art with many questions: How long do you boil crawfish? How much water do you need? How many pounds of crawfish do you need per person? We're here to help with this guide featuring the Nothing to Mix – Just Pour and Boil recipe from our vendor partner Louisiana Fish Fry. With just the right amount of the finest garlic, onion, paprika, and lemon, this powdered boil guarantees a perfect result every time.
Before you begin, keep your crawfish fresh in a cooler full of ice. When you're ready to start cooking, rinse them with fresh water.
DIRECTIONS
Fill a large pot with enough water to cover seafood. We recommend cooking (and eating) outside using a 19-quart stockpot with an interior basket; alternatively, you can cook smaller batches on the stovetop instead.
Add LA Fish Fry Crawfish, Shrimp & Crab Boil and any other fixins. Stir well and bring to a rolling boil.
Add crawfish. Return to a rolling boil, and boil for 5 minutes.
Turn fire or stove off and let the crawfish soak for 15-25 minutes. NOTE: The longer seafood soaks, the spicier it will be.
Serve drained crawfish & fixins over a large table covered in newspapers. Keep paper towels handy and use an extra plate or bucket to dispose of the shells.
---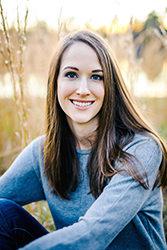 Angela Larson is a registered dietitian (RD) who works with Brookshire Brothers promoting real fresh, real delicious foods and nutrition education to the community. She is also a clinical dietitian representing Woodland Heights Medical Center in Lufkin where she does outreach education on food and nutrition. Food is her passion, so Angela loves trying new recipes and exploring the more holistic side of nutrition. Angela loves to cook, garden, and spend time outdoors. In addition to the Brookshire Brothers blog, look for Angela's monthly articles in Charm East Texas. 
Tuesday April 24, 2018
Make Your Own Beautiful Bouquet
• Step-By-Step Guide to DIY Flower Arrangements •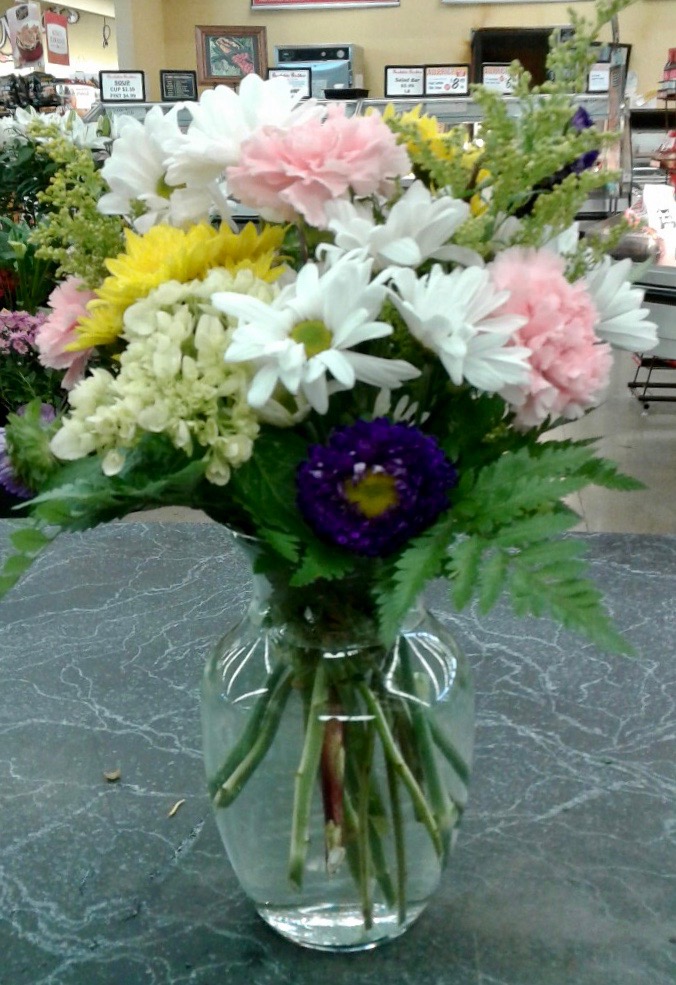 When people walk by my design area, they will often say, 
You make that look so easy
, or, 
I wish I could do that. You should teach a class
. I always tell them that there are simple designs you can do at home or in the office. It's easy, plus you can start with any of the great selections in the floral department at your local Brookshire Brothers. We carry a variety of
assorted blooms and premade seasonal bouquets
, whether you're looking for the latest general trend or something more particular. 
Additionally, we receive flowers on a weekly basis. Feel free to talk to someone in the floral department about which day they arrive so you can pick up the freshest blooms. In my 45+ years in the floral industry, the quality of our mixed bouquets, roses, blooming plants, and seasonal outdoor plants are a great value for the price.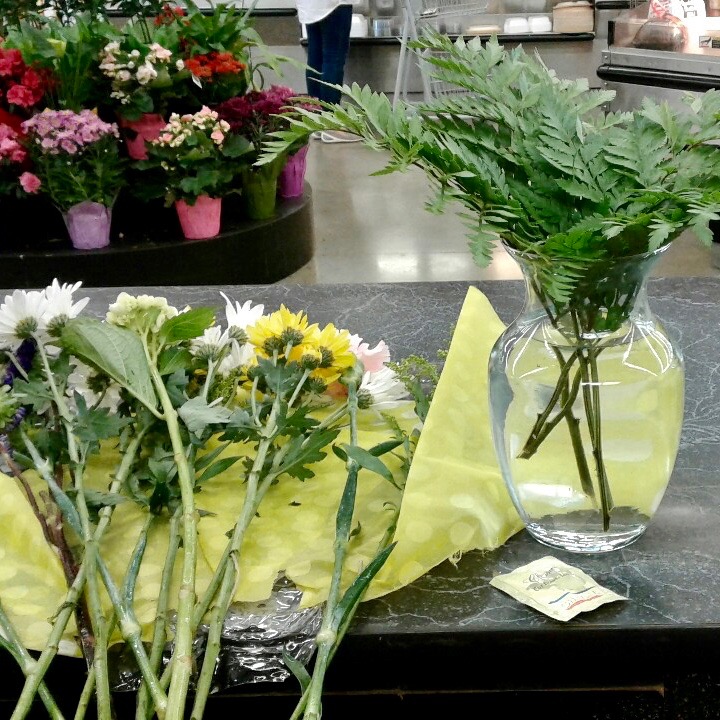 Once you've pick out your favorite flowers, you are DIY ready! First, open up your package and see how many stems in the bouquet that you can use. Usually, there is not much foliage so you might want to purchase a few extra stems of Leather Leaf, a fern-like foliage that will help hold the flowers in place. If you're unsure what Leather Leaf is, your Brookshire Brothers florist will be happy to help.
Add the packet of floral preservative to a vase with fresh tap water and mix well. Slide your vase to the edge of the counter, and begin taking one stem at a time to measure how tall the tips of greenery should be from the rim of the vase. Start cutting your stems accordingly and add them to the vase in a circular pattern around the rim. When all the foliage is in, begin the same process with your flower stems. Make sure to leave some space between each flower head. The foliage helps support the flowers, which means the stems do not all need to touch the bottom, so long as all of them are under the water level.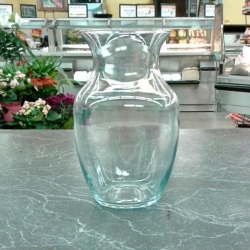 When choosing your vase, focus on picking one with an opening that fits the size of your arrangement. In other words, avoid using vase with a mouth that's too wide for a small amount of flowers. I actually find that an under-sized vase opening is somewhat better than an overly large vase where the flowers can get lost in the overall look.
Remember, cutting stems is like cutting hair. If it's too long, you can always take it out and trim it again. However, you can't add stems back to the flowers when they've been cut too short. If you want the head of the flower to be at more of an angle, then you might need to cut it shorter so that it lays more closely to the edge of the vase. Once you've added all your stems, tweak it to your liking and then you're done! Sit back and enjoy the view.
---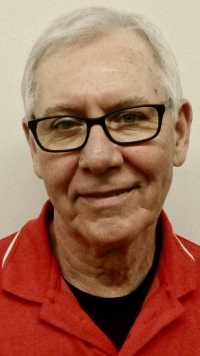 G. Dean Mooney is the Floral Manager at the Brookshire Brothers in Salado, TX—one of the largest floral departments in the company. With 45 years of experience, he is widely respected and his floral designs are immensely popular. 
Tuesday January 16, 2018
What's in Season: The Easy Winter Guide
With two-day shipping, online streaming, swipe-right dating, we're living in an instant-click world. However, there are still some things that require extra time and patience—fruits and vegetables included. While you can purchase certain produce all year round, there's often a time and place when you can get them at their best flavor and greatest value. For example, when the temperatures are too cold here in the U.S. to get fresh blueberries—a summer fruit—you'd have to go farther south to get what you wanted, perhaps a two week shipment from Chile—with tax.
Our point is, when you shop for produce according to the season, you're guaranteed to pick fruits & vegetables that are not only better tasting, but also the best bang for your buck. Here's a quick list of what you should look for this winter.
Winter Fruits and Vegetables
(According to the USDA)
Apples
Avocados
Bananas
Beets
Brussels Sprouts
Cabbage
Carrots
Celery
Grapefruit*
Kale
Leeks*
Lemons*
Onions
Oranges*
Parsnips
Pears
Pineapple
Potatoes
Pumpkins
Rutabagas
Sweet Potatoes and Yams
Turnips
Winter Squash
The produce marked with an asterisk(*) is only in season during the winter. All other produce is in season for more than one season.
More ideas for tapping into your taste buds with winter produce:
A hot pot of chili on a cold winter's day is one of the most comforting foods in Southern cuisine. This particular recipe is quick and easy, and it features several winter veggies!
Butternut squash is a seasonal favorite because of its delicious buttery undertones, plus it's oh-so-nutritious! Check out this recipe from registered dietitian Angela Larson.
Turnips are a delicious low-carb alternative to potatoes with less than half the calories and carbs. Furthermore, they're rich in minerals, B vitamins, vitamin C, and—most importantly—in flavor.
Kate features several winter ingredients in her favorite recipes for National Soup Month: White Chicken Chili and Tuscan Bean & Kale Soup.
Monday August 21, 2017
Dorm Room Delicious
A Grocery Guide for College Students
While college has long been associated with fun and glory, it's also been proven time and time again as a critical development stage in young adults. The patterns that college students establish in terms of love, work, and play largely become the patterns they keep for the majority of their lives, as established by psychologists such as Dr. Meg Jay (author of the bestselling "The Defining Decade: Why Your Twenties Matter—And How to Make the Most of Them"). This idea fits with why students not only learn about their career fields in college, but also skills of professionalism, whether that means showing up to classes on time to composing mature emails.  Essentially, pathways in the brain become much more solidified after 30, which is why college is the ideal time to groom pathways of professionalism (rather than partying).
Groceries play a small but significant role in this stage. Many new college students have enjoyed their parents cooking for the majority of their lives, which can leave them slightly unprepared doing their own grocery shopping and cooking. Universities have largely addressed this issue by offering wonderful meal plans and dining halls, but this option can still leave students dependent outside of college. Meal plans and dining halls might be replaced with fast food and credit cards once a student graduates.
The point is, it's good to practice habits of independence, especially when living in a dorm. Start now, and these skills can potentially carry a student through the years from campus and beyond. In regards to groceries, here's what we suggest:
Make a list and plan ahead 

Planning is the master key to independence. There are different types of planning a student can do, but no matter what, she should always have a list when she goes to the store. Usually grocery lists are based on meal plans for the week, which helps prevent the daily stress of wondering what to do for lunch/dinner that day. A list can also keep students from spending money on random items they don't need, plus it's less likely they'll have to make more than one trip out for food. Lastly, a list can help a student distinguish the necessities from the luxuries. Put the most-needed things at the top of the list (fruits, veggies, grains, etc), and save the luxuries for the bottom if there's money leftover (snacks, desserts, sodas, etc).
P.S. – Parents, send your student off with
a gift card for groceries and gas
!
Plan according to sales
This strategy is particularly ideal for a college student budget.
Find a weekly ad
and/or
sign up for weekly coupons
, and then plan your shopping around the offers. A Stouffer's Lasagna is $2 off this week? That can be dinner for Tuesday night. Some people might even find this kind of planning helpful in making decisions. It's easy to get overwhelmed in the meal planning (
do I want ______ or ______ or ______ or ______ or ______ or…?)
, so when you're limited to choosing things on sale, it takes some of the pressure off.
Plan according to practicality
Typically, the only "kitchen" a dorm room includes is a microwave and mini fridge. While this means you won't be fixing filet mignon any time soon, there are still plenty of ways to be creative:
Some in-room breakfast options can include instant oatmeal, cereal, or a mix of granola and yogurt—all of which can be loaded with things like fresh fruit, honey, or cinnamon.
For lunch, you can keep it classic with sandwiches or make a microwavable quesadilla (with a side of chips and salsa!)
While Ramen noodles, Easy Mac, and Bagel Bites are traditional favorites, another convenient (and healthy!) dinner option is to pair a pre-cooked chicken with some frozen vegetables and instant brown rice. And when the weather is colder, there are many different great soups to try. (Read more: Cooking with Kate: It's Always Soup Weather)
Don't forget about non-food needs such as utensils, plates, cups, napkins, Tupperware containers, and more. Disposable items are always an option, but if your dorm room has a sink, consider using dishes you can wash and reuse (plus it saves money). Just be careful to not clog your sink with food! 
Plan according to nutrition 

Patterns of health are established in college as well, which means it's important to consider the nutritional values of your food. This type of planning is perhaps most important when it comes to buying snacks because that's when most of us want to over-indulge. If nutritional value isn't enough motivation, consider that healthy snacks (namely
produce
) are also often cheaper per serving than most unhealthy snacks, plus they're versatile. For example, bananas can be eaten with cereal, peanut butter, or even with ice cream as a banana split. Some other great nutritional snacks include: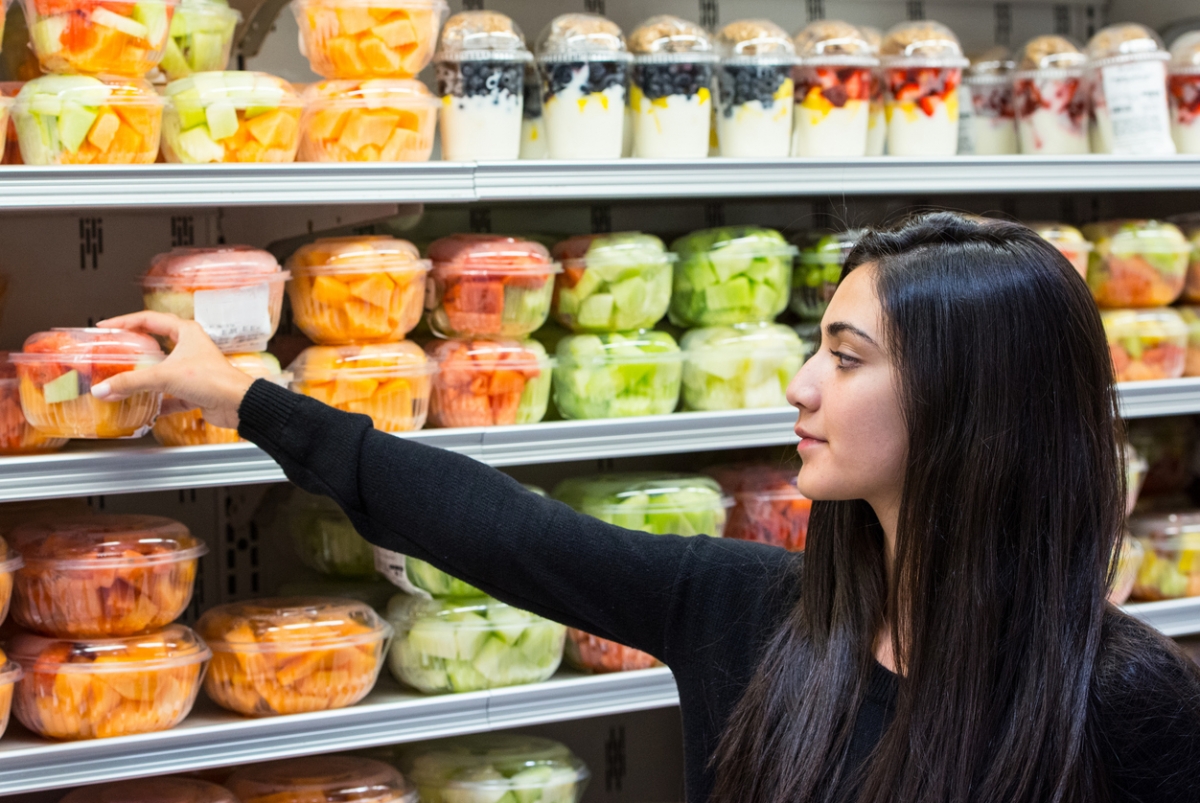 Refrigerated items: 
-      Apples
-      Carrots
-      Cheese sticks
-      Cherry tomatoes
-      Grapes
-      Hummus
-      Oranges
-      Sugar Snap peas
-      Cottage cheese 
Non-refrigerated:
-      Crackers
-      Dried fruit
-      Gold Fish
-      Pretzels
-      Trail mix
-      Microwave popcorn 
Friday October 9, 2015
Guide to Stemware
Red or white? Short or tall? Thin or wide? Bubbly or not? All questions to think about when serving your next glass of wine. Read up on this guide to stemware!