Monday April 22, 2019
Lemony Roasted Artichoke Dip
Real Fresh, Real Delicious Graduation Party Dish
Looking for some delectable and easy ideas to celebrate your graduate? Graduation parties are the ultimate finger food feasts. Everyone loves a fresh hot dip from the oven paired with the usual dipping suspects like chips, crackers, salsa, guacamole, and hummus. Try this Lemony Roasted Artichoke Dip recipe that can be prepared up to three days in advance and thrown in the oven just before the guests arrive; it's a grade-A favorite that leaves everyone fighting over the last bite.
Lemony Roasted Artichoke Dip
(Adapted from Cook's Illustrated – Serves 10 to 12)
INGREDIENTS
For the topping:
2 slices white sandwich bread, quartered
3 tablespoons grated Parmesan cheese
1 tablespoon unsalted butter, melted
For the dip:
2 (9-ounce) boxes frozen artichokes (unthawed)
1 tablespoon olive oil
Salt and pepper
1 onion, diced
1 cup mayonnaise
4 oz cream cheese, AT ROOM TEMPERATURE
½ cup grated Parmesan
2 tablespoons lemon juice
1 teaspoon dried thyme leaves
Pinch of cayenne powder
DIRECTIONS
For the topping:
Pulse the bread in a food processor to coarse crumbs, about 6 pulses.
Toss the bread crumbs with the Parmesan and butter.
Set aside.
For the dip:
Adjust an oven rack to the middle position and heat the oven to 450 degrees.
Line a baking sheet with foil.
Toss the artichokes with 1 tablespoon of the oil, 1/2 teaspoon salt, and 1/4 teaspoon pepper, and spread out over the prepared baking sheet.
Roast the artichokes, stirring occasionally, until browned at the edges, about 25 minutes.
Let the artichokes cool and then chop coarsely.
Meanwhile, heat the remaining 1 tablespoon oil in a medium skillet over medium-high heat until just shimmering.
Add the onion and cook until softened, 5 to 7 minutes.
Stir in the garlic and cook until fragrant, about 30 seconds.
Transfer the onion mixture to a large bowl and set aside.
Stir the mayonnaise, cream cheese, Parmesan, lemon juice, thyme, and cayenne into the onion mixture until uniform, smearing any lumps of cream cheese against the side of the bowl with a rubber spatula.
Gently fold in the chopped artichokes and season the mixture with salt and pepper to taste.
Transfer the mixture to an ungreased 8-inch square baking dish and smooth the top.
Sprinkle the bread crumbs evenly over the top.
STORAGE TIP
Cover the baking dish tightly with plastic wrap and refrigerate for up to 3 days.
SERVING TIPS
Adjust an oven rack to the middle position and heat the oven to 400 degrees.
Unwrap the dip and bake, uncovered, until hot throughout and the bread crumbs are golden brown, 20 to 25 minutes.
Let cool for 5 minutes before serving.
Need some other ideas to round out your party menu? Don't forget all the amazing options available
at your neighborhood Brookshire Brothers
, including fresh fruit and veggie platters, graduation cakes, chips, and drinks! 
More delightful dips for your end of school get together:
---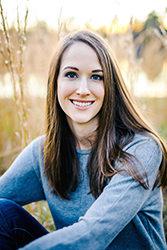 Angela Larson is a registered dietitian (RD) who works with Brookshire Brothers promoting real fresh, real delicious foods and nutrition education to the community. She is also a clinical dietitian representing Woodland Heights Medical Center in Lufkin where she does outreach education on food and nutrition. Food is her passion, so Angela loves trying new recipes and exploring the more holistic side of nutrition. Angela loves to cook, garden, and spend time outdoors. In addition to the Brookshire Brothers blog, look for Angela's monthly articles in Charm East Texas. 
Friday May 19, 2017
Celebrate Your Graduate
No matter the age of your graduate or the size of your celebration, we're congratulating all graduates this year! Let us help you navigate through the tears of joy as your loved one moves on to the next phase of life.
Our Bakery Experts love making each masterpiece more than just a cake. It's the centerpiece! Let us put the "good" in your next baked good!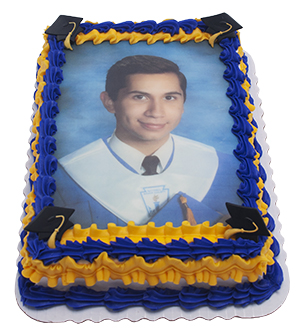 From single layer to double layer, 1/8 sheet to a full sheet, we know how to customize your specialty cake.
Not sure what you want? Talk it out with us! We're highly creative and love thinking outside the box. Not only do we have every color to match your school, but we have an assortment of flavors that will have you coming back for another piece. We can even put a picture on your cake with our Edible Image Technology!
And don't forget matching cupcakes for an added touch of fun. Available in large or small, these cupcakes will go fast!
If you want to treat your graduate to a down-home treat, look no further than our variety of Crème Cakes, Cakerie Cakes, and Mousse Cakes! These glazed and glorious, silky and light, decadent and delicious cakes fly off our shelves. There may not be anything like Granny's cake, but we come pretty close with these!
Stop by your local Brookshire Brothers today to find out how we can help you plan a celebration your graduate will be proud of! 
Congratulations, parents..you made it. And more importantly...
Congratulations, Class of 2017! 
Friday May 6, 2016
Graduation Dessert Party
Planning a graduation party can be daunting—even for the pros.  Read these practical tips that can be applied to your own graduation bash.
Easy but Artful!
Orange-and-black school colors can pose a decorating dilemma. To keep away from a Halloween look, use white as the main color, accented with orange and black for invitations, centerpieces, food label cards, paper goods, cupcakes, even flowers.  Think outside of the box when dealing with tricky school color.
Use cupcakes as a centerpiece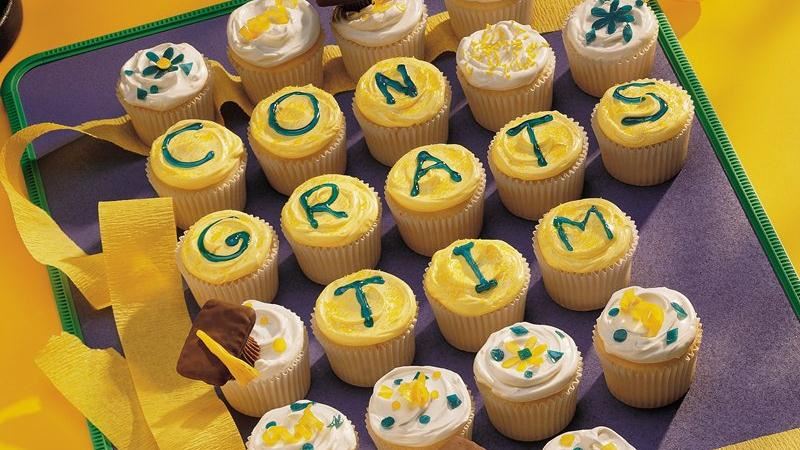 Search 'sprinkles' to find more recipes to adapt to school colors.
To give the serving table a multi-dimensional look, place boxes of varying size on the table, covered them with linens and places plates and platters on top.
More Artful Tips
Cover rented tables with plastic tablecloths, then wrap with length of tulle and tie with bow to keep ends in place.
Set the table 1-2 days ahead. Put out paper goods, serving platters, food label cards and, serving and eating utensils.
Set up self-service coffee and beverage tables. If you are outdoors, fill coolers with beverages and label what's on each one.
Make colorful food label cards for each food. Use half a lime as the food label holder for the plate of Key Lime Bars.
Strawberries, raspberries, thin slices of lemon or lime and lemon leaves all make super-easy garnishes for just about any platter.
For a dash of elegance, dust desserts with powdered sugar or cocoa.
*courtesy of BettyCrocker.com
Thursday April 30, 2015
Hats Off to You!
As yet another school year is ending, senior-itis has kicked in full force for high school and college seniors alike. The only thing your student can think of is walking across the stage and receiving a diploma; but you know there is a lot that needs to happen between now and then. Senior receptions, class parties, graduation celebrations and awards banquets are just a short list of events that you'll need to prepare for. With the help of our advice, you'll be relaxed on graduation day knowing your parties were planned with ease.
Opt for a healthy choice for all party guests by picking up a vegetable tray from your local store. Earn extra hostess points by plating the vegetables on your own platter for presentation. Forego the stress of buying, washing and chopping veggies by serving our pre-chopped and readily available vegetables. This party-planning secret will allow time for celebrating and visiting with friends and family.
Cater to your graduate's appetite by serving our signature, fried chicken. Straight from Granny Brookshire's family recipe to your family gathering, our legs won't disappoint. Fresh, never frozen and good to the last crumb, this pleasing entrée is great for any size occasion…big or small.
What party isn't complete without a sweet treat? Finish off the evening with an assortment of our David's cookies that are a bite above the rest. These chunky, chewy favorites are for everyone to enjoy. Although they may be too good to pass off as your own, you can certainly boast about the ease and satisfaction of serving such an enjoyable dessert.
On the day of graduation, surprise the graduate in your life with a fresh floral bouquet from expert florists. We offer a delightful experience from start to finish when ordering your arrangement. After presenting the flowers at graduation, take the display home and set them as a centerpiece on your table as you prepare for another celebration.