Monday December 24, 2018
2019 Resolution: Keep Your Home Healthy
Preparing for the New Year: Physician 360 Rapid Test Kits (Strep, Flu, UTI)
2019 is here and with a new year comes the opportunity for a fresh start! No matter if you're an annual 'resolutor' or not, if you desire to make a change for the better in 2019 then I applaud that! Yes, reading more books, cooking more meals at home and giving more to charity are noble aspirations—do those things—but getting healthy and staying healthy should be a priority for everyone in 2019.
This is precisely why Brookshire Brothers has partnered with
Physician 360
to offer convenient, easy-to-use, rapid test kits for strep throat, flu, and urinary tract infections. These quick, simple tests yield results in minutes and match the accuracy of longer lab tests performed at doctor's offices.
Better yet, included in the purchase of the test kit is an online, face-to-face consultation with a physician who will evaluate your test results and issue a prescription if necessary. These tests are approved for ages 5 and older and they're available for purchase at the
pharmacy
counter.
The doctors at Physician 360 are thoughtful, caring and compassionate. Their top priority is to provide fast and appropriate care when sickness strikes. Prescriptions, when necessary, are issued in minutes and can be filled by
your friendly Brookshire Brothers Pharmacy
while you wait. Even if your test results are negative, your Physician 360 doctor can issue a prescription for symptoms like urinary burning, nasal congestion, cough, etc.
Using a Physician 360 test kit is about as close to a doctor's house call as you're going to get in 2019. And while little black doctor bags are long extinct, video-chatting on your smartphone with a qualified physician who's ready to treat what ails you is a major perk of being alive during this technological age. 
Brookshire Brothers
and Physician 360 understand that there is never a convenient time to be sick. We hope you will let us save you time and money this year by offering these little test kits that will keep you well when illness strikes. Here's to your healthiest year yet!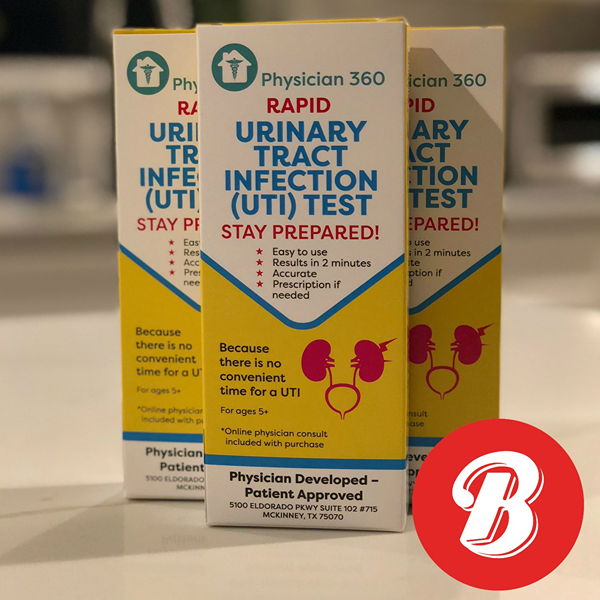 ---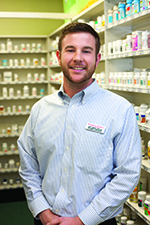 Matt Baker is a pharmacist with Brookshire Brothers Pharmacy in Lufkin.  He received his undergraduate degree from Texas A&M University in 2005 and his Doctor of Pharmacy from the University of Houston in 2010.  He writes a monthly pharmacy and wellness article for the Lufkin Daily News and is active in the community.  Matt's passion is serving his patients while ensuring that they are equipped to understand and take their medications properly. 
Tuesday January 2, 2018
Recommended Winter Remedies
Top 10 Items for Your Medicine Cabinet this Cold & Flu Season
When the common cold and the associated runny nose, congestion, and cough attacks, the best medicine is usually rest, hot chicken noodle soup, and a favorite movie. The last thing anyone wants to do while under the weather is slog up and down aisles of medicines looking for relief.
Take the opportunity now to stock your medicine cabinet with some valuable over-the-counter products that will ease your suffering from typical cold and flu symptoms. It's always a good idea to talk with your doctor or pharmacist before treating yourself just to rule out a more serious bacterial infection that may require antibiotics. Most cases of sore throat, cough, and congestion are viral though and can be treated safely over the counter. Here are my Top 10 items for beating the cold this season:
Antihistamine plus Pseudoephedrine.  There are a multitude of brands—Zyrtec-D, Claritin-D, Allegra-D, and their respective generics—that can help reduce nasal congestion, runny nose, and drainage. If you have high blood pressure or a heart condition, check with your doctor or pharmacist before taking these.  They are kept behind the counter at a pharmacy so be prepared to show a driver's license or state identification before you purchase.
Nasal steroid spray. When Nasacort and Flonase (both formerly presciption-only) moved to being offered over the counter, the options for people seeking relief from nasal allergies and congestion expanded greatly. Use two sprays in each nostril once per day for at least two weeks. These sprays are a great option for individuals who cannot tolerate or take decongestants due to other health conditions.
Cepacol Sore Throat Lozenges. These cough drops are no ordinary cough drops! They contain benzocaine which actually numbs the throat providing relief from irritation and soreness.
Mucinex. The active ingredient in Mucinex is guaifenesin, an expectorant that helps the body clear mucus trapped in the lungs. Take guaifenesin to help make your cough more productive and rid yourself of stubborn phlegm. 
Children's Dimetapp. With several different formulations, make sure you at least have the Cold & Allergy product containing an antihistamine and a decongestant. It's approved for use in kids older than six years and may cause a little drowsiness.
Breathe Right Nasal Strips. For a non-medication option to ease nasal congestion, these nasal strips fit over the bridge of the nose and increase airflow into the nasal passages. They are a great option for folks with chronic nasal congestion, but also work well for congestion related to the cold or flu.
Afrin Nasal Spray. Oxymetazoline, the active ingredient in Afrin, is a powerful nasal decongestant that relieves even the toughest sinus congestion. Its effects are noticeable in a matter of minutes and last for up to 12 hours. The problem with Afrin is that its use is limited to no more than 3 days due to rebound congestion that can occur. Use Afrin sparingly and for severe congestion only.
Saline Nasal Spray. Use to help moisten nasal passages when they become dried out due to decongestant use. Saline spray is non-medicated and can be used as much as needed.
Nyquil Severe Cold & Flu. Use at bedtime when your cold symptoms are preventing you from sleeping well. This product contains a decongestant, a sedating antihistamine, a cough suppressant, and acetaminophen (Tylenol) to cover all the bases for a good night's sleep.
Plenty of Tissues. You will likely still be blowing and wiping your nose long after the worst of your symptoms are gone. Stock up on tissues now both at home and at work. It's also not a bad idea to keep a couple of travel tissue packs in your car for yourself or a sniffling friend.
 

Find a nearby Brookshire Brothers Pharmacy

today to stock up your medicine cabinet and talk to a pharmacist about any other needs.
---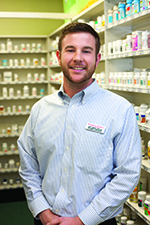 Matt Baker is a pharmacist with Brookshire Brothers Pharmacy in Lufkin.  He received his undergraduate degree from Texas A&M University in 2005 and his Doctor of Pharmacy from the University of Houston in 2010.  He writes a monthly pharmacy and wellness article for the Lufkin Daily News and is active in the community.  Matt's passion is serving his patients while ensuring that they are equipped to understand and take their medications properly. 
Thursday August 27, 2015
The Flu Stops Here!
Imagine for a moment that you've just purchased your dream home – a 5,000 square foot beauty overlooking a gorgeous inlet of a majestic lake. After purchasing such a beautiful home, sometimes changing the air filter is the last thing to come to mind. It can take weeks of dusting, sneezing and coughing before realizing that your air filter needs to be changed!
Unfortunately, the flu shot and our attitude toward it is a lot like the air filter in our little daydream. Flu season tends to sneak up on us every year. Summer produces a sort of deep but comfortable daze brought on by tall glasses of lemonade and hours by the pool. Then, all of a sudden, school starts, kids and adults gather indoors, germs spread and flu season is here.
How can we break this sickening cycle? Be proactive and use your best defense against the flu – the flu shot! And because the vaccine takes about 2 weeks in the body to establish full protective capacity, getting the vaccine before flu season reaches its peak (generally November to March) is your best bet to avoid becoming another patient at your doctor's office.
This time of year is busy enough with the start of school and the upcoming holiday season, so get vaccinated early to prevent common flu symptoms such as body aches, fever/chills, runny nose, cough, sore throat and fatigue.
This flu season, don't wait to stop by a Brookshire Brothers Pharmacy location to get your flu shot. Vaccination against the flu is an easy and important duty for you and your family. In addition to the flu vaccine, please visit with your pharmacist to discuss other vaccines that are important. At Brookshire Brothers Pharmacy, we're giving more ways to have "Wellness Delivered."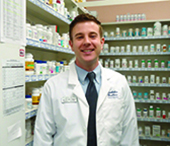 Matt Baker, PharmD
Brookshire Brothers Pharmacy – Lufkin, TX
Wednesday October 2, 2013
Advice from our Experts!
Brookshire Brothers Pharmacist Laura Edmundson, PharmD, knows how important it is to stay healthy. The busy mother of two takes precautions year around to keep her family well, and is ever so vigilant when the flu bug tries to bring folks down!
Here are Laura's ten tips to staying well:
Just do it!  Get your flu shot at your neighborhood Brookshire Brothers! The Centers for Disease Control recommends EVERYONE six months and older receive an annual flu vaccine.  Our team makes it easy.  Flu shots and other immunizations are available in our PHARMACY!
Keep it Clean!  Wash hands thoroughly with soap and water or use hand sanitizer often, especially if you are around others who are sick.  Our store brand, Quality Choice, is our choice when it comes to value.
Contain it!   Our pharmacists say, cover your cough or sneeze with tissue or the sleeve of your shirt. 
Don't Share!  Encourage children and teens to keep their drinks and utensils to themselves.  Sharing means giving those germs away!
Keep Clean!  Disinfect everything.  Brookshire Brothers has a great variety of  sanitizing wipes and sprays to disinfect toys, computers, phones, remote controls, anything that gets a lot of hand time!
Steer Clear!  Avoid sick people if possible. Don't put yourself or your family in harm's way.
Stay Home!  If you or your child has a fever or flu-like symptons, (body aches, sore throat, headache, cough) stay at home!
Catch some Zzzzs.  Get plenty of sleep!  Our experts recommend 8 hours of sleep per night.
Eat right!  Fruits, vegetables, and 100% juices are always your best bet for Vitamin C.  Or check out our line of Quality Choice vitamins for an extra boost. 
Drink Up!  Drink plenty of fluids.  For extra savings, try Brookshire Brothers water. Look for products that contain vitamins, minerals and electrolytes to boost your well being.