Tuesday May 14, 2019
No-Bake Cherry Lemonade Cheesecake
The sweet, sweet days of summer are so close, you can almost taste it with this No-Bake Cherry Lemonade Cheesecake. A bright lemon zest adds a delightful flair to the creamy cheesecake, while the cherries on top are, well, exactly that—a delicious, cherry-on-top finish. Bring it to your weekend cookout. We dare you.
No-Bake Cherry Lemonade Cheesecake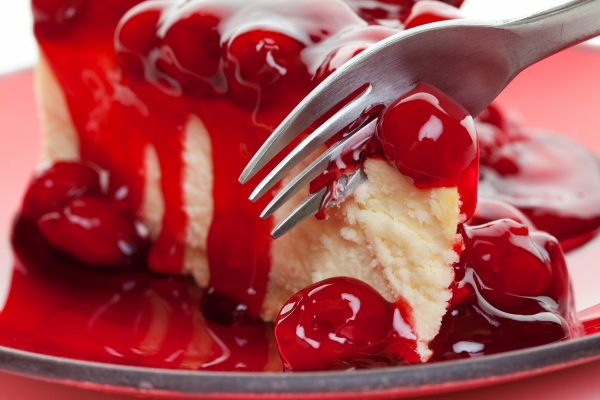 INGREDIENTS
1 (14 oz) can Food Club sweetened condensed milk
1/4 cup fresh lime juice
1 teaspoon Food Club vanilla
1 tablespoon grated fresh lime rind
1 (8 oz) Food Club cream cheese
1 can Food Club cherry pie filling
1 1/2 cups graham cracker crumbs
1 stick Food Club butter, melted
2 tablespoon Food Club sugar
DIRECTIONS
Combine graham cracker crumbs, butter, and sugar in a medium bowl. Press crumb mixture into bottom of an 8" x 8"baking dish. Chill while preparing filling.
Place cream cheese in a large bowl & beat at medium speed with an electricmixer until smooth. Gradually add sweetened condensed milk while continuing to mix. Beat in lime juice and vanilla. Stir in lime rind.
Pour mixture onto chilled crust. Cover and refrigerate 2 1/2 to 3 hours. Cut into 6 portions and servetopped with cherry pie filling.
Hungry for more? Try out these two cheesecake recipes as well—Quick Vanilla Bean Cheesecake Parfaits and Amaretto Mascarpone Cheesecake with Almond Crust.
Tuesday November 20, 2018
No-Fuss Side Dishes (Plus a Fun Dessert!)
I love Thanksgiving-style sides so much that I cook them year-round. Why not? Everyone needs healthy, delicious, no-fuss side dishes that can please the whole family. As you'll soon see, oven roasting is my absolute favorite way to prepare any vegetable. It can bring out their magical qualities enough to lure even the wariest eaters to the table. Even better, roasting veggies means I can toss them in a hot oven while I'm working on something else. A giant piece of foil on the sheet pan makes clean-up a cinch too.
So, here's the run-down on my family's go-to Thanksgiving sides (plus a special dessert).
Roasted Veggies
Roast your green beans instead of casserolizing them this year ("casserolizing" is my new word contribution to English language—you're welcome). If you prefer another veggie over green beans (Brussels sprouts, asparagus, etc.), this roasting recipe will still do the trick; your choice greens will come out of the oven spotty brown with a few crisp edges. Yum. Top the roasted vegetables with a little chopped bacon (cooked) or a sprinkle of cheese, and you'll be in side dish heaven. 
This is more of a method than an exact recipe, so have fun with it and enjoy!
INGREDIENTS
Brussels sprouts, fresh green beans, or asparagus—trimmed and washed (amount can vary based on needs but it should still be able to fit in a single layer on a large sheet pan)
Extra virgin olive oil
Salt and pepper, to taste
Optional toppings: chopped pecans or walnuts, parmesan cheese, chopped cooked bacon
DIRECTIONS
Preheat oven to 425F degrees. Cover a large sheet pan with heavy-duty foil. 
Take prepped veggies and place them on the sheet pan with a good drizzle of olive oil for a light coating. Add salt and pepper to taste. Add other seasonings and spices as desired.
Place veggies in the oven and roast for about 20-25 minutes. 
Optional (if you'd like them to be even more browned): Before removing from the oven, turn the broiler on high and place on top rack for a minute or two. Watch closely as they turn even more spotty brown and caramelized. 
Top with any other optional toppings and serve immediately. 
Pro Tip: Sometimes it works best to place veggies on very bottom rack for first 10 minutes of cooking time and then move to very top rack of oven for last 10 minutes of cooking to help brown both top and bottom, but this is optional. Check on veggies toward the end of cooking time and look for them to have little brown spots.
Roasted Sweet Potatoes
Any time I get sweet potato duty for Thanksgiving, roasted sweet potatoes are my go-to recipe. The prep is a breeze, and they come out caramelized on the outside while still creamy on the inside. Moreover, they're perfectly delicious left as is, or you can jazz them up even further with a drizzle of maple syrup, fresh herbs, or chopped pecans. You can also easily substitute with butternut squash for another spin on this delicious recipe.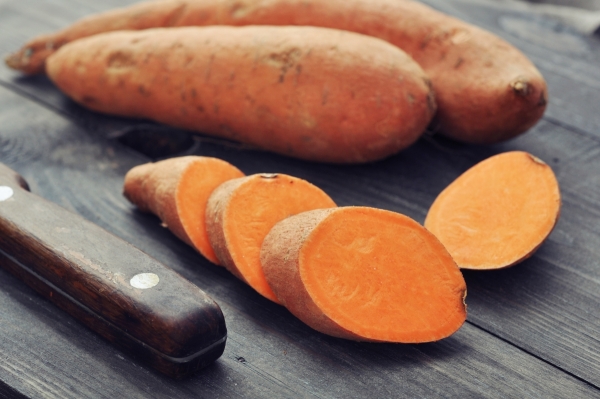 INGREDIENTS
5 pounds of sweet potatoes (about 8 medium potatoes)
2 tablespoons extra virgin olive oil
2 tablespoons butter, cut into small pieces
1 ¾ teaspoon salt
Pepper, to taste
DIRECTIONS
This recipe starts in a cold oven.
Peel potatoes (or scrub well) and trim ends. Cut into ¾ inch thick rounds. 
Toss potatoes in a large bowl with olive oil, salt, and pepper to taste until evenly coated. Line an 18- by 13-inch heavy-duty rimmed baking sheet with aluminum foil and coat with nonstick cooking spray (my favorite is coconut oil spray). Arrange potatoes in a single layer on two baking sheets, dotting evenly with pieces of butter, and cover tightly with aluminum foil. Adjust oven racks to upper and lower middle positions and place potatoes in cold oven. Turn oven to 425 degrees and cook potatoes 30 minutes.
Remove baking sheets from oven and carefully remove top layer of foil. Return potatoes to oven and cook until bottom edges of potatoes are golden brown (reversing and rotating pans halfway through cooking time), 15 to 25 minutes. 
Remove baking sheets from oven and, using a thin metal spatula, flip slices over. Continue to roast until the bottom edges of the potatoes are golden brown, 18 to 22 minutes longer. Remove from oven and let potatoes cool 5 to 10 minutes, then transfer to platter and serve.
Optional toppings: If desired, drizzle lightly with real maple syrup, chopped toasted pecans, or fresh/dried thyme leaves, to taste.
Five Cup Fruit Salad
This super simple fruit salad is a family favorite recipe. Everyone is always fighting for the last serving, and the best part is it's portable, healthy, and oh-so-easy to make. We always double (or triple) the recipe to make it go a little further and help settle any fights over who gets the last spoonful.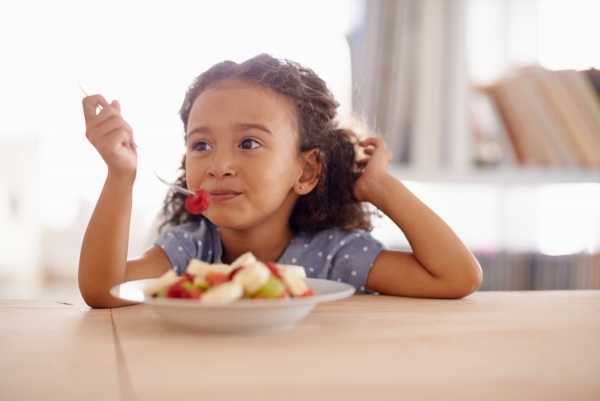 INGREDIENTS
1 cup drained pineapple chunks
1 cup grapes (any variety)
1 cup mandarin orange segments, canned or fresh
1 cup shredded coconut, sweetened or unsweetened
1 cup sour cream (regular or light) 
DIRECTIONS
Mix together all ingredients and serve.
Pecan Pie with Maple Syrup and Brown Sugar
Dessert is always a highly anticipated part of any Thanksgiving celebration. This dietitian isn't going to tell you to skip the dessert table because that's just cruel. Instead, what I recommend is to contribute a delicious dessert made of
real fresh, real delicious
ingredients from
your neighborhood Brookshire Brothers
. Above all, enjoy your dessert fully without any guilt. There's a time and a place for restraint and Thanksgiving ain't it. 
My favorite recipe is a pecan pie that skips corn syrup in favor of brown sugar and maple syrup. The flavors are out of this world.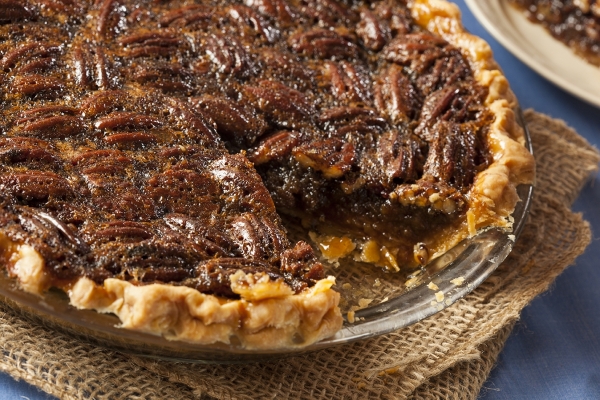 Adapted from America's Test Kitchen "Old-Fashioned Pecan Pie"
INGREDIENTS
1 cup maple syrup
1 cup packed light brown sugar
½ cup heavy cream
1 tablespoon regular molasses
4 tablespoons unsalted butter, cut into ½ inch pieces
½ teaspoon salt
6 large egg yolks, lightly beaten
2 cups toasted and chopped pecans
One 9-inch unbaked pie shell, chilled in the pie plate for 30 minutes
DIRECTIONS
Make Filling: Adjust oven rack to lowest position and heat oven to 450 degrees. Heat sugar, syrup, cream, and molasses in saucepan over medium heat, stirring occasionally until sugar dissolves (about 3 minutes). Remove from heat and let cool 5 minutes. Whisk butter and salt into syrup mixture until combined. Whisk in egg yolks until incorporated.
Bake Pie: Scatter pecans in pie shell. Carefully pour filling over. Place pie in hot oven (on a sheet pan covered with foil in case of spills) and immediately reduce oven temperature to 325 degrees. Bake until filling is set and the center jiggles slightly when pie is gently shaken (45 to 60 minutes). Cool pie on rack for 1 hour, then refrigerate until set (about 3 hours and up to 1 day). Bring to room temperature before serving.
Serve: Serve with homemade whipped cream and go to dessert heaven.
---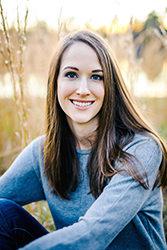 Angela Larson is a registered dietitian (RD) who works with Brookshire Brothers promoting 
real fresh, real delicious
 foods and nutrition education to the community. She is also a clinical dietitian representing Woodland Heights Medical Center in Lufkin where she does outreach education on food and nutrition. Food is her passion, so Angela loves trying new recipes and exploring the more holistic side of nutrition. Angela loves to cook, garden, and spend time outdoors. In addition to the 
Brookshire Brothers blog
, look for Angela's monthly articles in Charm East Texas. 
Tuesday July 24, 2018
Cooking with Kate: National Cheesecake Day
From bacon to baking soda, there seems to be a national day celebrating some food or other every day, including National Cheesecake Day coming up on July 30! I don't always observe National Days, but this one deserves a celebratory slice (or two). Want to join me in the festivities? Here are two of my favorite recipes! All the ingredients you need to whip up this classic treat can be
found at your local Brookshire Brothers
.
Quick Vanilla Bean Cheesecake Parfaits
An easy, no-bake cheesecake "pudding" that comes together in minutes!
Ingredients
4 tablespoons butter or margarine, melted
5 ounces (about half a box) vanilla wafers
20 ounces cream cheese, softened
¼ cup heavy whipping cream
6 tablespoons powdered sugar
1 teaspoon vanilla bean paste (or ½ teaspoon good quality vanilla + the inner scrapings of a vanilla bean pod)
No time? No worries! Pick up a slice (or a whole cheesecake) at a
bakery
near you!
Directions
Crush vanilla wafers by hand or in a food processor.
Add melted butter or margarine and mix until it looks like damp sand.
Spoon the buttery cookies into the bottom of 4-6 serving dishes.
In a large bowl, beat cream cheese, whipping cream, powdered sugar, and vanilla bean paste with an electric mixer until smooth and creamy.
Divide the cheesecake mixture evenly into the serving dishes.
Chill in the fridge for at least 30 minutes before serving.
Save on the spread with this weekend's text offer: FREE Food Club Margarine (45oz) when you spend $20 (some exclusions apply). 
Not signed up for our text offers? Text JOIN 

[insert your store #]

 to 59652. 
Amaretto Mascarpone Cheesecake with Almond Crust 
This is hands-down my favorite cheesecake recipe. I love the creaminess of the filling, the crunch of the crust, and the lingering sweet almond flavor from the topping! Baked cheesecake is a bit of a hassle and fairly time consuming… but oh so worth it!
Ingredients:
Crust:
1 cup slivered almonds, lightly toasted
1 cup graham cracker crumbs
3 tablespoons sugar
4 tablespoons unsalted butter or margarine, melted
Filling:
2 (8 ounce) packages cream cheese, room temperature
2 (8 ounce) containers mascarpone cheese, room temperature 
1¼ cups sugar
1 teaspoon vanilla extract
½ teaspoon almond extract
4 large eggs, room temperature
Topping:
2 cups sour cream
3 tablespoons sugar
2 tablespoons amaretto liquor
½ cup sliced almonds
Directions
For the crust: 
Preheat oven to 350°F.
Tightly wrap the outside of a 9-inch diameter springform pan with 2 3/4-inch-high sides with 3 layers of heavy-duty foil.
Finely grind the almonds, graham cracker crumbs, and sugar in a food processor.
Add the butter and process until moist crumbs form.
Press the almond mixture onto the bottom and ½" up the sides of the prepared pan.
Bake the crust until it is set and beginning to brown, about 12 minutes. Cool completely.
Decrease the oven temperature to 325°F.
Add a roasting pan or baking dish of hot water to the bottom rack of the oven. The steam from this pan of water will help prevent the cheesecake from cracking when baked.
For the filling: 
Using an electric mixer, beat the cream cheese, mascarpone cheese, and sugar in a large bowl until smooth, occasionally scraping down the sides of the bowl with a rubber spatula.
Beat in the vanilla and almond extracts. Add the eggs, 1 at a time, beating just until blended after each addition.
Pour the cheese mixture over the crust in the pan, spreading evenly with the back of a spoon or spatula.
Bake in the preheated oven until the center of the cheesecake moves slightly when the pan is gently shaken, about 1 hour 5 minutes (the cake will become firm when it is cold). Transfer the cake to a rack; cool for 15 minutes. Increase the oven temperature to 450°F.
While the cheesecake is cooling, whisk the sour cream, sugar and amaretto together until smooth.
Once the cheesecake has cooled for approximately 15 minutes, pour the sour cream topping over top. Using a rubber spatula or spoon, smooth out the surface. Sprinkle the outside edge with the sliced almonds.
Place cheesecake back into the oven (remember the heat should have been increased to 450° F) and bake for 8-10 minutes, watching closely so that the almonds do not burn.
Remove from the oven and place on a cooling rack to let cool to room temperature. Refrigerate until the cheesecake is cold, at least 8 hours, before serving.
---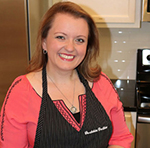 Kate knows food. She grew up with the Southern tradition of good food with the hospitality to match.  A graduate of Texas A & M University, a student of The Texas Culinary Academy, and a Nacogdoches, Texas native, Kate's greatest joy is bringing people together over a scrumptious meal.
Tuesday April 10, 2018
Cooking with Kate: A Batch Made in Heaven
Fun eats often come from inventive pairings (Exhibit A:
Nacho Popcorn
), but it's hard to beat one of the most classic pairings of all: cookies and ice cream. These treats are perfect for satisfying your every sweet tooth need: hot + cold, sweet + salty, crunchy + creamy, and more. Have some fun in the kitchen using these easy recipes for homemade ice cream sandwiches—especially with hot summer days just around the corner!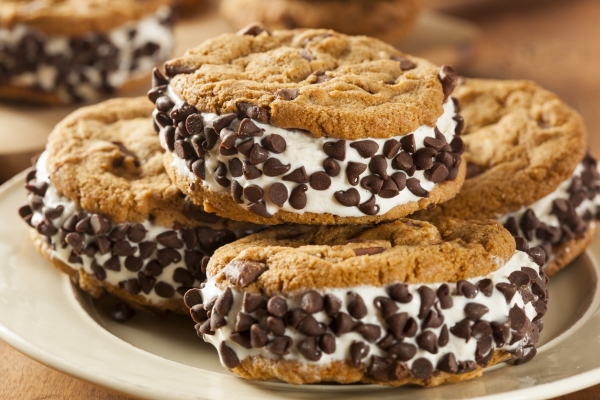 Not to mention, ice cream sandwiches are party perfect: just make them ahead of time, wrap them in plastic wrap or individual sandwich bags, and freeze them until you need them. As for the ice cream, be sure to check out Fresh Harvest Ice Cream, our very own private label brand of ice cream here at Brookshire Brothers! You can find every flavor you need for any of these yummy combinations:
Cowboy or Oatmeal Chocolate Chip Cookies (see below for recipe!) with Homestyle Vanilla Ice Cream rolled in Mini Chocolate Chips
Snickerdoodle Cookies with Butter Pecan Ice Cream rolled in Chopped Pecans
Soft Peanut Butter Cookies (see below for recipe!) with Dutch Chocolate or Moose Tracks Ice Cream rolled in Chopped Peanut Butter Cup Candies
Sugar Cookies with Strawberries & Cream Ice Cream Rolled in Colorful Sprinkles
To make cookie ice cream sandwiches: Allow the cookies to cool completely. Spoon 1 scoop (about ¼ cup) of softened ice cream (depending on the size of your cookies) onto 1 cookie and sandwich with another cookie. Immediately wrap in plastic wrap, wax paper, or an individual sandwich bag and place in the freezer for 2-3 hours to freeze firm. If you want to store them for longer, place the frozen cookie sandwiches into a gallon or larger freezer bag. Enjoy these straight from the freezer on really hot summer days!
SWEET DEAL: Get FREE Food Club Chocolate Syrup when you purchase Fresh Harvest Ice Cream (64 oz)! To sign up for this offer, text JOIN [insert your store number] to 59652.
---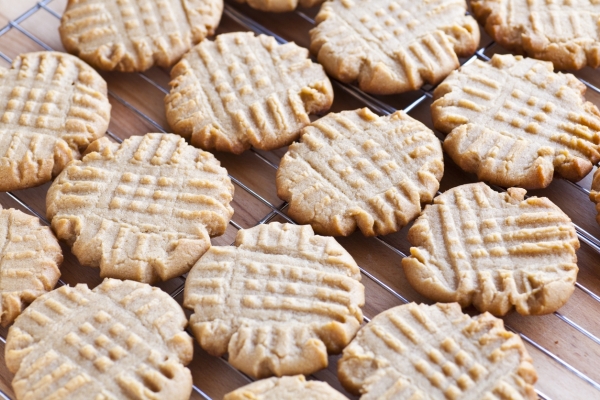 Quick 3 Ingredient Peanut Butter Cookies
This cookie recipe is not overly sweet so they are a great combination with sweet ice cream when you make these into ice cream sandwiches!
Ingredients
1 cup creamy peanut butter
1 cup white sugar
1 egg, room temperature
Directions
Preheat oven to 350 degrees. Line cookie sheets with parchment paper or spray with non-stick cooking spray.
In a medium bowl, mix peanut butter, sugar, and egg until smooth and fully incorporated. Scoop tablespoons of dough onto the prepared sheets. Roll the scoops in your palms to smooth them out and then slightly flatten with a cup dipped in a little sugar (so they don't stick). Use the tines of a fork to crosshatch mark the cookies.
Bake in the pre-heated oven for 7-9 minutes or until just lightly browned. Cool completely on wire racks.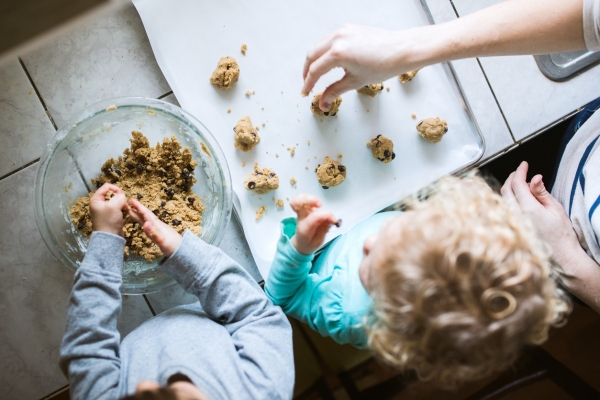 William's Family Oatmeal Cookies
This family cookie recipe is my go to for cookies and can easily be adapted with your favorite ingredients. My sister, Elaine, loves these with butterscotch chips instead of chocolate.
Ingredients
½ cup butter, softened
½ cup firmly packed brown sugar
¼ cup white sugar
1 egg, room temperature
1 tablespoon vanilla extract
1 cup all-purpose flour
½ teaspoon baking soda
¼ teaspoon salt
1 cup old-fashioned rolled oats
Optional Additions (1 – 1 ½ cup total):
butterscotch chips, dark or semi-sweet chocolate chips, raisins, chopped almonds, pecans, or walnuts
Directions
Preheat oven to 375 degrees. Line cookie sheets with parchment paper or spray with non-stick cooking spray. In a large mixing bowl, combine butter and sugars and beat until light and creamy, scraping down the sides of the bowl often. Add egg and vanilla and continue mixing until blended. In a small bowl or measuring cup, mix flour with baking soda and salt. Add dry ingredients to butter mixture and blend slightly. Add rolled oats and any of the optional additions and mix until fully incorporated.
Drop tablespoons of the dough 2 inches apart on prepared cookie sheets. Flatten slightly with the palm of your hand. Bake in preheated oven for 8-12 minutes or until lightly browned. Be careful not to overbake. Enjoy!
---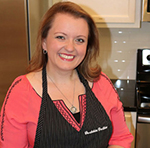 Kate Rudasill, Catering Coordinator for Brookshire Brothers, has been in the food-service industry for the past 14 years. As a graduate of Texas A&M University, a student of The Texas Culinary Academy, and a Nacogdoches, Texas native, Kate grew up with Southern tradition in her blood which caused her to have a deep love for bringing people together with food.
Tuesday October 17, 2017
5 Pink Treats for Breast Cancer Awareness
National Breast Cancer Awareness Month is one of our favorite causes to support. Communities everywhere come together to build relationships and raise awareness for those at every step of the breast cancer journey, whether it's a bake sale, luncheon party, or 10K run. As such, we'd like to help if you're looking for easy ideas to "think pink" with these occasions. Courtesy of our vendor partners, we've compiled five fun recipes below, each of which are perfectly pink for Pink Ribbon awareness.
What we love about pink themed desserts in particular is that they're not always all sweet. Usually, these recipes feature pink fruits (strawberries, raspberries, etc.) or pink lemonade to enhance the pink theme. As such, these focal ingredients tend to add some zest to the dessert, which to us makes these recipes even more appropriate to honor breast cancer awareness. While those affected embody a stirring hope, it's not an all-sweet journey. Often it's quite bittersweet.
So, raise a pinky and indulge yourself with one of these treats for this month's cause. And even when the tart raspberries bite back in the cream cake, remember there's nothing sweeter than hope.
Read more: Find out Pharmacist Kelly Kinney's four suggestions on how to "Fight Like A Girl" when it comes to breast cancer awareness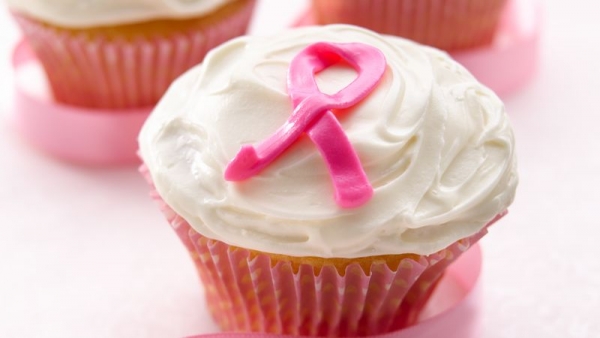 Pink Together Cupcakes
 Prep: 20 min | Total: 1 hr 30 min | Servings: 24
Ingredients
1 box Betty Crocker™ SuperMoist™ yellow cake mix
2 containers Betty Crocker™ Rich & Creamy vanilla or Whipped cream cheese frosting
Betty Crocker™ pink gel food color
PSST!!! Are you signed up for our text promotions yet? Join before this Thursday (10/19) and you could receive a special offer perfect for all of these recipes! To sign up, text JOIN [insert the number of the store you shop at, i.e. "25"] to 59652. If you're not sure what your store number is, you can look it up on the store's information page!
Directions
Heat oven to 350°F (325°F for dark or nonstick pans). Place paper baking cup in each of 24 regular-size muffin cups.
Make and bake cake mix as directed on box for 24 cupcakes. Cool in pans 10 minutes; remove from pans to cooling rack. Cool completely, about 30 minutes.
In small bowl, reserve 1 cup frosting. Frost cupcakes with remaining white frosting. Stir pink food color into reserved 1 cup white frosting until desired pink color. Spoon frosting into freezer plastic bag; cut 1/4-inch hole in 1 bottom corner. Or use decorating bag with flat tip with 1/4-inch wide opening. Gently squeeze bag to pipe frosting ribbon on cupcakes. Store loosely covered.
Read more: Organizing a luncheon? Check out these tips for a perfect pink ribbon party.
Don't forget to check out these other pink themed dessert ideas:
Monday August 7, 2017
5 Fun Ways to Fix S'mores
Any day that commemorates s'mores will be a beautiful day, but #NationalSmoreDay (Aug. 10) is also likely going to be very hot. If you're looking to bring the fun indoors while celebrating this classic campfire treat, we've got recipes for every need. Check it out: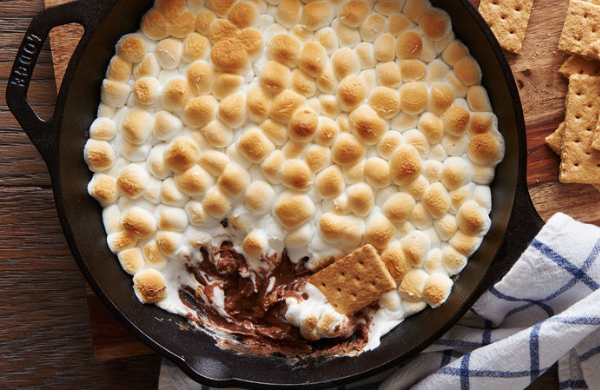 Peanut butter cups + s'mores? We need some-more of this one! This recipe is quick to fix and popular at parties, no matter the weather.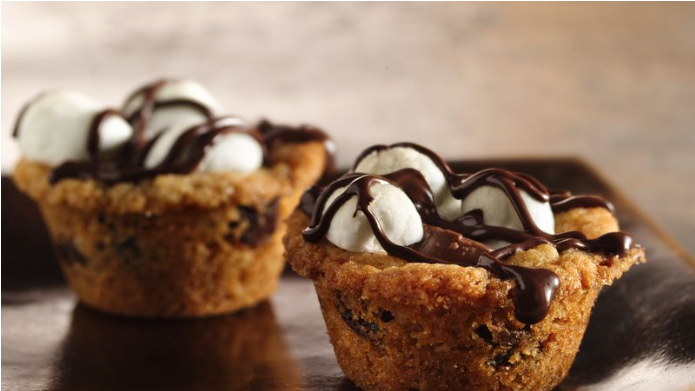 Take dessert or your bake sale to the next level with this popular Betty Crocker recipe!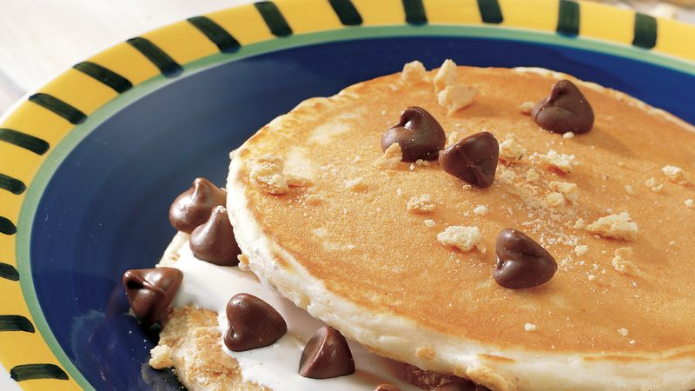 Who knew breakfast could taste so fun.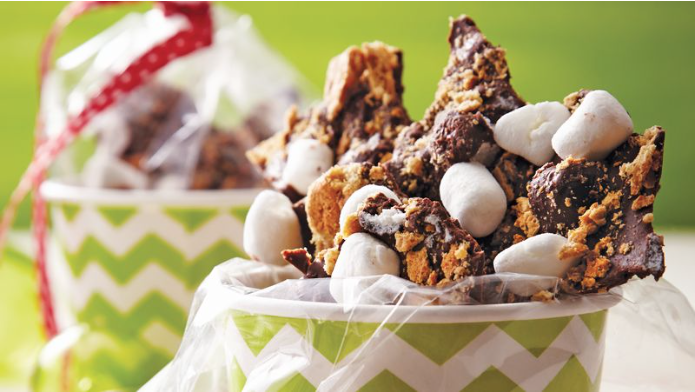 If this bark has bite, it's all delicious crunch. This super-simple recipe has three ingredients and only takes ten minutes to prep!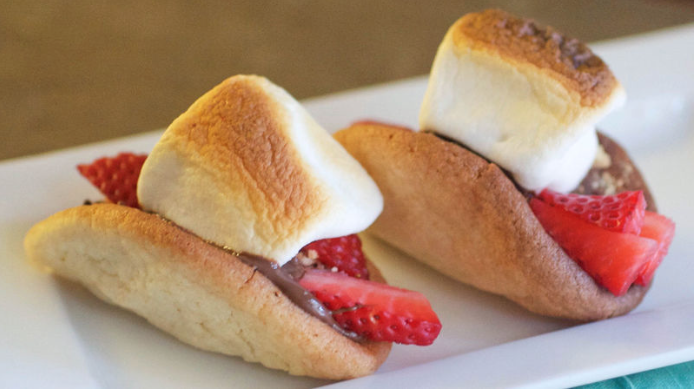 The pinnacle of s'more evolution—a sweet s'more taco.
Wednesday March 4, 2015
Sweeten the Pot
Mini Grasshopper Cheesecakes
Crushed cookie crumbs make up the base of these easy, tasty cheesecakes.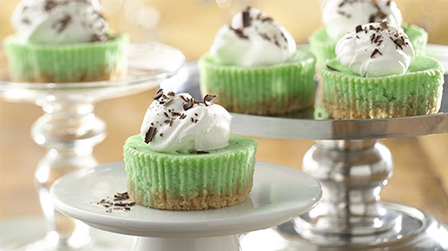 Prep time: 20 min
Total time: 3 hr 40 min
Ingredients: 7
Servings: 18
Ingredients:
Crust
1 roll Pillsbury™ refrigerated sugar cookies
3/4 cup butter, melted
Filling:
2 packages (8 oz each) cream cheese, softened
2/3 cup sugar
3 eggs
One teaspoon peppermint extract
4 to 6 drops green food color
Topping: Sweetened whipped cream and chocolate shavings, if desired
Steps:
Heat oven to 350°F. Cut cookies into slices as directed on roll. Place 2 inches apart on 2 ungreased large cookie sheets.
Bake 14 to 16 minutes or until cookies are deep golden brown and crispy. Cool 1 minute; remove from cookie sheets to cooling rack. Cool completely, about 10 minutes. Crumble about half the cookies into fine crumbs to make 2 cups cookie crumbs.
In small bowl, mix cookie crumbs and melted butter. Place foil baking cup in each of 18 regular-size muffin cups. Press about 1 tablespoon cookie mixture in bottom of each baking cup. Reduce oven temperature to 300°F. Bake 5 minutes.
In large bowl, beat cream cheese and sugar with electric mixer on medium speed, scraping bowl frequently, until smooth and creamy. Add eggs, one at a time, beating until smooth after each addition. Stir peppermint extract and food coloring. Pour about 1/4 cup of the filling on top of each of the cookie crusts.
Bake 20 to 22 minutes or until edges are set and centers are still slightly jiggly. Turn oven off, and open door slightly. Cool cheesecake in oven 30 minutes. Remove from oven to cooling rack; cool at room temperature 30 minutes. Refrigerate about 2 hours or until cheesecakes are chilled. Top with sweetened whipped cream and chocolate shavings.
End-of-the-Rainbow Cookie Parfaits
Kids and adults will flip for these easy rainbow parfaits that are easy to make and over-the-top delicious!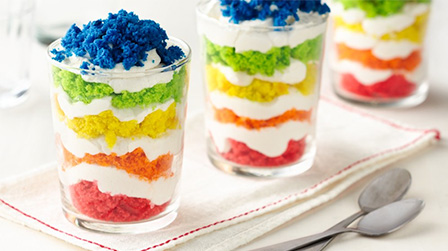 Prep time: 30 min
Total time: 55 min
Ingredients: 6
Servings: 12
Ingredients:
1 roll (16.5 oz) Pillsbury™ refrigerated sugar cookies
2 eggs
Red, orange, yellow, green and blue gel food colors
1 pint whipping cream
3 tablespoons sugar
1 teaspoon vanilla
Steps:
Heat oven to 350°F. Spray 10 regular-size muffin cups with cooking spray. Let cookie dough stand at room temperature 10 minutes to soften. 
In large bowl, break up cookie dough; add eggs. Beat with electric mixer on medium speed until smooth and well combined. Divide dough evenly into 5 small bowls. Color dough with red, orange, yellow, green and blue food colors, stirring until well combined.
Scoop dough into muffin pans, making 2 cupcakes of each of the 5 colors, for a total of 10 cupcakes. Bake 15 to 18 minutes or until toothpick inserted in center comes out clean. Cool in pan 5 minutes. Remove cups from pan to cooling rack to cool completely, about 30 minutes. 
Meanwhile, in medium bowl, beat whipping cream, sugar and vanilla with electric mixer on medium high speed until stiff peaks form.
Crumble each of the cupcakes, keeping the colors separate. Sprinkle red cake crumbles into each of 12 glass parfait cups, glasses or small jars. Pipe whipped cream on top of each. Repeat process with orange, yellow, green and blue cake crumbles, finishing with the blue cake crumbles. Serve immediately, or refrigerate until ready to serve.
Mini Whoopie Pies
It doesn't get much easier than these 5-ingredient whoopie pies made with Pillsbury® sugar cookie dough!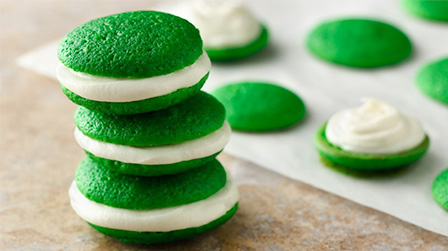 Prep time: 20 min 
Total time: 50 min
Ingredients: 5
Servings: 34
Ingredients:
1 roll (16.5 oz) Pillsbury™ refrigerated sugar cookie dough
2 eggs
1/2 cup plus 1 tablespoon all-purpose flour
1/2 teaspoon green gel food color
1 cup cream cheese creamy ready-to-spread frosting (from 16-oz container)
Steps:
Heat oven to 350°F. Line 2 large cookie sheets with cooking parchment paper. Let cookie dough stand at room temperature 10 minutes to soften.
In large bowl, break up cookie dough. Add eggs, flour and green food color. Beat with electric mixer on medium speed about 30 seconds or until well blended. Place mixture in decorating bag fitted with tip, or place in resealable plastic food-storage bag and cut off 1 corner. Pipe batter into 1 1/4-inch circles 1 inch apart on cookie sheets.
Bake 8 to 10 minutes or until cookies are set and spring back when touched. Cool 2 minutes on cookie sheets. Remove to cooling racks to cool completely, about 30 minutes.
To make 1 whoopie pie, pipe frosting between 2 cookies.
Tips: Give these whoopie pies extra-special flavor by filling them with your favorite homemade cream cheese frosting!