Monday August 19, 2019
Two-Ingredient Shasta Soda Cakes
Back to school can be stressful. You know what stressed spells backwards? DESSERTS. Treat your nerves to this super simple, two-ingredient recipe for Shasta Soda Cakes. Leave out the eggs, water, and oil, and replace it with single a can of soda which can cut down on calories and fat!
Two-Ingredient Shasta Soda Cakes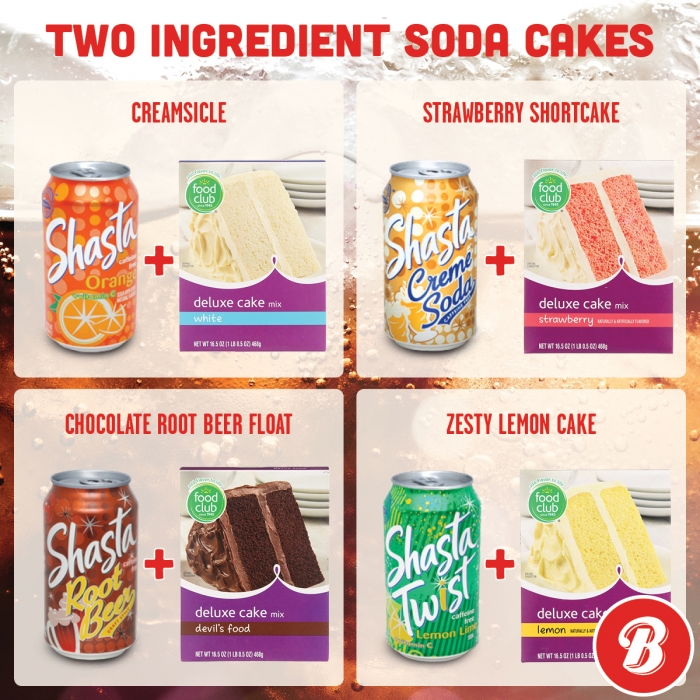 INGREDIENTS 
1 box of Food Club Cake Mix
1 twelve ounce can of Shasta Soda
Optional: Food Club Frosting
DIRECTIONS 
1. Preheat oven to 350°F for shiny metal and glass pans, 325°F for dark coated pans. Generously grease pans and dust with flour. 
2. Add cake mix to a large mixing bowl, then add 12 ounce Shasta Soda of your choice. Mix until ingredients are combined.
3. Pour mixture into your preferred baking dish and bake at the corresponding time as listed below:
13x9 inch pan - 23 to 28 minutes 
24 cupcakes (fill 1/2 full) - 18 to 21 minutes
Two 8" round pans - 26 to 31 minutes 
Two 9" round pans - 23 to 28 minutes  
4. Let cake cool for 10 minutes in its pan after removing it from the oven. Remove from pan and place cool side up. Store loosely covered.
Optional:
add your favorite Food Club Frosting when completely cooled.
Monday June 24, 2019
Summer Sweet Tooth: Grilled Peaches with Pecan Brown Butter Sauce
Everybody knows that what a grill really wants is just some sweet summer fun, and this easy recipe for grilled peaches has every bit of summer and sweet fun you can find.
Grilled Peaches with Pecan Brown Butter Sauce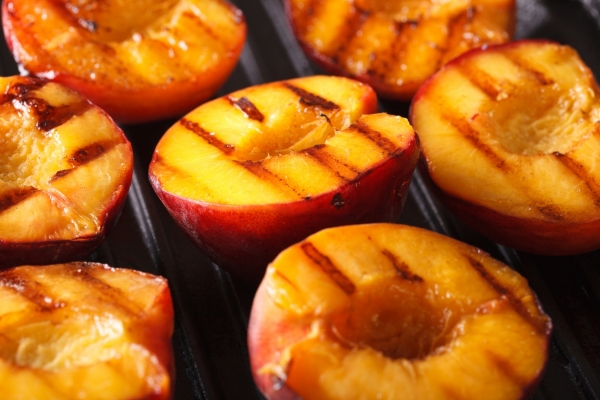 INGREDIENTS
4-6 peaches, fresh
Food Club non-stick cooking spray
1 stick Food Club salted butter
1/4 - 1/2 cup pecans, chopped
1/2 teaspoon cinnamon sugar
fresh whipped cream
DIRECTIONS
Slice peaches in half and remove pit. Lightly spritz cut side of peaches with non-stick cooking spray. Place cut side down on a hot grill. Cook about 2-3 minutes. Remove peaches from grill and place in a lightly greased baking dish or sheet pan. Return dish or pan to grill. Cover and continue to cook until the peaches are soft – about 5 minutes. Remove from heat and serve immediately.
To make the sauce: In a small sauce pan, melt butter. Continue to cook over medium heat until butter begins to brown and smells slightly nutty. Remove from heat and add pecans and cinnamon sugar. Swirl or stir to mix.
To serve: Place 1-2 peach halves on a dessert plate. Drizzle with Pecan Brown Butter and a scoop of whipped cream. Garnish with fresh mint and pecan halves, if desired.