Monday March 14, 2016
DIY Easter Egg Pancakes
Hatch a new pancake tradition this Easter with this easy and colorful egg-shaped pancake art breakfast activity.
It's the traditions that make family holidays like Easter so special. This year start a new one with this easy DIY Easter Egg Pancake Decorating Station. Kids big and small can make and decorate their own Easter egg pancakes using colorful batter-filled squirt bottles and sliced fruit.
To get started, gather these essential items: Bisquick® mix, four clear plastic condiment bottles (available at most grocery stores; these pancake batter pens from the Betty Crocker store are another great option), neon gel food coloring, grapes, strawberries, blueberries, cereal or any other topping of your choice.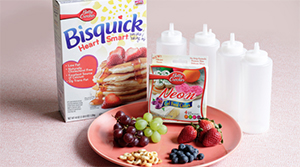 Prepare the pancake decorating station by slicing fruit. Sort the sliced fruit into individual bowls for easy access.
Next, make some pancake batter following this classic Bisquick® pancake recipe. (Double the recipe if feeding a crowd.) Divide batter equally between four separate bowls. Add a few drops of the neon gel food coloring to each bowl, creating the desired color intensity. Whisk batter until evenly blended.
Then pour colored batters into individual squirt bottles. Place the bottles on a tray near the griddle to create a pancake-making station. Remember to keep those little fingers away from the hot griddle.
Adults and older children can use the squirt bottles to draw their egg-shaped pancakes on the griddle. This is the time to be creative! Eggs can be small or large, striped, polka dotted or zigzagged -- the more colors and shapes the better.
After the Easter egg-shaped pancakes have been drawn and bubbles start to form, flip the pancake over and cook until done.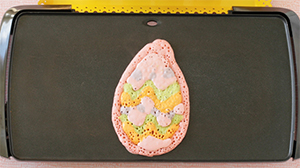 But wait, the pancake isn't complete until the fruit has been added. Set out the fruit and other decorative toppings on the table and let family members young and old get to work decorating their pancake. Not only are the fruit trimmings nutritious, but they're also a great way to teach little ones about creating patterns.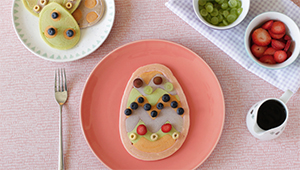 Happy Easter creations!
Wednesday December 23, 2015
A Simple New Year
Celebrate New Year's Eve without a lot of fuss! Gather friends and neighbors for a warm, cozy evening inside, or go outdoors if you're an active group. You'll find all the recipes and party-planning tips you'll need for an appetizer and dessert celebration to ring in this new year.
Easy Decorations
Casual get-togethers are often impromptu and require no special decorations. If you want to decorate, consider one of these:
Encourage guests to bring a battery-operated alarm clock. Set the alarms to go off at midnight, and place the clocks all over the party area! Or place a collection of the clocks on a mirrored tray as a centerpiece.
Make a quick centerpiece by placing glittering ball ornaments in a wire basket or crystal bowl.
Fun Serving Ideas
Use hollowed-out colorful bell peppers, cabbage, squash or round bread loaves for fun and colorful containers to hold veggie dip.
Embellish mug handles or bases of stemware with metallic curly ribbon. A different color of ribbon for each guest can keep drinkware from being misplaced.
Bump up plain coffee served with dessert to an inviting espresso bar! Set up espresso carafes (regular and decaf) with extras for stir-ins and toppers.
- Stir-Ins: flavored syrups, flavored creams or eggnog, cream and sugar 
- Toppers: whipped cream, ice-cream toppings, candy sprinkles, ground nutmeg or cinnamon
Casual Party Activities
Got snow? Make a snowperson! Ask guests to wear appropriate clothing.
Build a huge bonfire--remember to check your city's ordinances! Or just gather around your backyard fire pit. Tell stories of bygone years, or predict the future.
Hide a treasure of gold-colored medallions, gold foil-covered chocolate coins and golden baubles and beads found in craft stores. Entice guests with creative clues to answer so they can discover the treasure by the stroke of midnight.