Tuesday April 21, 2020
Earth Day Activities For Kids
Earth Day is for demonstrating environmental protection and a good way to show kids how to reuse and recycle items around the home! 
Repurposing Old Plastic Containers as Mini Greenhouses for Sprouting Seeds
Use old cupcakes, salad, and rotisserie chicken containers to make mini-greenhouse used to sprout seeds. Since many of these containers are not biodegradable this is a perfect way to reuse them.
Reused Cans Painted for Mini-Planters
Use cleaned tin cans to make mini-planters, can lanterns, pencil holders, and many more items. Just clean, paint, and decorate!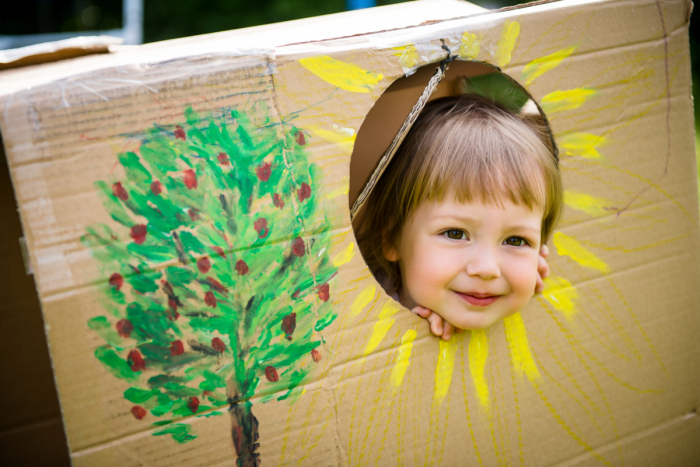 Cardboard Projects
Use a cardboard box from a recent purchase to have all kinds of fun. Kids will have fun making a cardboard playhouse/fort just decorate it with poster paint, making ramps for their cars, creating a cardboard kitchen to play in, and other fun things.
Enjoy these fun Earth Day activities for kids, and be sure to pick-up cupcakes or a rotisserie chicken to enjoy at your
local
Brookshire Brothers, and don't forget to reuse the container.
Tuesday December 10, 2019
DIY Hot Chocolate Buddy
Keep the kiddos occupied this winter break with this fun & edible craft. A Hot Chocolate Buddy is the perfect treat while you binge watch your favorite Christmas movies, and make your hot cocoa EVEN MORE delicious. So make your hot cocoa a "sweet" companion and enjoy this simple Christmas treat!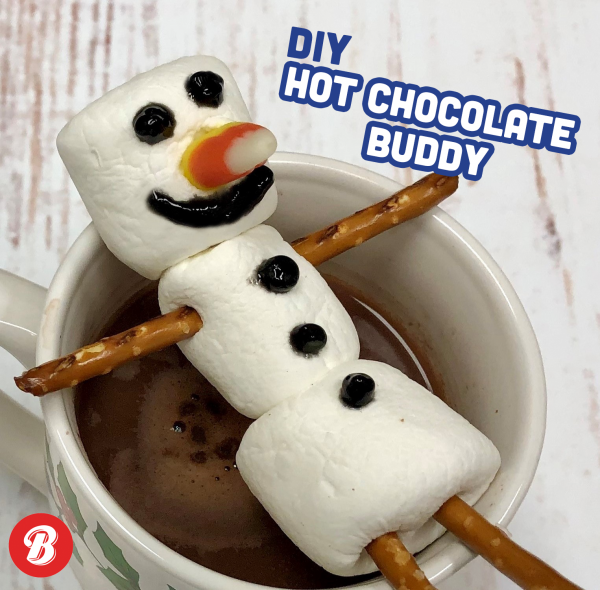 DIY Hot Chocolate Buddy
Supplies
Large marshmallows
4 inch toothpicks
Pretzel sticks
Candy Corn
Decorating Gel
Directions
Start by placing a toothpick through center of one marshmallow, leave enough room on both ends for the head and bottom.
Place a marshmallow on both ends of the toothpicks.
Use a second toothpick to make holes for the nose, arms and legs.
Place a piece of candy corn in the nose hole. 
Bite off the ends of 4 pretzel sticks for the arms and legs (pretzel sticks are a little bit too long for the arms and legs otherwise).
Use the decorating gel to draw the mouth, eyes and three buttons down the front of the snowman.

Serve with hot cocoa and enjoy!
*Be sure to let small children know about the toothpick in the center.
And for even more savings check out this deal on Food Club Hot Chocolate, Food Club Marshmallows and Simply Done Foam Cups: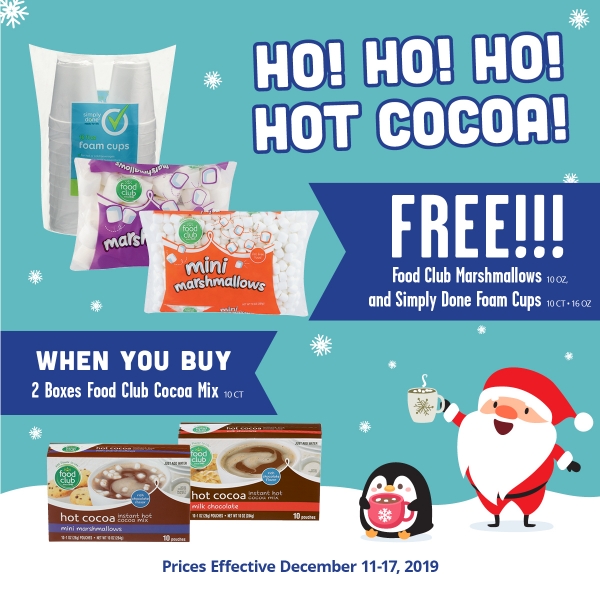 Get all of your Christmas grocery and edible craft needs at your local 
Br
ookshire Brothers
 store!
Monday April 3, 2017
Easter Egg-cellent Chocolate Covered Strawberries
Take an untraditional spin on Easter this year! When you hide those decorative and colorfully-dyed Easter eggs, save the cartons and hurry down to your local Brookshire Brothers for fresh strawberries. These chocolate covered strawberries can be the perfect sweet treat to complement your Easter celebration!
Easter Chocolate Covered Strawberries
Ingredients
16 large strawberries
1 1/2 cups milk, dark or white chocolate chips
Candied sprinkles, colored sugars, etc.
Parchment paper
Directions
1. Wash strawberries thoroughly. Dry carefully by patting gently with paper towels.
2. Place chocolate chips into small, microwaveable towl with tall sides.
3. Heat bowl in the microwave on high for 30 seconds. Remove bowl; stir chips with spoon. Return bowl to microwave and continue to microwave on high for an additional 30 seconds. Stir and repeat until chocolate is melted.
4. Dipping on strawberry at a time, submerge into melted chocolate by holding the steam between your fingers.
5. Slowly remove the strawberry from the chocolate (allowing excess chocolate to run off) and place on a piece of parchment paper to dry.
6. Immediately decorate the chocolate-covered strawberry with your favorite sprinkles.
7. Allow the chocolate to cool and harden at room temperature. Serve immediately or store in a tightly covered container in the refrigerator for up to 24 hours.
Friday October 23, 2015
"A Bottle of Boos" - A Halloween Wine DIY
Don't throw away those wine bottles you've been drinking the past few weeks... Halloween is coming and with it comes parties. Save your wine bottles, corks, and even some of your older wine glasses, and have a Halloween DIY! Did you know you could paint, accessorize, cut, decorate, and melt wine bottles and glasses? We've got some great ideas of how to spice up your Halloween party!
Candy Corn Wine Bottle
Are you like me and can't get enough candy corn this time of year? If so, you'll love this DIY! Collect 3 similarly shaped wine bottles and paint them orange, white, and yellow to match candy corn. You could even make them a focal point or centerpiece at your get together and have a bowl of candy corn in front of the 3 bottles.
Upside Down Wine Glass Candle Holders
Frankenstein, ghosts, witches, and mummies come to life in this project. Using a standard wine glass, paint the entire glass with colored paint (green for Frankenstein, white for ghosts and mummies, purple for a witch) and then sprinkle glitter on the wet paint (in the same color). Let dry and create your character by adding eyes and face, hair, clothes, etc (remember to decorate upside down). Finally, use them as candle holders by displaying upside down and putting tea candles on the bottom of the glass.
Cork Pumpkin
As you're opening your wine, try to keep your corks in good condition and repurpose them to be a pumpkin. Paint or color 24 wine corks orange and let dry. Next, glue the corks in a pumpkin shape - we recommend the following pattern: 4 corks, 5 corks, 6 corks, 5 corks, 4 corks. Finally, find a cream color wide ribbon or use wide burlap ribbon and wrap around the edges and tie at the top. You've just made your first cork pumpkin!
Wine Glass Characters
By using small amounts of fabric and your imagination, you can create your party guests and friends their own wine glass character. For example, a witch can have a hat that acts as a wine glass topper and a few ribbons acting as the stem's clothes. 
Let your imagination soar and Happy Halloween!