Monday April 30, 2018
Real Fresh, Real Delicious Orange-Lime Margarita
Looking for a light and festive drink for your Cinco de Mayo celebration? Try making a classic margarita from scratch with this simple, refreshing recipe featuring some bright and fun citrus—perfect to kick the party off!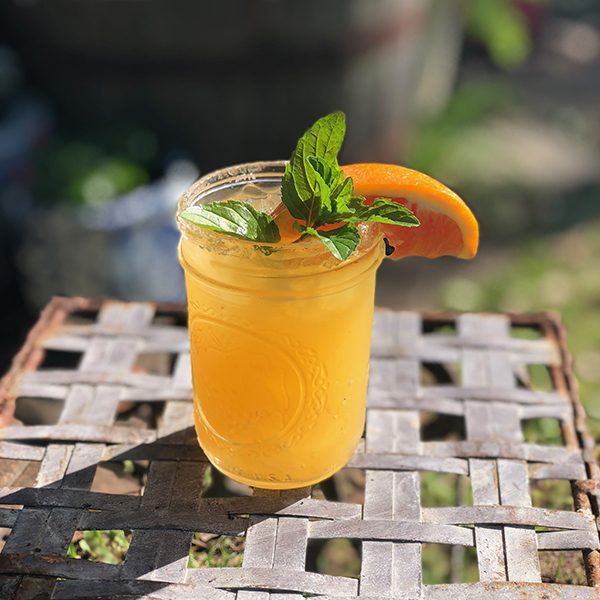 I was inspired by the beautiful "Cara Cara" oranges I spotted at my
local Brookshire Brothers
the other day. These pink oranges are only available for a short season, so keep an eye out! If you're not able to find them, navel oranges (and even grapefruit) work just as well in this recipe.
Another special find was the Himalayan pink rock salt I used to garnish the rim to match the pink hue of the Cara Cara oranges. Bonus: the pink salt is also rich in healthy minerals! If salty isn't your style though, feel free to skip the salted rim. 
If you'd like to sweeten things up a bit, add a little agave nectar (a great natural sweetener option). For any kids or any people with non-alcoholic preferences, skip the liquor and squeeze a few extra oranges to make a beautiful glass of fresh juice instead.
Recommended pairing: Chips and your favorite dips.
Don't forget to garnish with mint sprigs to make your celebration feel extra special.
---
Real Fresh, Real Delicious Orange-Lime Margarita
Makes 1 Cocktail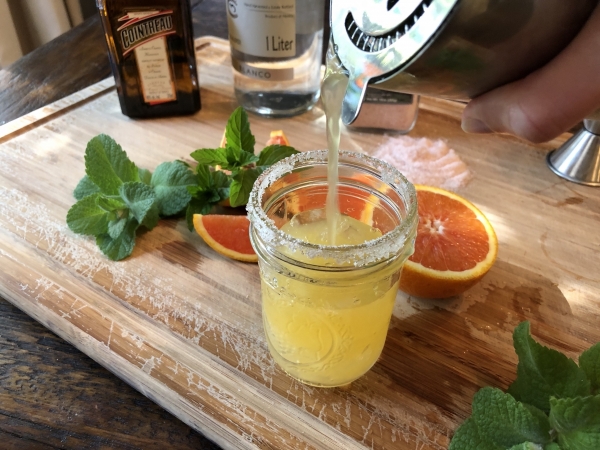 Ingredients
1 ½ ounce freshly squeezed navel or Cara Cara orange juice
¾ ounce freshly squeezed lime juice
½ ounce orange liqueur such as Cointreau or triple sec
1 ½ ounces tequila
Garnish of orange wedge and mint sprig
Optional
: 1 teaspoon agave nectar to sweeten to taste
Optional
: salt for glass rim
Directions
Moisten the rim of a glass with orange wedge and add salt to the rim if desired.
Add orange juice, lime juice, orange liqueur, tequila, and agave nectar to a cocktail shaker filled with ice.
Shake until cold and then strain over crushed ice into glass.
Garnish with an orange wedge and sprig of mint.
Enjoy! 
---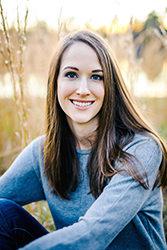 Angela Larson is a registered dietitian (RD) who works with Brookshire Brothers promoting 
real fresh, real delicious
 foods and nutrition education to the community. She is also a clinical dietitian representing Woodland Heights Medical Center in Lufkin where she does outreach education on food and nutrition. Food is her passion, so Angela loves trying new recipes and exploring the more holistic side of nutrition. Angela loves to cook, garden, and spend time outdoors. In addition to the 
Brookshire Brothers blog
, look for Angela's monthly articles in Charm East Texas. 
Monday April 23, 2018
Cinco De Mayo 2018 - Live Video Recipes
Any excuse to celebrate tacos and chips & dip is a good excuse in our book. With Cinco de Mayo less than two weeks away, we fixed two of our favorite salsa recipes in a Facebook LIVE video recently, and—by popular request— here are the recipes in writing! These appetizers are guaranteed party-pleasers. Visit
your local Brookshire Brothers
to get started today!
Miss the video? Visit our Facebook to check it out! There's a $100 giveaway that you can also enter!!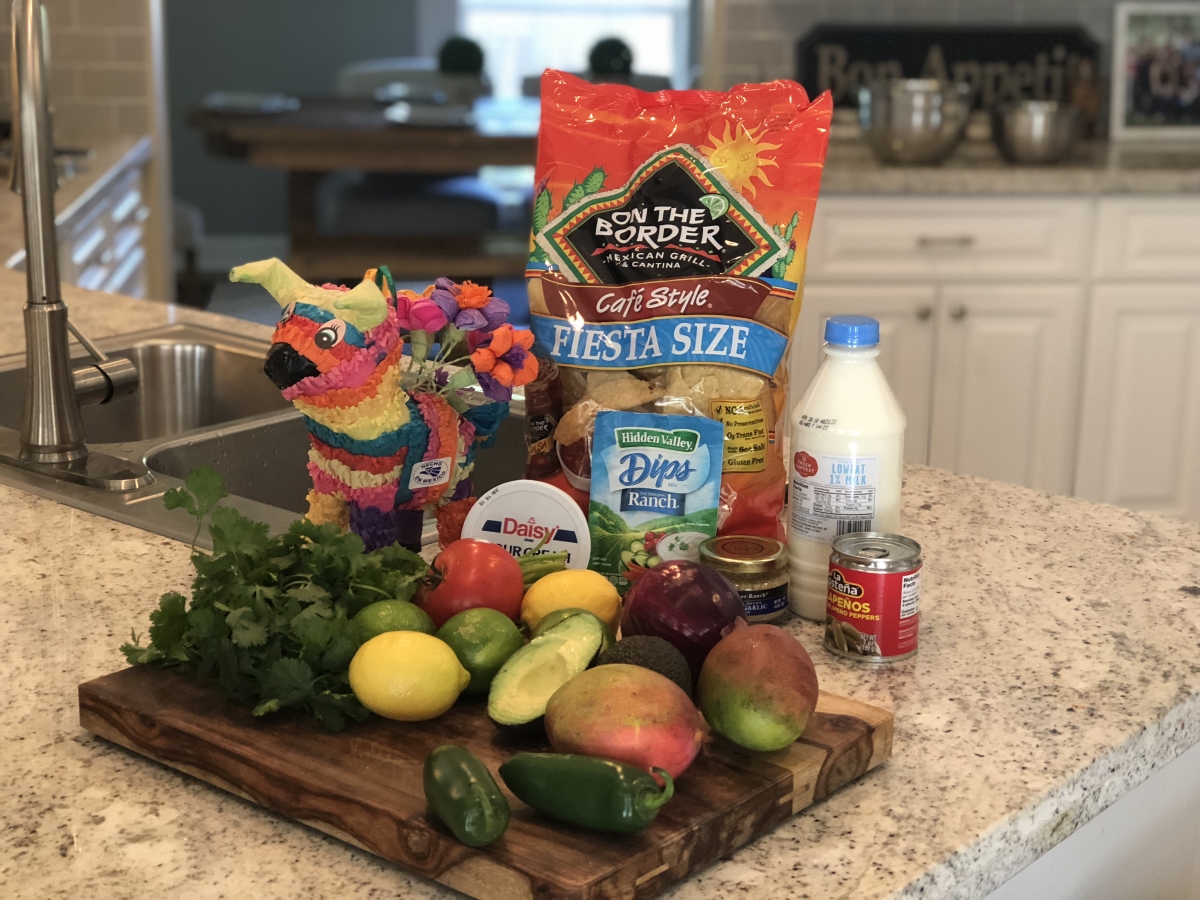 Mary's Mango Pico De Gallo
Ingredients
1/2 medium purple onion, diced
2 Roma tomatoes, diced
1 avocado, diced 
1 mango, diced
1/4 cup fresh cilantro, chopped
Lemon (Half or whole, depending on preference; lime can be substituted)
Jalapeños (Fresh or pickled, depending on preference)
Salt & Pepper to taste
Directions 
Prepare your produce (chop/dice/etc) as needed. For pickled jalapeños, I used three small peppers. If you'd rather use a fresh jalapeño, be sure to scrape out all the seeds and white flesh in the middle (unless you like your pico de gallo extra spicy!). Also, feel free to use only half a jalapeño if you're not a huge fan of spicy (you can always add more later).
Combine all ingredients in a bowl. For the lemon, salt, and pepper, add according to taste.
Enjoy!
Krista's Chuy's Knockoff
Ingredients
16 oz sour cream - Consider substituting with plain Greek yogurt for a healthier version!
1 pkg. (1oz) Hidden Valley Ranch Dip Mix
2 whole large jalapeños, seeded
2 cloves of garlic, minced - If you're short on time, you can use a jar of minced garlic too!
1/3 cup of fresh cilantro
1 whole lime, juiced
2-4 tsp of milk
Tortilla Chips for serving!
Directions
Take the seeds out of the jalapeños.
Chop the jalapeños and cilantro (you don't have to worry about chopping these super fine; blending them in the food processor will do this for you)
Add jalapenos, cilantro, and garlic to blender. Use whichever setting necessary to chop/puree/ground these ingredients into small bits. You may have to pause the blender occasionally to scrape the sides.
Add 16 oz. of sour cream to the blender and blend.
Add your lime juice to the blender.
Pulse until creamy. 
Add milk slowly until you've reached your desired consistency. I added 2 tsp.
ENJOY!
Thursday April 27, 2017
Cinco de Drinko
Throw a Cinco de Mayo fiesta like your amigos have never seen before! This Cinco de Drinko Guide will make you wish it was Cinco de Mayo year-round!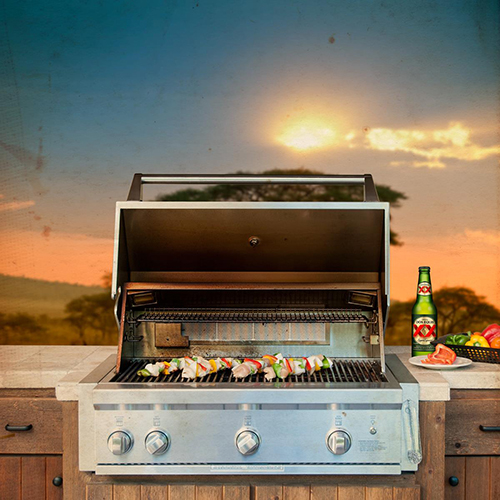 Dos Equis pairs well with any season, but especially grilling season. The refreshing and distinctive taste of Dos Equis Lager brings out the smoke and grilling flavor notes from any chicken or seafood dish, but we recommend this pairing. 
The Chelada
This may be roughly translated as "cold beer," but we think it's more than just that. This authentic cocktail concoction consists of a delicious mix of beer with lime. It is authentic to Mexico and has landed itself as our #1 pick for your Cinco Celebration. Simply mix Dos Equis Lager and the juice from one lime and call yourself bartender for the night. Before you pour, rim your glass with salt and you've just taken your party to the next notch.
Find out more about Dos Equis from our Beverage Depot. Check out What's Hot here!
Dos Equis Coconut Beer Shrimp with Sweet & Tangy Sauce
You'll be able to taste the highlighted sweet notes from cirtus orange marmalade and coconut through the malt, hops and unique strains of yeast found in Dos Equis Lager. 
Ingredients
4 eggs
1 cup Dos Equis
3-1/2 tsp Creole seasoning (divided use)
1-1/4 cup all-purpose flour
2 Tbsp baking powser
48 large raw shrimp, peeled, tails on, de-veined (Find what you need in your local Brookshire Brothers Market department!)
1-1/2 to 2 cups fresh or moist-packed shredded coconut
Oil for deep frying
2 cups orange marmalade (for the Sweet & Tangy Sauce)
1/4 Creole or Dijon Mustard (for the Sweet & Tangy Sauce)
3 Tbsp shredded horseradish (for the Sweet & Tangy Sauce)
Directions
Combine eggs, beer, 1 tsp Creole seasoning, flour and baking powder. Blend well. Season shrimp with remaining seafood seasoning. Dip the shrimp in beer batter and roll in coconut. Fry in oil heated to 350°F. in deep fryer, wok or deep saucepan. The oil should be at least 1-1/2 inches deep. Drop shrimp in a few at a time and fry until golden brown. Remove and drain on paper towel. For the Sweet & Tangy Sauce, blend ingredients and serve.
Cheers to you this Cinco de Mayo!
Monday April 27, 2015
How to Rim a Margarita Glass
Sure salt is classic for rimming that margarita glass, but why not have some fun? We've got something for everyone from sweet tooth's to spice-lovers! Here are 5 fantastic and fun ways to rim your margarita glass. First things first, no matter what you're planning on using, you need to know how to rim that glass! It's super simple. Start with a plate or shallow bowl of water, lime juice or lemon juice, then dip in the rim of your glass. Alternatively, you could cut a lime or lemon wedge and moisten the rim with it; it's totally up to you.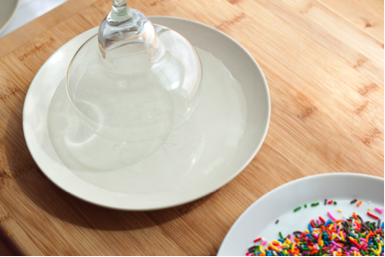 Next, you want to evenly dip the rim into whatever you're rimming the glass with...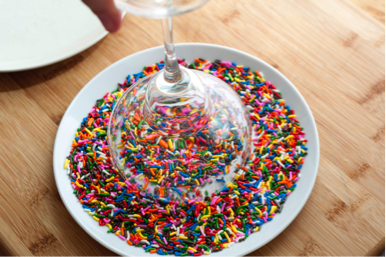 …in this case we used multicolored sprinkles! Look at how pretty they look!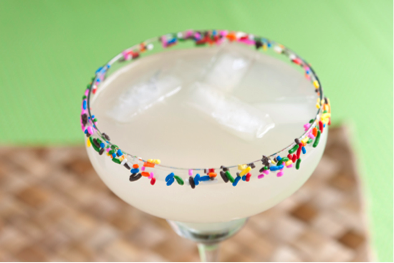 How about something orangey? We made a super simple orange sugar by mixing orange zest with granulated sugar.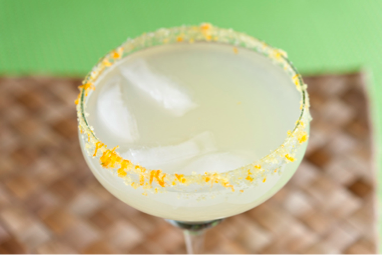 Still on the sweet side, we used color sugar crystals. This one is great for themed parties. Make your Cinco de Mayo party extra festive with multi-colored rims!
Let's move to a more savory idea, shall we? How about a chili salt rim for the adventurous? It may sound fancy, but it is super easy to make. Mix together course salt and Mexican chili powder. It will be smoky and packed with flavor.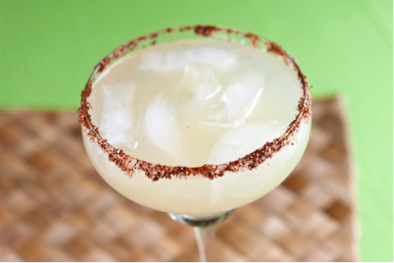 Then, for our spice lovers, we made a jalapeno-lime salt! It's spicy, fresh and is perfect with that margarita. Mince a jalapeno (no seeds) super fine then mix with lime zest and coarse salt. Dip in the glass and you'll be on your way to a fantastic celebration!
Speaking of a parties and celebrations, how about this idea – Set up a station with two or three of the ideas above, lots of glasses and a pitcher of margaritas. Then, your friends can choose their own and get involved. They'll love it and you get to spend more time enjoying the party.
Want to make the party even easier? Opt for pre-made margaritas and pick up a pack of the Bud Light Lime-a-Ritas! Enjoy!