Monday October 28, 2019
A New Holiday Favorite: Bacon Deviled Eggs
The holidays are coming up fast, and with that comes lots and lots of delicious food. This year we've got a fresh spin on a holiday favorite, keep reading below to get our Bacon Deviled Egg recipe.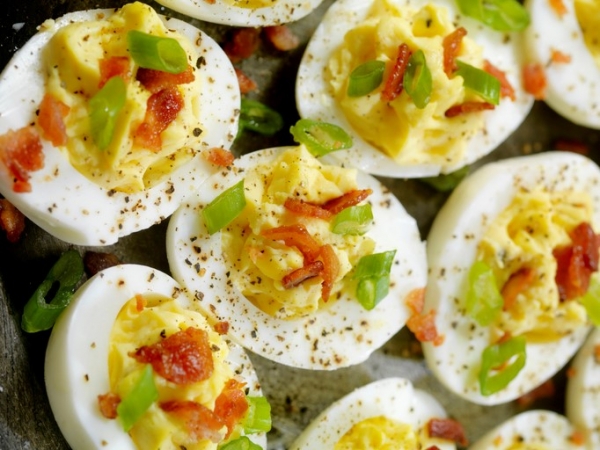 Bacon Deviled Eggs
Ingredients
6 large boiled eggs
2 tbsp mayonnaise
2 tbsp sweet pickled relish
2-3 tbsp bacon bits plus more for garnish
1/4 tsp yellow mustard
Salt to taste
Black pepper to taste
Paprika for garnish
Green Onions (sliced) garnish
Directions
Peel the egg shells from the eggs. Cut eggs into half.
Remove yolk from eggs.
Smash egg yolks to remove all the clumps.
Then add mayonnaise, sweet pickled relish, bacon bits, yellow mustard, and salt and pepper. Mix well.
Cut a small slit on the corner of a zip lock bag. Add yolk mixture to the zip lock bag. Push mixture out through the hole in zip lock bag into the eggs.
Garnish with smoked paprika, additional bacon bits and chives.
Serve and enjoy!