Tuesday December 20, 2016
Holiday Centerpieces You'll Love
The sounds and smells of the season have you feeling festive, but is something missing? Maybe your decorations are a little light this year, or you want to change them up. Let us help you bring the cheer indoors with our ideas of the best holiday centerpieces!
For the DIY Diva
If you're the type who is crafty, artsy, and likes using your creative flair, this is for you! Head to your local Brookshire Brothers Floral Department and grab your favorite single stem flowers. As a DIY Diva, we're sure you have a vase around your craft closet somewhere that you can use. Fluff up your centerpiece by adding some ornaments, candles, paper snowflakes, doilies or draped fabric to create a fun and simple table-scape.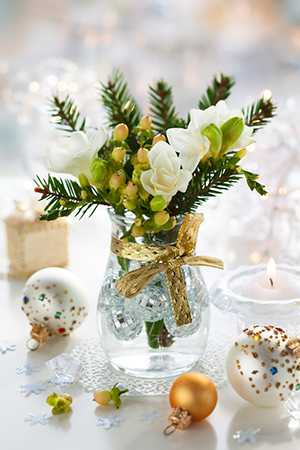 For the Holiday Hostess
Yes, you love the holidays and parties. But, do you find yourself wanting to change decorations for each party you host? You may be a DIY Diva at heart, but sometimes, even the best run out of ideas. We're here to give your next celebration the boost it needs! Our florists are pros at Seasonal Arrangements and have exactly what you need. Go by your Floral Department and speak to the florist to brainstorm. We know that between the two, the centerpiece will transform into the center of the party.
For the Maxed-Out-Mama
Between making your list for perfect presents, shopping for those hard-to-find presents, wrapping said perfect presents, you're likely to be wiped out come Christmas Day. Although you've thought long and hard on each gift, we don't want you to miss out on the best part of the entire Christmas Season: giving gifts and watching your loved ones' reactions. Swing in and browse the broad selection of Gifts and Gift Baskets we have! You're only limited by your imagination when selecting the perfect gift at your local Brookshire Brothers Floral Department.
Monday December 5, 2016
Happy Holi-Trays
The Christmas season is here, full of parties galore! We're here to serve your party-planning needs. What makes a celebration go from "fine" to "amazing"? Ordering party trays from your local Brookshire Brothers Bakery & Deli! With cookies, sliders, wings, fruit, vegetables, and more, we can bring the party. Call your store for more today!
Still are unsure of what to order? Take our advice and try one of these menus at your next Holiday Party! 
Office Christmas Brunch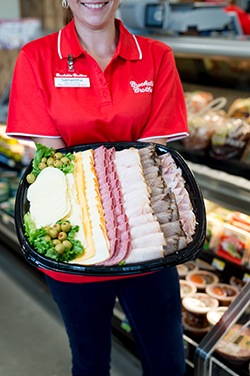 Start your party off with a Breakfast Tray filled with bite-sized pastries and scones. You can also grab a Bread Tray to pair with our Gourmet Meat & Cheese Tray from the deli. To finish off your brunch, grab a Mini Meatball Tray to satisfy your cravings.
No "Pot" Potluck
That's right. Throw a potluck party, but don't make yourself or your friends and family worry about what to cook. Forget the pots and pans and order trays! You can easily coordinate who can bring what tray to plan a beautiful dinner. Assign an  appetizer, such as the Cheese Tray, to your friend down the street. Ask Mom to bring a Hors D'oeuvres Tray of her choosing  - we suggest the stuffed peppers! You can take care of the Sandwich Tray and maybe even swing over a couple of aisles to grab some chips to go with it. And finish it off with a Cookie or Dessert Tray brought by your sister. 
Merry Christmas and Happy Holi-Trays to you and your family!
Monday October 17, 2016
Cooking with Kate: Happy Halloween!
It's hard to believe that Halloween is right around the corner...especially when it still feels a bit summery outside. Hopefully the temperature will drop some before the trick-or-treating weekend is upon us! Have some fun this year with your kiddos making these fun after-school and party recipes that are simple, quick, and delicious!
Toothy Apples
3-4 apples – Granny Smith, Gala, or Fuji
smooth or crunchy peanut or almond butter
mini marshmallows
Slice apples into quarters and remove the core. Slice each quarter in half and spread a small amount of peanut or almond butter on one of the sides. Add 5-7 mini marshmallow "teeth" to one slice and top with another slice, peanut butter side down to hold the marshmallows in place. Refrigerate your "toothy" apples until ready to serve.
Fall Party Snack Mix
6 cups Chex or Crispix cereal
1 cup mini pretzel twists
6 tablespoons butter, melted
¼ cup brown sugar
1 teaspoon cinnamon
1 cup peanut butter pieces or chocolate candies
1 cup mini marshmallows
1 cup candy corn or other fall candy
Pre-heat the oven to 275°F. Line a baking sheet with parchment paper and set aside. Melt the butter in a large bowl. Add the cereal and pretzels and toss evenly to coat. In a small bowl, mix the brown sugar and cinnamon, then toss with the cereal mixture to evenly coat. Spread the cereal mixture onto the baking pan and bake for 20 minutes. Cool the cereal mixture completely. Once cool, add the candy, candy corn and marshmallows. Serve in a large bowl for a party or package into small bags to give out to friends 
Spiced Apple Cider
Makes 16-20 servings
2 ½ quarts apple cider
24 ozs pineapple juice
24 ozs orange juice
1 teaspoon ground nutmeg
1 teaspoon ground cinnamon
4-6 cinnamon sticks
1 tablespoon whole cloves
In a large crock pot, mix apple cider, pineapple juice, orange juice, ground nutmeg, and ground cinnamon. Add cinnamon sticks and cloves (see note). Heat on high for 1 hour.  Turn heat to low and continue heating for 1-2 hours or until ready to serve. Refrigerate any remaining cider.
NOTE: If you have cheesecloth available, use a small square of cloth to wrap the cinnamon sticks and cloves and then tie with twine. Add to the pot and remove before serving. If cheesecloth is not available, use a slotted spoon to remove the cloves before serving.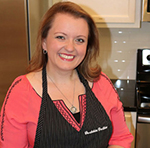 Kate Rudasill, Catering Coordinator for Brookshire Brothers, has been in the food-service industry for the past 14 years. As a graduate of Texas A&M University, a student of The Texas Culinary Academy, and a Nacogdoches, Texas native, Kate grew up with Southern tradition in her blood which caused her to have a deep love for bringing people together with food.
Monday October 3, 2016
Build Your Own Taco Bar
Crunchy or soft...beef or chicken...make your taco how you like it! Invite your friends, neighbors and family over for everyone's favorite, taco night!
Planning & Preparation
Get a head count. Once everyone RSVPs, start a list of who will bring what. Sides are easy for one couple/family, but you may suggest for two couples or families to split the cost of the meat. We're planning for a large crowd, so you don't want someone to feel overwhelmed!
Have variety. Your hot scale may be totally different than mine. So have mild, medium, and hot salsas available for everyone. Having a variety of flour, corn, and flavored tortillas and taco shells can be fun too. 
Embrace the theme. If you're planning the food to such detail, don't leave out the decor and drinks! Run to your local Brookshire Brothers or David's and grab some balloons and margarita mix. While you're out, try to find some fun margarita glasses too. You can send them home as a party favor, or keep them for your next taco night!
The Setup
Be strategic and create a flow. When your guests arrive, have a cocktail area where they can mingle and socialize before moving on to the food.
Invest in heavy duty! Let's be honest...everyone's eyes will be bigger than their stomachs. If you're going for paper and plastic, invest in heavy duty plates. 
Labels are important. Make sure you have labels in front of each station and/or food item. We wouldn't want anyone to confuse "mild" and "hot" salsa!
Enjoy 
You did it! You made your taco the way you want it and enjoyed your company along the way. Taco Tuesday may be when everyone wants tacos, but don't limit yourself to one day a week! Make taco night any night you're craving something salty and savory.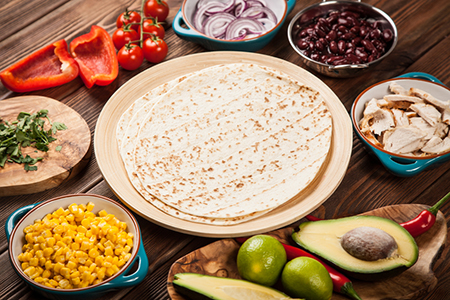 Wednesday September 7, 2016
Hope Springs Water
During the month of September, we're providing hope to the hopeless with your help. 1.2 billion people have no access to pure drinking water. Hope Springs Water from Athens, Texas was founded to provide safe water, sanitation, and public health education in developing countries.
Brookshire Brothers and our family of brands is partnering with Hope Springs Water to bring the opportunity to you, our customers. For every case of Hope Springs Water you purchase at our stores, we'll give 50¢ to help bring clean water to the thirsty in the developing world. You can help make a difference by drinking Hope Springs Water. Let's impact the lives around the globe today!
Learn more about Hope Springs Water at HopeSpringsWater.org.

Monday June 13, 2016
6 Easy Ways to Mushroom with Monterey Mushrooms
Fresh mushrooms are truly a cook's best friend. Whether you need just a little something to dress things up or add a whole new dimension of flavor, your answer is mushrooms!
Basic Preparation: There is no need to peel mushrooms. The only trimming they may need is the stem end, if it's dry, or the tough stem portion of Shiitakes or the root of the Portabella. All other mushroom stems may be prepared along with the caps. Mushrooms can be sliced thick or thin, cut in quarters, coarsely or finely chopped using a sharp knife. For slicing or chopping large quantities, use a food processor with the slicing or wing blade attachment. If a recipe calls for just caps, twist stems loose or separate them from the caps with the tip of a knife.
Sautéing: The most popular way to cook mushrooms. For each eight ounces of mushrooms, melt one tablespoon butter or heat one tablespoon of oil in a large skillet. Add mushrooms. Cook and stir until golden and the released juices have evaporated, about five minutes. Don't overcrowd the skillet or the mushrooms will steam rather than brown.
Microwaving: Mushrooms cook extremely well in the microwave. Simply clean and cook as follows: Put eight ounces thickly sliced mushrooms in a microwavable bowl (no oil or butter needed); cover and cook on HIGH (100% power) for two to three minutes stirring once.
Roasting: Place mushrooms in a shallow baking pan, Toss with a little oil and roast in a 450 F oven, stirring occasionally until brown, about 20 minutes. Use about one tablespoon of oil for each eight ounces of mushrooms.
Grilling or Broiling: Preferred for larger capped mushrooms such as Portabellas and Shiitakes. Lightly brush caps and stems with oil to keep them moist, and season with salt and pepper. Grill or broil 4 to 6 inches from heat source for 4 to 6 minutes on each side, brushing again once or twice.
Seasoning: Mushrooms are very similar to meats and other vegetables. Virtually any and all seasonings go well with mushrooms. If serving as a side dish, use seasonings compatible with the main dish.
These are some easy methods for cooking mushrooms. Get to your local store and grab your favorite variety and fire up the grill...it's summer!
Tuesday May 31, 2016
Simply Lemonade Ice Pops
Chill out and beat the summer heat with this delicious mix of Simply Lemonade and fresh berries.
Ingredients:
Simply Lemonade
Fresh blueberries and raspberries
Ice pop molds and sticks
Instructions:
Pour Simply Lemonade into ice pop mold.
Add blueberries and raspberries.
Freeze & enjoy.
Also, you can use any of your favorite Simply Beverages. 
Tip: Soak ice pop mold in warm water to loosen and remove the ice pop.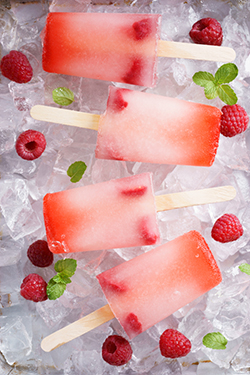 Friday May 20, 2016
Cooking with Kate: Blackberries, May & Summer
The month of May brings a welcome break from school and lots of anticipation for the summer. The days are getting longer, it is warm enough for swimming, and baseball season is in full swing. With the warmer weather, May also gives us an exciting array of fresh produce. Here are two recipes with the Produce Pick of the Month for May – blackberries!
Mascarpone Dip with Balsamic Basil Blackberries
1 container (8-9 ounces) mascarpone cheese
1/3 cup balsamic vinegar, good quality
1 tablespoon light brown sugar
1 (6 oz) package (1 ½ cups) fresh blackberries
2 tablespoons fresh basil leaves, thinly sliced
½ teaspoon freshly ground black pepper
1 large pinch sea salt
Assorted crackers, for serving
Bring vinegar and brown sugar to a simmer in a saucepan over medium-high heat. Simmer until reduced to 2 tablespoons. Pour into a medium bowl and let cool completely. Once cooled, gently stir in blackberries, basil, pepper and salt. Dip the bottom of the mascarpone container in a small bowl of very hot water for about 5 seconds. Using a rubber spatula, unmold mascarpone onto a serving platter. Spoon blackberry mixture over mascarpone, being sure to scrape all the juices out of the bowl. Serve with assorted crackers.
Blackberry Skillet Cake
1 ½ cups all-purpose flour
1 ½ teaspoons baking powder
¼ teaspoon fine salt
10 tablespoons unsalted butter, room temperature, divided
¾ cup granulated sugar
2 large eggs, room temperature
2 teaspoons pure vanilla extract
½ teaspoon grated lemon zest
½ cup whole milk, room temperature
1/3 cup dark-brown sugar
3 cups fresh blackberries
Preheat oven to 350°F. In a medium bowl, whisk together flour, baking powder, and salt. In a large bowl, using an electric mixer, beat 6 tablespoons butter and sugar on high until light and fluffy. Beat in eggs, vanilla, and zest until combined. With mixer on low, add ½ of the flour mixture, then the milk, then the remaining flour mixture. Blend until combined.
In a 10-inch, oven-proof skillet, melt remaining 4 tablespoons butter over medium heat. Add brown sugar and cook, stirring constantly for until bubbly (about 30 seconds). Remove from heat and arrange blackberries evenly in skillet. Pour cake batter over berries and smooth top. Bake in preheated oven until cake is deep golden brown and a toothpick inserted in center comes out clean, 35 to 40 minutes. Let cake cool in skillet on a wire rack for 5 minutes. Run a knife around edge and carefully invert cake onto a serving plate. Serve warm or at room temperature with whipped cream.
Monday May 16, 2016
Snackspiration!
Melon with Prosciutto: Sweet melon and salty prosciutto go together like peanut butter and jelly. Which is to say, you'll probably never want to eat one without the other ever again. 
Grape Sticks: There's something about eating off of a stick that makes everything more delicious—grapes included. If you have extra time on your hands, pop them in the freezer for a super-chill twist.
Melon Rings: Sure you could just eat slices of melon, but what's the fun in that? To make these show-stopping rings, we first cut slices of watermelon, muskmelon and cantaloupe in 1.5-inch slices, then we used circle cookie cutters to make the rings. Last step is to stack them and you're set!
Grilled Peach Salsa: If you thought salsa was just made from tomatoes, think again! Throw some grilled peaches in your next batch for a summertime spin that you can't get enough of.


Monday May 16, 2016
Hurricane and Disaster Preparedness
Be Aware. Be Prepared. As hurricane season begins, we encourage you to gather supplies and create a Disaster and Emergency Preparedness Kit. When a disaster hits, having the right emergency supplies can mean the difference between life and death. Be ready for whatever storm lies ahead by packing these supplies in a ready-to-go fashion.
Checklist:
Water (When in doubt, have more than enough water. A general tip is 1 gallon per person per day)
Medications
Flashlights
Batteries (Gather enough batteries for a three-day supply)
Matches
Multi-purpose tool
Non-perishable food (Family members will each need enough food for three days)
Personal toiletry items
First aid kit
Battery-powered or hand-cranked radio
Sleeping bags/blankets
Essentials for your pets
Whistle
Tips:
Select a waterproof container/bag for all supplies.
Gather important documents and store a stash of cash.
Make an emergency plan.
Store your emergency kit in a safe place.
Adjust your kit and plan as your family structure changes.
Keep a local map in your kit to follow evacuation routes.
Stay informed with social media and/or local news media.
Keep an extra cell phone and charger on-hand.
Look in your weekly ad for the Hurricane Preparedness Icon placed with suggested supplies.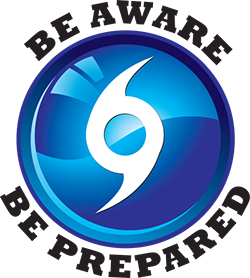 Pages