Monday October 7, 2019
Tasty Tailgate Snacks
Don't fumble your tailgate party - checkout these simple game day appetizers that will wow the crowd!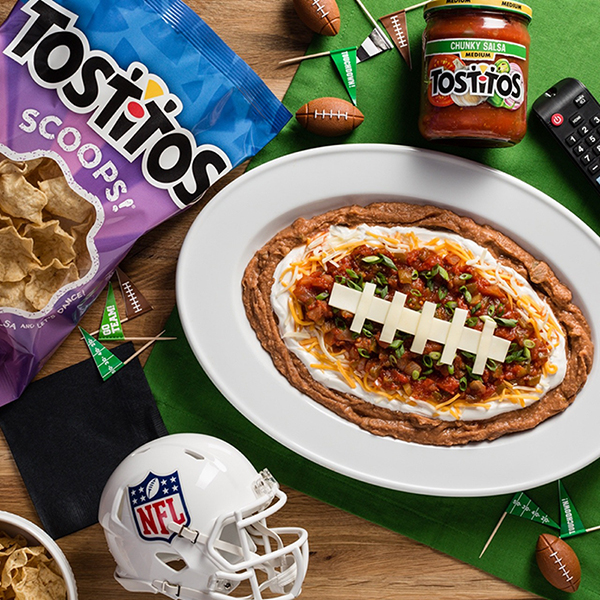 Kick-Off Dip
Recipe courtesy of our vendor partner Tostitos.
Total time: 10 min | Servings: 8
INGREDIENTS
1 can (15 oz) Wolf Brand Chili No Beans 
1 can (15 oz) Ranch Style Beans, undrained
1 bag (10 oz) Tortilla Chips
1 ½ cups shredded cheddar cheese
1 can (10 oz) RoTel Original Diced Tomatoes & Green Chilies, drained
OPTIONAL: Guacamole, sour cream, sliced black olives or sliced green onions 
DIRECTIONS
Combine chili and undrained beans in medium saucepan; heat until hot.
Arrange tortilla chips on large platter. Top with chili mixture; sprinkle with cheese.
Top with drained tomatoes and additional toppings, such as guacamole, sour cream, sliced ripe olives or sliced green onions, if desired.
Pigskins in a Blanket
Recipe courtesy of our vendor partner Pilsbury.
Total time: 40 min | Servings: 48
INGREDIENTS
2 cans (8 oz each) Pillsbury™ refrigerated crescent rolls
48 cocktail-size smoked link sausage or hot dogs (from two 14-oz packages)
Yellow mustard, from squeeze bottle
DIRECTIONS
Heat oven to 375°F. Unroll both cans of dough; separate into 16 triangles. Cut each triangle lengthwise into 3 narrow triangles.
Place 1 sausage on thin point of each triangle. Roll up, starting at point and rolling to opposite short side of triangle. Place seam side down on 2 ungreased cookie sheets.
Bake 11 to 14 minutes or until golden brown, switching position of cookie sheets halfway through baking. Immediately remove from cookie sheets to serving tray.
Cool 2 minutes. Squeeze 1 line of mustard crosswise and 3 lines lengthwise to make laces of football. Repeat with remaining crescent dogs.
 Stock up on tailgate snacks and more at your local Brookshire Brothers!