Posted on Wednesday, February 10, 2021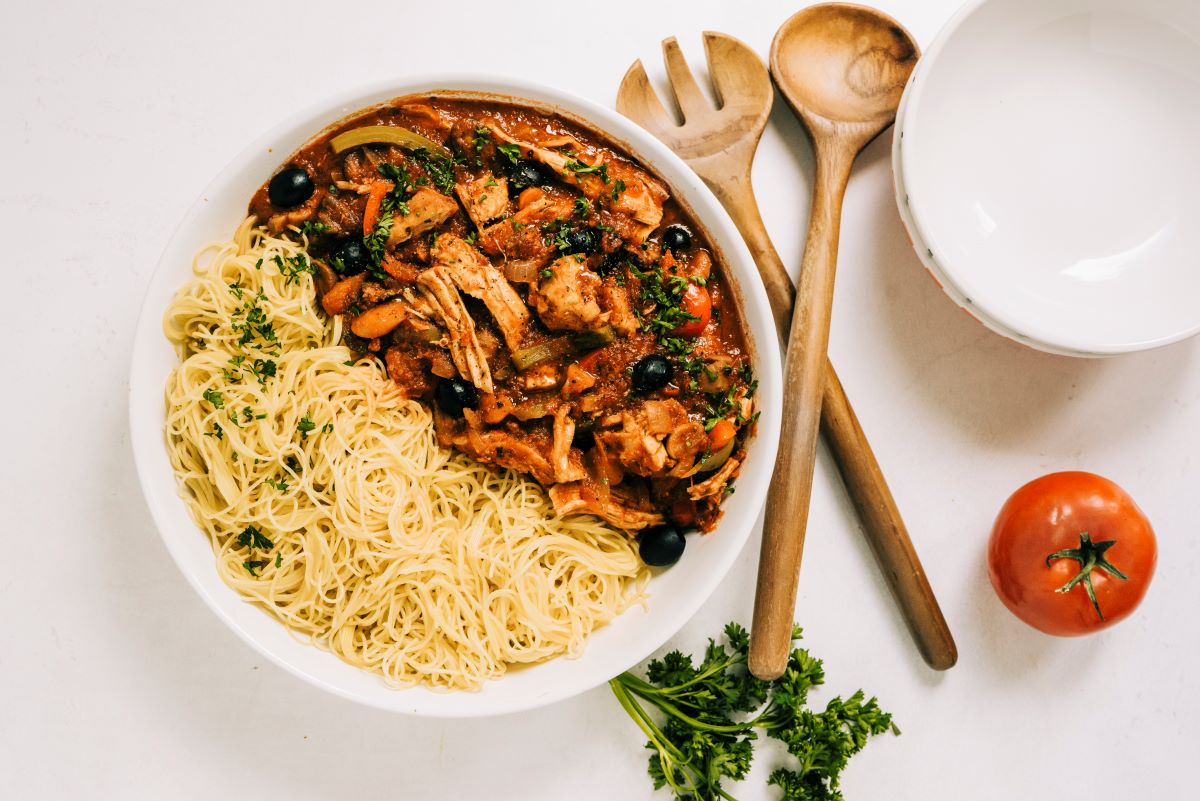 Comfort food at its best! This mouth-watering recipe is ready in less than 45-minutes, making it a perfect Valentine's Day dinner option.
Ingredients:
3 frozen boneless skinless chicken breasts
3 tablespoons olive oil
1 yellow onion, sliced
3 cloves garlic, minced
8 ounces white mushrooms, quartered
1 carrot, peeled and diced
1 teaspoon kosher salt
1/2 cup red wine
2 cups beef broth
1 (28-oz) can crushed tomatoes
2 tablespoons tomato paste
1 tablespoon dried basil
1  teaspoon dried thyme
1 teaspoon dried oregano
1/2 teaspoon red pepper flakes
1/2 teaspoon sugar
1 red bell pepper, seeded and sliced
1 green bell pepper, seeded and sliced
1/2 cup pitted black olives, cut in half
1/4 cup fresh parsley, chopped
Directions:
Set Instant Pot to "Sauté" mode and add the olive oil. When the oil is hot, add the onion, garlic, mushrooms, carrot and salt. Cook until onion starts to soften, about 2-3 minutes. 
Add the red wine and beef broth to the pot and scrape any browned bits from the bottom of the pan. 
Add the tomatoes, tomato paste, basil, thyme, oregano, red pepper flakes and sugar to the pan and stir to combine. Submerge the frozen chicken into the sauce and lock the Instant Pot lid in place, making sure the venting valve is sealed. 
Set the Instant Pot to cook at high pressure for 5 minutes. When the cooking time is up, allow the pressure to release naturally for 18 minutes, and then carefully turn the venting valve to release any remaining pressure. When the pressure pin drops, remove the lid. 
Remove the chicken from the pot and place on a cutting board to shred once cooled. 
Set the Instant pot on "Sauté" mode and bring the sauce to a simmer. Add the bell peppers and olives to the sauce and cook until the peppers are tender and cancel "Sauté" mode. 
Add the shredded chicken and parsley to the sauce and stir to combine.
Serve the chicken and sauce over cooked rice or pasta topped with grated Parmesan cheese.