Posted on Thursday, May 20, 2021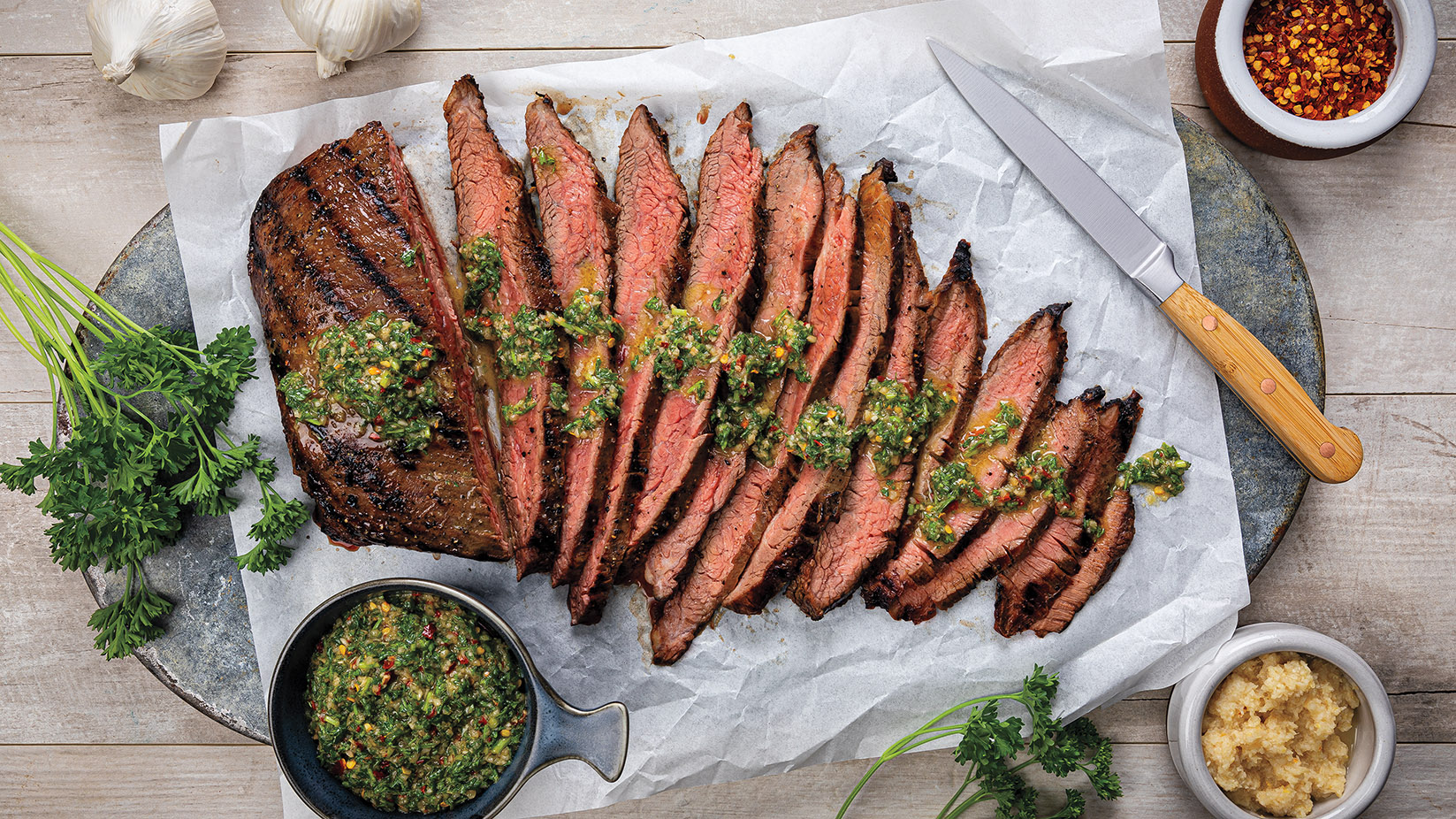 View the video version here.
Prep: 15 minutes plus standing   Grill: 6 minutes   Serves: 4
Ingredients: 
2 garlic cloves, minced
¼ cup finely chopped fresh parsley
1½ tablespoons prepared horseradish
1 tablespoon Culinary Tours™ Red Wine Vinegar
¾ teaspoon kosher salt
¼ teaspoon Food Club® Crushed Red Pepper
¼ cup Food Club® Extra Virgin Olive Oil
1 flank steak (about 1½ pounds)
½ teaspoon ground black pepper
Directions: 
1.    Prepare outdoor grill for direct grilling over medium-high heat. In small bowl, whisk garlic, parsley, horseradish, vinegar, ¼ teaspoon salt and crushed red pepper; whisking constantly, slowly drizzle in 3 tablespoons oil until emulsified. Makes about ⅓ cup.
2.    Brush both sides of steak with remaining 1 tablespoon oil; sprinkle with remaining ½ teaspoon salt and black pepper. Place steak on hot grill rack; cover and cook 6 minutes or until internal temperature of steak reaches 135° for medium-rare, turning once. Transfer steak to cutting board; tent with aluminum foil and let stand 10 minutes. (Internal temperature will rise to 145° upon standing.) 
3.    Slice steak across the grain; serve topped with parsley-horseradish vinaigrette. 
 
Chef Tip
Serve steak with grilled red skin potatoes, asparagus and/or corn on the cob.