Posted on Thursday, June 24, 2021
Summer is the perfect time to try new recipes with farm fresh produce, especially peaches! Peaches from Brookshire Brothers come from local producers like Cooper and Lightsey Farms from Fairfield and Mexia, Texas.
Check out these recipes and swing by your local Brookshire Brothers to pick up some Texas fresh peaches!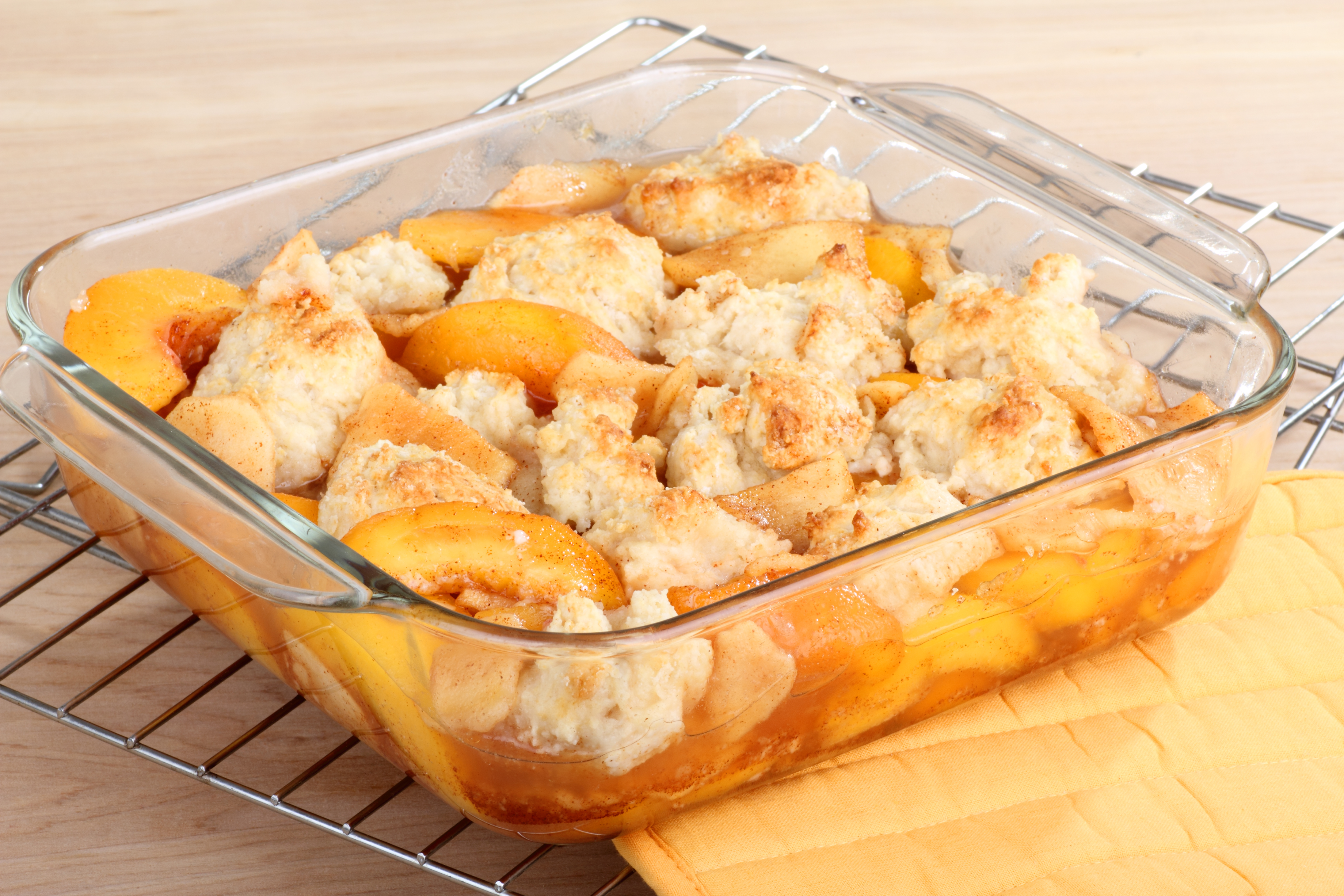 Peach Cobbler
This recipe comes from Elizabeth Johnson of Cooper Farms.
Ingredients
1 cup flour
1 cup sugar
1 cup milk
½ cup unsalted butter
5-6 peaches
¼ tsp vanilla extract
1 tsp nutmeg
1 tsp cinnamon
Instructions
Preheat the oven to 350°F
Melt butter in a medium-size pan
Mix dry ingredients with milk in a large bowl
Pour mixture into the pan on top of butter. Do not stir.
Put peaches on top of the mixture. Do not stir.
Bake for 30-40 minutes or until golden-brown

Grilled Peaches with Pecan Brown Butter Sauce
Ingredients
4-6 peaches, fresh
Food Club non-stick cooking spray
1 stick Food Club salted butter
1/4 - 1/2 cup pecans, chopped
1/2 teaspoon cinnamon sugar
fresh whipped cream
Directions
Slice peaches in half and remove pit
Lightly spritz cut side of peaches with non-stick cooking spray
Place cut side down on a hot grill. Cook about 2-3 minutes.
Remove peaches from grill and place in a lightly greased baking dish or sheet pan.
Return dish or pan to grill, cover and continue to cook until the peaches are soft – about 5 minutes
Remove from heat and serve immediately

To make the sauce:
In a small sauce pan, melt butter
Continue to cook over medium heat until butter begins to brown and smells slightly nutty
Remove from heat and add pecans and cinnamon sugar
Swirl or stir to mix
To serve:
Place 1-2 peach halves on a dessert plate
Drizzle with Pecan Brown Butter and a scoop of whipped cream
Garnish with fresh mint and pecan halves, if desired

Grandma's Peach Jam
Ingredients
6 lbs farm fresh peaches
8 tbs lemon juice
2 1/2 - 3 1/2 cups granulated sugar
Jelly jars
Tongs
Directions
Chop peaches into bite-size pieces or mash them
Mix peaches with lemon juice to keep them from turning brown
Add sugar to peaches. Stir to coat peaches.
Let it sit for one hour at room temperature
Bring mixture to full boil in large pan over medium-high heat, stirring occasionally
Reduce heat to medium and let simmer for one to two hours until mixture looks thick and "jelly-like." Stir often to avoid scorching.
Pour mixture into glass jars leaving about 1/4 inch at top of jars. Do not cool before pouring.
Canning Instructions
Check jars, lids and bands for proper functioning. Jars with nicks, cracks, uneven rims or sharp edges may prevent sealing or cause jar breakage.
Screw on lids over caps
Fill large pot with water, covering jars by at least 1/2 an inch
Maintain a simmer at around 180 degrees for 10 minutes
Remove jars with tongs and flip upside down onto dry towel
Allow to cool completely
If the lid does not make popping a sound when pressed, it is thoroughly sealed