Posted on Tuesday, June 2, 2020
How about this stress-free chicken dinner? Director of Catering Kate Rudasill has come up with this simple., yet tasty dish for your weeknight dinners.
French Fried Onion Chicken with Mashed Potatoes and Roasted Broccoli
Ingredients
4 boneless, skinless thin-sliced chicken breasts
¼ cup Food Club honey mustard dressing
2 large cans Food Club French fried onions
2 lbs. red potatoes
½ - 1 cup half and half
4 tablespoons (½ stick) butter
salt and pepper
½ teaspoon Cajun seasoning
1 head fresh broccoli
2 tablespoons olive oil
salt and pepper
½ teaspoon garlic powder
Directions
French Fried Chicken
Preheat oven to 375˚F. Line a cookie sheet or a 9" X13" baking dish with foil and spray with cooking spray.
Add the fried onions to a gallon-size zipper bag. Seal the bag and use a rolling pin or large can to smash the onions into small crumbs.
Sprinkle a light layer of the smashed onions on the foil-lined sheet or baking dish.
Lightly coat the chicken breasts in the honey mustard. Use your hands to remove excess dressing (yes, it's very messy!).
Lay the coated chicken breasts on the onions on the sheet and sprinkle remaining onions to completely cover.
You want to be sure to have enough for the top of the chicken, so go with a light layer on the bottom.
All the chicken should be completely covered, including the edges.
Bake in preheated oven for 30-45 minutes or until chicken reaches an internal temperature of 165˚F and the onions are nicely browned and crispy.
Cooking time will vary depending on your oven and the size of the chicken pieces.
Mashed Potatoes
Cut washed potatoes into large pieces.
Add to a large pot and cover with cold water.
Bring to a boil over high heat and cook until potatoes are tender, 10-13 minutes.
Drain potatoes and return to the pot. Mash the potatoes over low heat to release the steam [this prevents the mashed potatoes from becoming gummy].
Add butter, half and half, and season. Continue mashing until the potatoes are your desired consistency – adding more half and half, if needed.
Keep warm until ready to serve.
Roasted Broccoli
Rinse broccoli and remove excess water.
Cut broccoli into large florets and place them on a large baking sheet.
Drizzle with olive oil and season with salt, pepper, and garlic.
Toss to coat. Roast broccoli into a 425˚F oven for 15-20 minutes or until broccoli is tender and slightly charred.
Keep warm until ready to serve.
---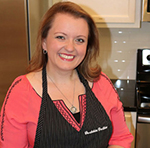 Kate knows food. She grew up with the Southern tradition of good food with the hospitality to match. A graduate of Texas A & M University, a student of The Texas Culinary Academy, and a Nacogdoches, Texas native, Kate's greatest joy is bringing people together over a scrumptious meal.