Posted on Tuesday, January 14, 2020
Looking for a quick and easy meal that won't compromise the New Year's resolutions you've set? We've got this delicious and simple recipe for chicken burrito bowls just for you. And as a bonus they are perfect for meal prepping. Keep reading for savings on making your own chicken burrito bowls this week too.
Chicken Burrito Bowls
Ingredients
1 pound boneless skinless chicken breasts
2 tablespoons taco seasoning
3 tablespoons white flour
2 tablespoons butter (or use olive oil)
1 can Whole Kernel Corn
1 can black beans
1 cup white (or brown) rice
1 large bunch fresh cilantro (separated)
1 and 1/2 teaspoons minced garlic (separated)
2 cups chicken stock or broth
1 package Fresh Express Salad (11 oz)
1 medium tomato diced
Directions
Chicken
Remove fat from the chicken breasts and then either pound the chicken to even, thin pieces or slice large breasts evenly in 2 halves.
Salt and pepper the chicken pieces.
In a bowl, mix together the taco seasoning and white flour.
Generously dredge each piece of the chicken breasts in this mixture.
Warm a large, non-stick skillet to medium high heat.
Melt the butter in the skillet, add the chicken to a single layer in the skillet.
Cook for 3 minutes on one side and then flip to the other side and cook for another 4-6 minutes or until chicken is cooked through (Registers 165 degrees F with a meat thermometer.)
Set aside to allow to cool.
Rice, Beans, & Corn
While the chicken is cooking, prep the rice: combine the rice, chicken stock or broth, and 1/2 teaspoon minced garlic in a pot over high heat.
As soon as the mixture begins to boil, reduce the heat, and cover with a lid until the rice is cooked through.
Once the rice is cooked through, tender, and no liquid remains, stir in 3 tablespoons (1 large) lime juice and 3 tablespoons packed & finely chopped cilantro.
Season to taste with salt and pepper.
Put together:
Slice the cooked and cooled chicken and place on one side of 4-5 meal prepping containers (or tupperware). Add a layer of lettuce.
Add a row of drained corn.
Add a row of drained and rinsed black beans.
Place the cilantro-lime rice next.
Cover these containers and place in the fridge for an easy meal prep solution. Or eat immediately.
*They can also be servied with your favorite salsa, and topped with sour cream and cheese.
---
But wait, there's MORE!!
We've prepared a feast of savings perfect to pair with this delicious dish—don't miss out!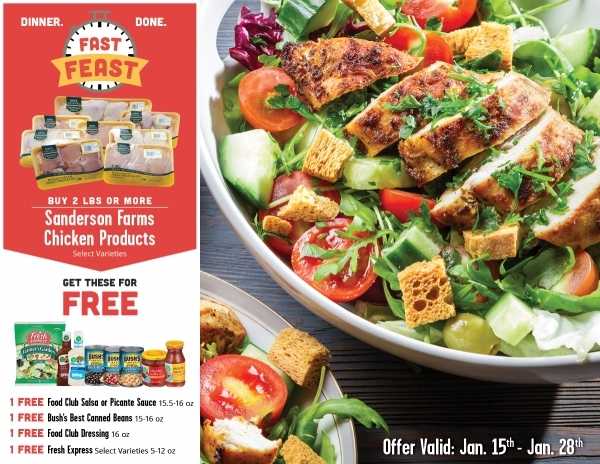 Fast Feast: Buy 2 lbs or more of Sanderson Farms Chicken Products (Select Varieties), Get 4 Free!
January 15 through January 28, 2020
When you buy 2 lbs or more of Sanderson Farms Chicken Products (Select Varieties) Get 4 items FREE!
1 - Food Club Salsa or Picante Sauce (15.5-16 oz)
1 - Bush's Best Canned Beans (15-16 oz)
1 - Food Club Dressing (16 oz)
1- Fresh Express (Select Varieties 5-12 oz)
Save fast and feast big TODAY—
find a store near you
.* Can't find one of these items? Talk to your local store director!
*Promotion is not available at the following stores: