Submitted by
Kate Rudasill - Director of Catering
on Friday, December 23, 2016
Our East Texas weather sure isn't predictable, but one thing is certain – the winter-ish temperatures will surely be back soon. If nothing else, the cold, wet weather gives you a great reason to bundle up, stay close to a crackling fire, and warm up with one of these great winter drinks! Happiest of New Years to you and your family!
Spiced Irish Coffee
For the spiced whipped cream:
- ½ cup heavy cream
- 1½ teaspoons sugar
- 1 teaspoon pumpkin spice
For the Irish coffee:
- 1½ cups freshly brewed hot coffee
- 1 tablespoon sugar
- 4 tablespoons whiskey
In a large bowl, whip heavy cream, sugar, and pumpkin spice to stiff peaks. Set aside.
Divide coffee, sugar, and whisky into 2 mugs. Add dollops of the whipped cream and sprinkle with additional pumpkin spice. Enjoy immediately.
Slow Cooker Holiday Mulled Wine
1 bottle red wine
½ cup hot water
½ cup sugar
¼ cup brandy
½ cup cranberry juice
½ cup whole fresh cranberries
5 sprigs fresh rosemary
2 cinnamon sticks
1 teaspoon whole allspice berries
4 star anise
½ teaspoon whole cloves
5 whole cardamom pods, lightly crushed with the back of a spoon to expose the seeds
½ vanilla bean, slit down the center
¼ teaspoon nutmeg
Garnish: a sprig of rosemary and a few cranberries
Add the water and sugar to a large crock pot and turn on high. Stir to dissolve the sugar. Add the remaining ingredients and heat until the wine just begins to simmer. Turn the dial to the 'keep warm' setting, and continue cooking for about 30 minutes before serving. To serve – ladle into mugs and add a sprig of rosemary and a few additional cranberries.
Note: When doubling this recipe, there is no need to increase the amount of whole spices.
Click here to see other recipes from Brookshire Brothers Catering Coordinator, Kate Rudasill.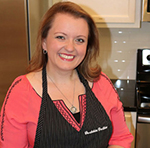 Kate Rudasill, Catering Coordinator for Brookshire Brothers, has been in the food-service industry for the past 14 years. As a graduate of Texas A&M University, a student of The Texas Culinary Academy, and a Nacogdoches, Texas native, Kate grew up with Southern tradition in her blood which caused her to have a deep love for bringing people together with food.