Wednesday April 29, 2015
Celebrate Mom
"Mom, is my uniform clean?" "Mom, I'm hungry." "Mom, can you take me to the mall?" Sound familiar? You may not ever think about it but once a year, but your mother does a lot. And it's not that your mom needs or wants praise all year, but on Mother's Day, she is welcoming a break and some appreciation. 
However, not all mothers want gifts. Moms want a clean house, breakfast in bed, quality time, and a lot of love and laughter. So don't worry about the perfect gift this year, let us help create the perfect day instead.
The husband and the kids can pitch in on this easy breakfast for Mom!
Puffed-Pancake Brunch Casserole
Ingredients

½ cup butter 
2 cups Original Bisquick™ mix 
2 cups milk
8 eggs
1 cup shredded Swiss cheese (4 oz)
1 lb cubed cooked ham (about 3 cups)           
1 package precooked bacon, chopped 
2 cups shredded Cheddar cheese
¼ teaspoon salt
¼ teaspoon ground mustard 
Dash ground nutmeg
Directions
Heat oven to 375°F. Spray 13x9-inch (3-quart) glass baking dish with cooking spray. Place butter in dish; place in oven until melted, about 10 minutes.
In medium bowl, mix Bisquick mix, 1 cup of the milk and 2 of the eggs with whisk until tiny lumps remain. Pour over butter in baking dish. Layer with Swiss cheese, ham, bacon and Cheddar cheese. In large bowl, mix remaining 1 cup milk, remaining 6 eggs, the salt, mustard and nutmeg. Pour over casserole.
Bake uncovered 35 to 40 minutes or until golden brown. Let stand 10 minutes before serving.
Don't just stop there! Grab a bouquet of flowers (our florists have great designs) and a card, pick up some paper plates, cups, and cutlery so Mom doesn't have to worry with dishes, and wake her up with breakfast in bed. This easy and filling meal is sure to leave everyone satisfied and ready for the day. When Mom wakes up feeling full and refreshed, plan some crafts with the entire family. Believe it or not, Moms love those handmade signs. Commemorate this day by bringing out the paint and create "hand bouquets" and have everyone sign their name by their handprint.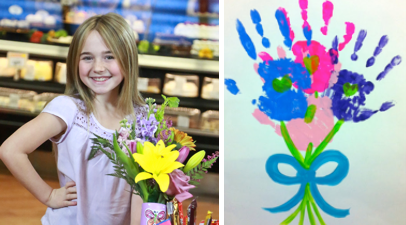 After an afternoon of painting and other activities, bring your mom a fresh bowl of strawberries. If you really want to treat her, slice up an Angel Food Cake and have whipped cream to serve with the strawberries!
Finish off the day with dinner and a movie. Let the kids help in the kitchen cooking dinner while Dad finds a good family movie. Let us suggest the perfect main course that will top off the perfect family day.
Mother's Day Grilled Chicken
Ingredients
4 boneless skinless chicken breasts
½ cup sweet-spicy French dressing
¼ cup soy sauce
1 clove garlic, finely chopped
Directions
In 1-gallon resealable food-storage plastic bag, mix all ingredients; seal bag. Turn bag to mix.
Refrigerate at least 2 hours to marinate.
Heat gas or charcoal grill. Remove chicken from marinade; discard marinade. Place chicken on grill over medium heat. Cook 10 to  12 minutes, turning once, until juice of chicken is clear when center of thickest part is cut (170°F).
Mom will LOVE this grilled chicken! Pair with the kids favorite sides and you can't go wrong. We hope this full-proof guide to Mother's Day makes the Mom in your life feel extra special this year!