Posted on Sunday, February 28, 2021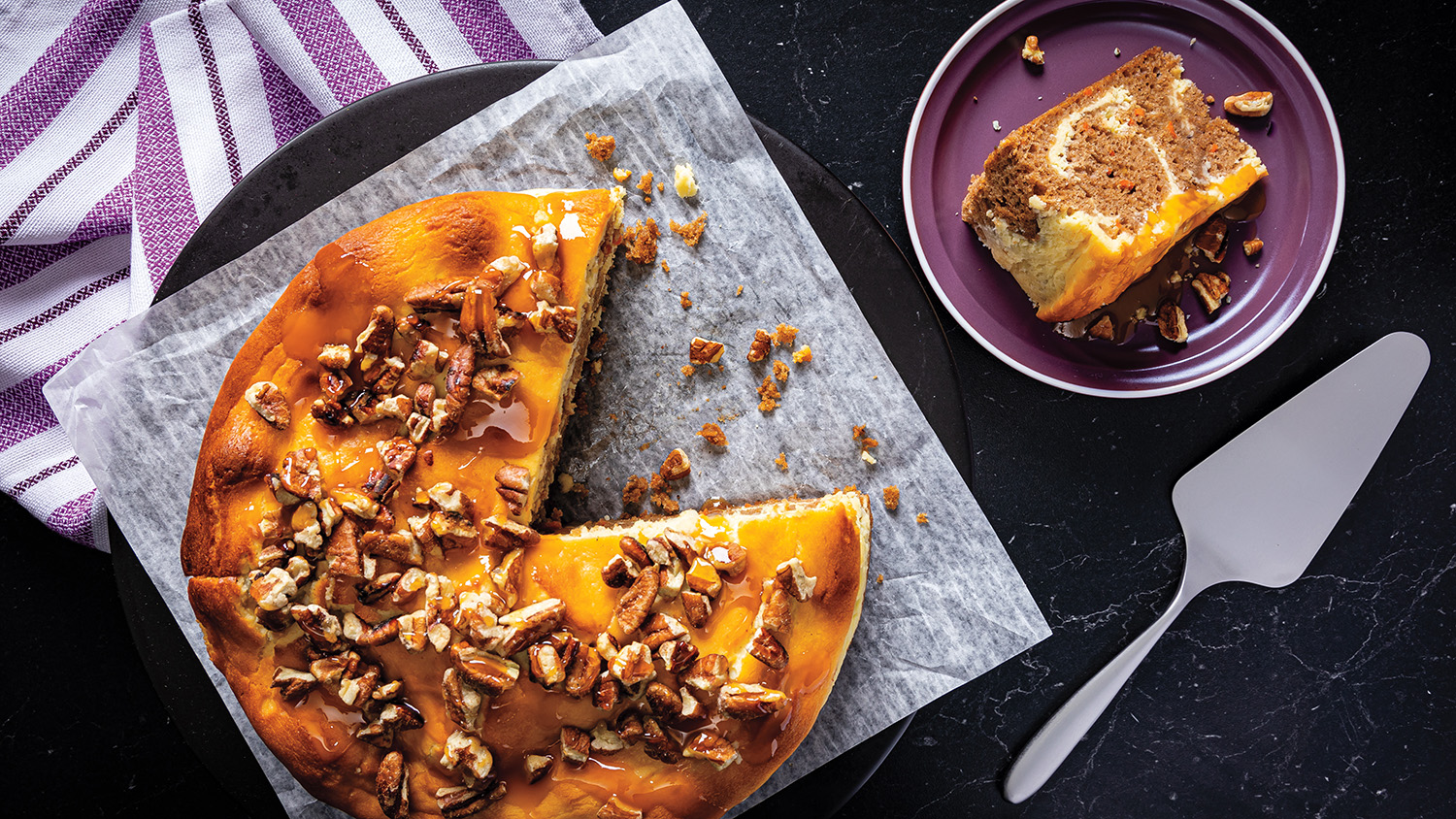 Ingredients: 
Food Club® Non-Stick Vegetable Oil Cooking Spray
1 package (15.25 ounces) carrot cake mix
5 Fresh Harvest™ Grade A Large Eggs
⅓ cup Food Club® Vegetable Oil
2 packages (8 ounces each) Food Club® Cream Cheese, softened
2/3 cup Food Club® Pure Cane Granulated Sugar
⅓ cup Food Club® Sour Cream
1 teaspoon Food Club® Pure Vanilla Extract
¾ cup chopped pecans
Caramel topping for drizzling (optional)
Directions:  
Adjust oven rack to middle position; preheat oven to 350°. Wrap exterior of 9-inch springform pan, including base, in double layer of aluminum foil; spray with cooking spray. In large bowl, whisk cake mix, 3 eggs, oil and ¾ cup water; pour ½ into prepared pan.
In large bowl, with mixer on medium speed, beat cream cheese, sugar, sour cream, vanilla extract and remaining 2 eggs 3 minutes or until light and fluffy; spoon ½ over cake batter. Spoon remaining ½ of cake batter over cheesecake batter; spoon remaining ½ of cheesecake batter over cake batter. Place springform pan on 17 x 12-inch rimmed baking pan; place baking pan in oven and fill halfway with water. Bake cake 1 hour 20 minutes or until set, carefully rotating halfway through baking; remove foil from pan and cool completely on wire rack. 
In large skillet, toast pecans over medium-high heat 4 minutes or until lightly browned and fragrant, stirring frequently; transfer to plate to cool. 
Run small, sharp knife around edge of cheesecake to loosen; remove outer ring of pan. Cut cheesecake into 10 slices; serve sprinkled with pecans and drizzled with caramel, if desired
Chef Tip
If top of cheesecake starts to get too brown, spray a piece of aluminum foil with nonstick cooking spray and lay, sprayed side down, over top of cheesecake in the oven until fully baked and set.