Friday November 20, 2015
Trending This Year: Brown Ale Caramel Corn
This salty-sweet mix has all the highlights of happy hour: popcorn, pretzels, cocktail peanuts and beer.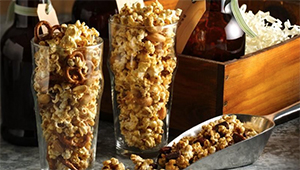 Ingredients
8 cups popped popcorn
1 cup mini pretzel twists
1/2 cup salted cocktail peanuts
1/2 cup brown ale beer
1/4 brown rice syrup or corn syrup
1/4 cup packed brown sugar
3 tablespoons butter
1/4 teaspon salt
Directions 
1 Heat oven to 300°F. Line two 15x10x1-inch pans with foil. Spray foil with cooking spray. 
2 In large bowl, place popcorn, pretzels and peanuts; set aside. 
3 In 2-quart saucepan, heat ale over medium heat, stirring frequently, until reduced to 1/4 cup, about 6 minutes. Pour into glass liquid measuring cup to confirm measure. Add back to saucepan. Stir in brown sugar, syrup and butter. Cook over medium heat until bubbly around edges, stirring occasionally. 
4 Reduce heat to medium-low; cook about 5 minutes longer, stirring occasionally, until thickened and syrupy. Remove from heat; carefully stir in salt. Pour over popcorn mixture in bowl; toss until evenly coated. Spread popcorn mixture in pans.
5 Bake 20 minutes, stirring every 5 minutes, to caramelize mixture. Cool completely, about 1 hour. Break into pieces. Store in airtight container.