Monday July 10, 2017
On the summer road: Tips for the trip
I am a seasoned road trip veteran. We've taken a road trip the last four years in a row, and on the last two, we had our young daughter with us. We are either brave or foolish—even so, it's always an adventure. While my husband tunes up the car and packs his swimsuit, it's my job to do the other 97% of the packing, including the obligatory road trip food. The first year I loaded the back seat down with enough food to last us a month—that was my first mistake. Even worse, I forgot to pack the mustard and Tabasco sauce, which are absolute necessities for every sandwich—according to my Cajun husband—outside of peanut butter and jelly. It was a tragedy (despite the fact that I remembered everything else). Knowing how much food to pack and what works best is different for each trip and family, but I have a few ideas that can help make the road to delicious eating a little smoother and tastier.
To save time and money, eat out only one or two meals a day while planning your other meals/snacks as picnics or road meals. You might enjoy spending a little more on fewer meals rather than stopping at every fast food joint you pass; plus, you'll probably eat a little healthier too.

Become a sandwich connoisseur. For a quick and easy meal, I love to stuff some sandwich bread, tortilla, naan, or pita with a pre-drained package of wild Alaskan salmon (other deli meats are welcome as well). If you are feeling adventurous, add some diced apple or other dried fruit. For taste, I also keep a small bottle of mustard and a few individual packs of mayonnaise. 

Try to space out your snack and meal times when you're driving long stretches; it'll give you something to look forward to and help break up the journey. More importantly though, be sure to avoid over-grazing. An endless snack of chips can ruin your appetite for anything higher quality and more nutritious.

If you have a cooler, pack foods that are portable, satisfying, and nutritious. Produce like apples and carrots almost always keep things wholesome and convenient. Other easy options include cheese sticks, sandwich meat slices, small packs of hummus dip, or PB&Js.

Make your own trail mix with nutrient rich goods like pecans, walnuts, almonds, sunflower seeds, chocolate chips, and a variety of dried fruits.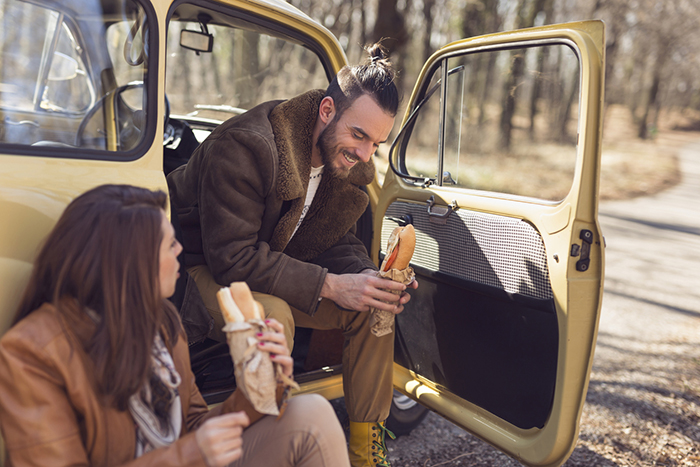 There's nothing wrong with enjoying a few treats—it is a vacation after all—but focus onbalancing it out with some more nutritious snacks. Cheesy popcorn, dried pea snacks, beef jerky, parmesan crisps, nuts and seed—these are great savory snacks to complement that sweet tooth. You might also check out alternative chips like black bean or naan chips.

For breakfast or a sweet snack, try dried fruit or fruit based granola bars like Kind bars or Lara bars. Individually wrapped chocolates are also a sweet way to finish a meal.

For more perishable items, stop by a grocery store intermittently to re-stock rather than trying to pack everything you need for the whole trip. That's a great time to fuel up with fresh fruit, protein-packed yogurt (go Greek!), and a bottle of probiotic-rich kombucha tea.

Keep things clean by packing paper towels, plastic cutlery, paper plates, wet wipes, and hand sanitizer. You never know if your picnic time will be right after stopping by a random roadside petting zoo. (Special note: When your husband "graciously" offers to hold your child and hands you a bag of petting zoo food while you're inside the pen, do not accept—unless you enjoy being trampled by livestock.)

For the little ones, a squeeze pouch can be a lifesaver (or a nightmare if they use it as their own personal volcano pouch). Try different varieties of fruits, veggies, and higher protein style pouches to balance out the nutrition. Above all, always supervise. Otherwise, they might end up painting your vehicle's interior with sweet potatoes.­
No matter if your journey is to the local playground or across the country, it can always be a healthy and delicious adventure. As for me, I always remember to pack the Tabasco now, but I might forget to bring my toothbrush. Priorities. Bon voyage!