Tuesday July 2, 2019
Go Digital & Save Even MORE
We're pleased to announce the expansion of our Digital Coupons program, an exclusive benefit to our Celebrate members. Starting July 3, we are rolling over our Food Club Friday, Member Monday, and Celebrate Coupon programs to digital coupons. Here's everything you need to know about this upgrade!
What's NEW?
The exclusive savings Celebrate members receive in their inbox every Wednesday morning will now feature six digital coupons with savings hotter than ever. These coupons will replace the Member Monday, Food Club Friday, and Celebrate Coupon offers. Instead, all of our deals will be housed in one simple place.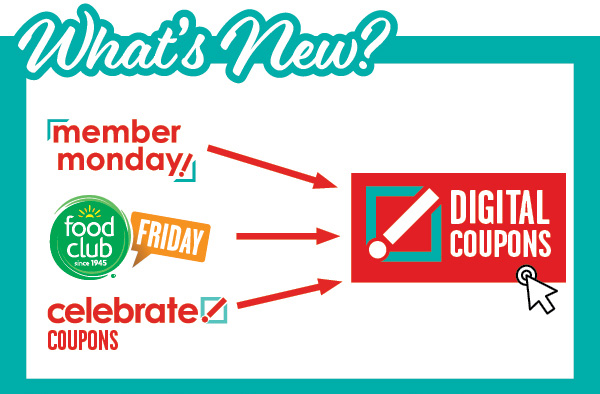 Additionally, we're using software to personalize these digital coupons to a member's shopping habits! The more a member clips coupons, the more personalized the coupons will be. For example, a mother of a newborn that clips baby care coupons will receive more baby care coupons while a young single adult that clips pet food coupons will receive more pet food coupons.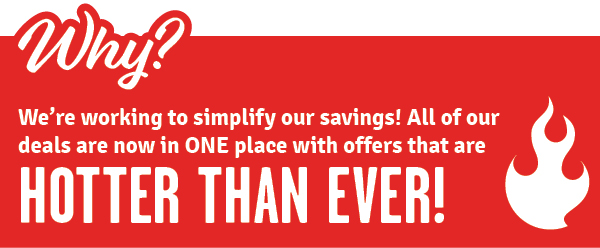 Using Digital Coupons
To participate in these exclusive savings, you can either click on one of the featured coupons in the email or
log in to your Celebrate account
from our website. This will open the Digital Coupon portal where you can "clip" (click) the coupon (and any other coupons you choose) to load it to your Celebrate account. No printing necessary! 
On your next shopping trip, shop for the qualifying products and then put in your 10-digit phone number (i.e. your Celebrate ID) at checkout to redeem.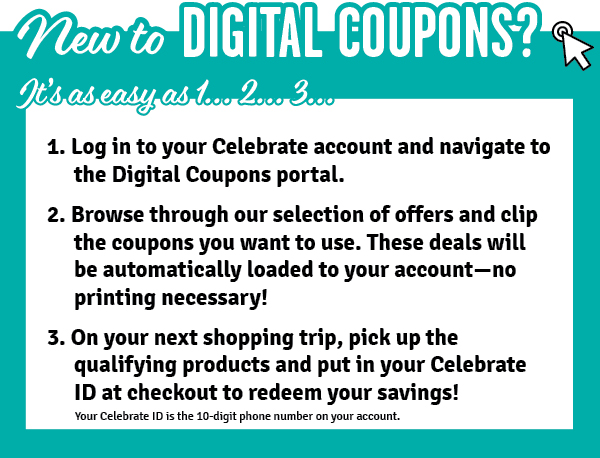 BONUS: You can also double or triple these coupons every Thursday with Thrifty Thursday!
Questions?
Wednesday November 16, 2016
Save More. Go Digital.
Your Digital Coupons are finally here! Experience even more savings with Brookshire Brothers and our family of brands when you log in to your Celebrate account and start clipping and redeeming Digital Coupons. It's as easy as 1, 2, 3...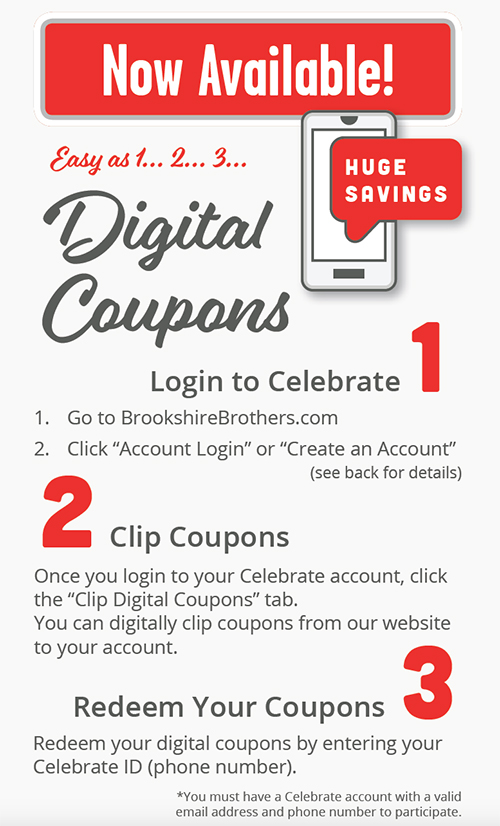 Want to check out our FAQ page? Click here!
Friday October 2, 2015
Member Monday
We're giving our Celebrate loyalty members more reasons to literally celebrate! Starting this October, Celebrate members can take advantage of special "Member Monday" discounts. Here's the scoop:
Check your weekly ad each week for the exclusive Monday special.
If you missed our ad, "Like" our Facebook page for the same offer.
Offer valid Monday only - Limit 1 per Celebrate account.
Must be a Celebrate member to participate.
When purchasing item(s), simply input your Celebrate ID (10 digit phone number associated with your account) on the pin pad.
Look for a new offer each Monday!
Not signed up yet, click here!