Friday September 13, 2013
Pardon our Mess!
Brookshire Brothers asks its shoppers to be patient while the Ganado store goes through a total makeover. Contractors are on site as part of a 1.4 million dollar remodeling that will fully incorporate the pharmacy into the building. Renovations include a pharmacy drive-thru, new restrooms and a complete switch out of all refrigerated cases at the store on West York Street in Ganado.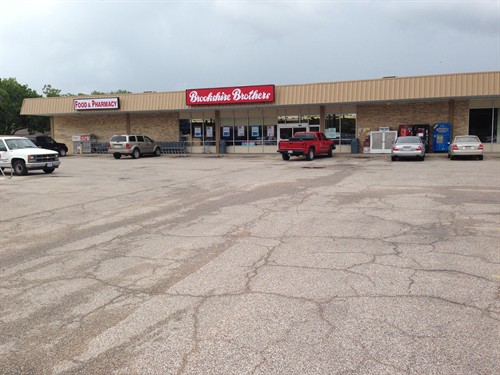 Brookshire Brothers bought the building in December 2012 and has completed its exterior renovation and is now concentrating on the inside. Store Director Donald Janick says, " We are asking our loyal customers to hang in there with us as we switch out cases and incorporate the temporary pharmacy into our permanent building. If folks can't find what they need, they can ask us and we will find it for them. We pride ourselves on our exceptional customer service and that will be stepped up even more." Janick and his staff say any inconvenience on the front side will be well worth it. Brookshire Brothers pharmacist Lauren Kainer, RPhD echoes the sentiment saying, "It is business as usual in the pharmacy as we gear up for flu season. We can fill your prescriptions, manage your medication and give flu, shingles and pneumonia shots right here on site. The pharmacy is open Monday through Friday from 8:30 AM- 6:30 PM and from 9:00 AM - 2:00 PM on Saturday.
On the grocery side, District Director Kent Pursley says, "We will be bringing new and exciting items to the store. As our customers evolve, we are evolving with them. Our meat and dairy cases will be expanded and our fresh offerings will be enhanced." The redo, which started the week after Labor Day is expected to take about ten more weeks.
Brookshire Brothers is an employee-owned company operating 78 retail grocery stores and 34 convenience stores in Texas and Louisiana. Started in 1921 by brothers Austin and Tom Brookshire, the company and its 6000 employee-owners remain customer driven, dedicated to celebrating family and community. For more information, visit our website at
www.brookshirebrothers.com
.