Monday October 21, 2019
Easy Fall Desert with No-Bake Pumpkin Cheesecake
Fall holiday celebrations are full of everything pumpkin. From
pumpkin spice lattes
to
pumpkin pies
. We have a spin on a traditional favorite with cheesecake mixed in. Keep reading for our No-Bake Pumpkin Cheesecake.
No-Bake Pumpkin Cheesecake
Ingredients
1 15 oz can pumpkin pie filling
16 oz cream cheese, softened
½ cup sugar
¾ stick butter or margarine, softened
2 cups frozen whipped topping, thawed
1 large graham cracker pie crust or two small
1 tablespoonful cinnamon
Directions
With a mixer, mix the cream cheese, sugar, cinnamon and butter in a large bowl on medium speed until creamy.
Gradually add the pumpkin pie filling, beating on low speed until blended.
Mix in whipped topping until blended; spoon into crust.
Refrigerate overnight.
Serve with whipped topping if desired and sprinkle with cinnamon.
Friday October 11, 2019
Skinny Pumpkin Pie Recipe
Holiday celebrations are just around the corner and we've got a 'skinny' version of a holiday favorite just for your holiday get together. Keep reading for below for our Skinny Pumpkin Pie recipe.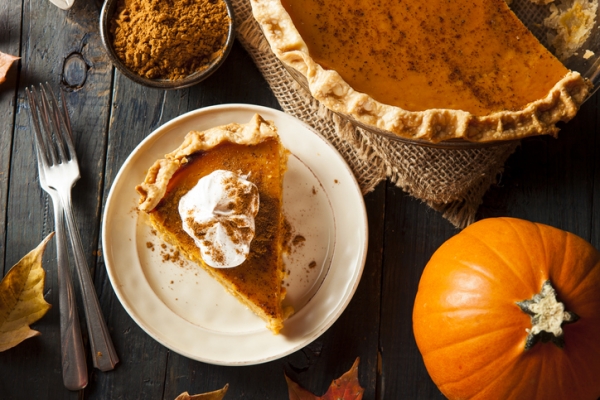 Skinny Pumpkin Pie
Ingredients
Pastry
1 1/4 cups all-purpose flour
1 teaspoon sugar
1/4 teaspoon salt
1/4 cup vegetable oil
3 to 4 tablespoons fat-free (skim) milk
Filling
3 egg whites or 1/2 cup fat-free egg product
1/2 cup sugar
1 1/2 teaspoons pumpkin pie spice
1/8 teaspoon salt
1 can (15 oz) pumpkin (not pumpkin pie mix)
1 can (12 oz) evaporated fat-free milk
1/2 teaspoon vanilla
Directions
Heat oven to 425°F. In medium bowl, mix flour, 1 teaspoon sugar, 1/4 teaspoon salt and the oil with fork until well mixed.
Stir in milk, 1 tablespoon at a time, tossing with fork until all flour is moistened and pastry almost leaves side of bowl.
Shape pastry into a ball, using your hands.
Press pastry in bottom and up side of 9-inch glass pie plate; flute as desired or press pastry to top edge of pie plate with fingers or fork.
In medium bowl, beat egg whites slightly with wire whisk or egg beater.
Beat in remaining filling ingredients.
Pour filling into pastry-lined pie plate; carefully place on oven rack.
Bake 15 minutes.
Reduce oven temperature to 350°F.
Cover edge of pie crust with 2- to 3-inch strip of foil to prevent excessive browning.
Bake about 45 minutes longer or until knife inserted in center comes out clean.
Cool on cooling rack at least 1 hour before serving.
After cooling, pie can remain at room temperature up to an additional 5 hours, then should be covered and refrigerated.
Tuesday November 10, 2015
Mile High Pumpkin Pie
A creamy, golden pumpkin pie that will make you feel like you've just tasted heaven (hence the name). Try this recipe out and serve during the Thanksgiving football frenzy!
To download PDF, click here