Tuesday December 31, 2019
Reset Your Life with Meal Planning Tips for the New Year
It's the New Year and that means it's the season of resolutions and becoming more organized. One such way to be more organized is to meal plan. Meal planning has many benefits that are numerous such as saving money, not wasting food, less stress, saving time and with proper planning adding more variety to your meal rotation. Keep reading below for our favorite meal planning tips.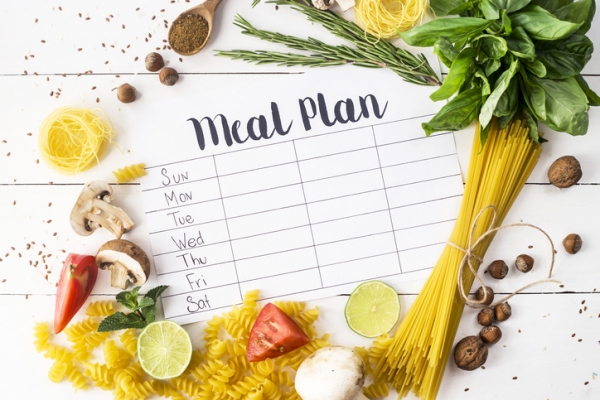 Focus on core recipes. When you find recipes that your family enjoys, make them core recipes that get re-used every few weeks. This way when you get about 20 recipes in your recipe arsenal, the family will not get bored with them and you can work in 1-2 new recipes a week.
Add variety by traveling the world in your kitchen. With research and some adjustments you can create recipes from around the world to add variety to your meal planning.
Eat leftovers for lunch. This saves money and time. Lunch can be made with dinner the night before and stored for the next day and then of course saving by not having to buy lunch.
Keep your recipes organized. Either keep a recipe planner, or for simplicity sake Pinterest is great for this.
Do your shopping all at once. Make that list and shop by it. This saves time and money, by not having to stop at the store on the way home from work every other day.
Make extra food to freeze. This tip is great in case something is going on and the meal plan is thrown to the wayside for a night.
Prep, prep, prep. Spend some time on the weekend prepping ingredients for your weekly recipes. This saves time during the busy week.
Check what's on sale. Check sale ads as you plan your meals, this will save time and money. The Brookshire Brothers weekly ad is a great place to start.
Get the whole family involved. Ask the family what they would like to eat and involved them in prepping and shopping.
Visit your local Brookshire Brothers for all of your meal planning needs.
Thursday December 17, 2015
A Day in the Life: My Organized and Healthy Kitchen
A minute saved, is a minute earned. After December's busy happenings, this is the time of the year that I have to really plan ahead to get everything accomplished. For me, it all starts in the kitchen.
I'm sure we can all agree that cooking and eating at home is healthier and less expensive, but can sometimes be time consuming. With a little pre-planning and cooking at home, you can actually save time and money (and it can even be healthier)!
To save my sanity…I mean time, I create a shopping list for the week. No running to the store for a missing ingredient in our house. I send my (wonderful) husband to the grocery store with the list in-hand and he purchases everything that we need for a week's worth of meals.
While he is at the store, I begin the meal planning process. With input from my twin girls, I plan our weekly lunches and dinners. This is where planning becomes your friend! Save yourself from the "what's for lunch?" question by packing leftovers. Eating leftovers can save so much money if you're willing to spend some time planning on how to utilize the leftovers. Here's an example of what my calendar looked like for December -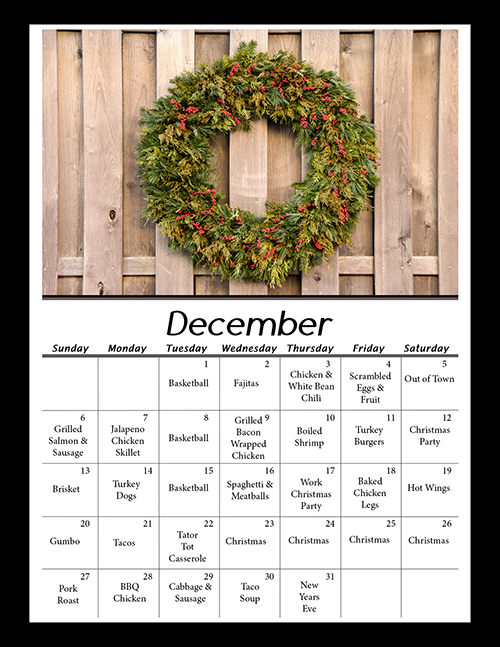 For my family of four, this is the norm for us. We all work like a well-oiled machine when it comes to lunch and dinner. I hope this gives you a glimpse into my crazy, but organized life. I love all things healthy and planned and hope to bring more ideas for 2016 from my kitchen.