Monday December 24, 2018
2019 Resolution: Keep Your Home Healthy
Preparing for the New Year: Physician 360 Rapid Test Kits (Strep, Flu, UTI)
2019 is here and with a new year comes the opportunity for a fresh start! No matter if you're an annual 'resolutor' or not, if you desire to make a change for the better in 2019 then I applaud that! Yes, reading more books, cooking more meals at home and giving more to charity are noble aspirations—do those things—but getting healthy and staying healthy should be a priority for everyone in 2019.
This is precisely why Brookshire Brothers has partnered with
Physician 360
to offer convenient, easy-to-use, rapid test kits for strep throat, flu, and urinary tract infections. These quick, simple tests yield results in minutes and match the accuracy of longer lab tests performed at doctor's offices.
Better yet, included in the purchase of the test kit is an online, face-to-face consultation with a physician who will evaluate your test results and issue a prescription if necessary. These tests are approved for ages 5 and older and they're available for purchase at the
pharmacy
counter.
The doctors at Physician 360 are thoughtful, caring and compassionate. Their top priority is to provide fast and appropriate care when sickness strikes. Prescriptions, when necessary, are issued in minutes and can be filled by
your friendly Brookshire Brothers Pharmacy
while you wait. Even if your test results are negative, your Physician 360 doctor can issue a prescription for symptoms like urinary burning, nasal congestion, cough, etc.
Using a Physician 360 test kit is about as close to a doctor's house call as you're going to get in 2019. And while little black doctor bags are long extinct, video-chatting on your smartphone with a qualified physician who's ready to treat what ails you is a major perk of being alive during this technological age. 
Brookshire Brothers
and Physician 360 understand that there is never a convenient time to be sick. We hope you will let us save you time and money this year by offering these little test kits that will keep you well when illness strikes. Here's to your healthiest year yet!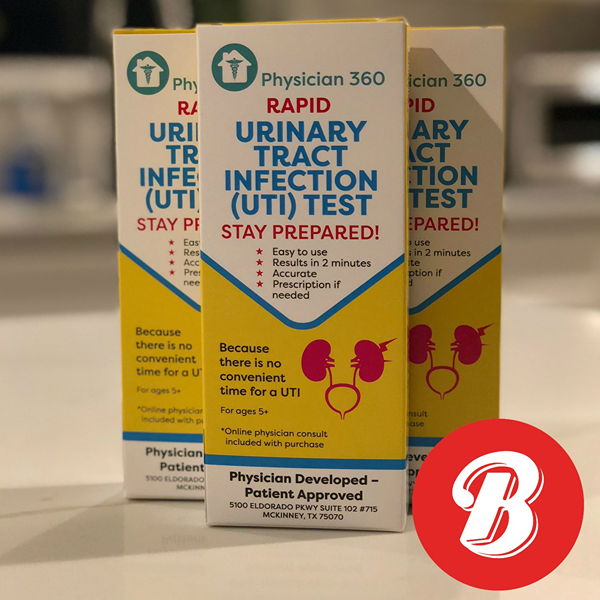 ---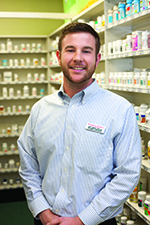 Matt Baker is a pharmacist with Brookshire Brothers Pharmacy in Lufkin.  He received his undergraduate degree from Texas A&M University in 2005 and his Doctor of Pharmacy from the University of Houston in 2010.  He writes a monthly pharmacy and wellness article for the Lufkin Daily News and is active in the community.  Matt's passion is serving his patients while ensuring that they are equipped to understand and take their medications properly. 
Thursday September 27, 2018
Dear Salado...
We're thrilled to announce that our Salado Pharmacist Brady Shimek has accepted a promotion to Pharmacy District Director. True to our #ShopWithSomeoneYouKnow spirit though, Shimek's promotion is also a bittersweet parting from his beloved patients over the past six years. To that, Brady would like to leave his customers with this farewell note.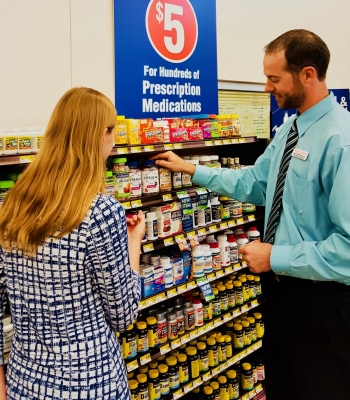 To My Valued Brookshire Brothers Pharmacy Customers,
It has been an honor to serve you the past 6 years. Upon taking over as the pharmacy manager in Salado, I could not have imagined how much of an impact this beautiful community would have on my life. Salado, in all of its uniqueness, soon became home to me. Sometimes we fall in love with an area because of the physical terrain and views it has to offer, sometimes the character and charisma it possess, and yet other times, the people that reside there. In Salado, you get blessed with all of these. 
I came to Salado looking to develop patient relationships, build trust within the pharmacy profession, and set a standard of care that pharmacy customers not only need but also deserve. All of you made these ambitions possible. Together, we have experienced illnesses, hardships, treatments, cures, highs and lows, but most importantly, we have experienced compassion and respect for one another. While I thank you all for your business and loyalty to Brookshire Brothers Pharmacy, I would be remorseful to not also thank you for your friendly smiles, your constant positivity, your continued encouragement, your faithful gratitude, and most importantly, your friendships.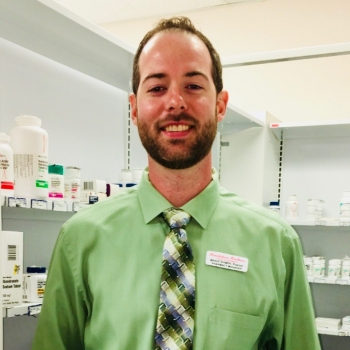 As I move on to my new position of Pharmacy District Director, I want to reassure you that the high level of care and customer service that Brookshire Brothers offers will not change. Our pharmacy team is strong and reliable. I have complete trust that they will continue to go above and beyond to exceed your expectations. I will continue to have confidence in our local Brookshire Brothers Pharmacy, and you should too.
Your pharmacist,
Brady Shimek, PharmD.
Friday May 25, 2018
The Right Prescription for Summer Traveling with Meds
Summer is here! Oh, how the smell of sunscreen and chlorine brings back memories of childhood and that uplifting, amazing feeling of freedom as the last bell rang for the school year. Man, did I love summer. It was the time for playing with friends, sleeping in, staying up late and—most importantly—vacations!
Our family retreats were not extravagant or expensive by any means, yet they were meaningful, fun-filled times I will always remember.  Mom and Dad would load up the car and stop for donuts on the way out of town as we kids longed for just a glimpse of our intended destination.
Now that I have children of my own, I can appreciate all that my parents were surely feeling.  As my lovely wife and I pack up the car each summer in anticipation of a lengthy road trip, we knowingly look at each other and say—"Can you remind me why we're doing this?"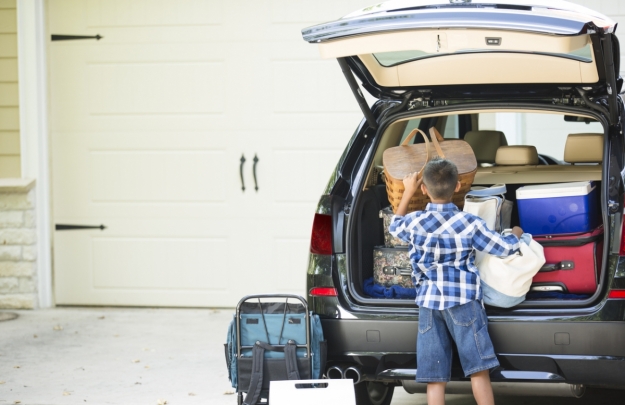 Don't get me wrong, I love my kids but traveling with them is hard.  Rules that you didn't even know your family had start to come into play: how many times you can poke your sister before she's allowed to tattle, how many centimeters of a cheese stick must be allocated for sharing, how the rear-AC in the car can be adjusted so long as there is a two-thirds majority amongst siblings.  A vacation that is meant to be simple and relaxing can quickly get complicated to the point of ruining the fun.
Adding to these complications, traveling with medications (for a person of any age) can be really challenging. There's a lot to think about regarding medication supply, storage, timing of doses while en route, etc.  Even the simple process of ingesting a pill each morning can easily be disrupted by vacation agendas.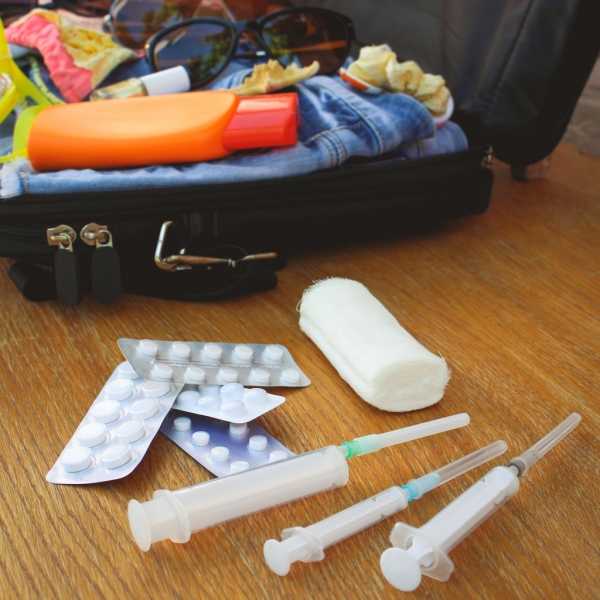 Tip #1 – If you don't have it, you can't take it.
 Make sure you have enough medication on hand (plus one or two days in case of a travel delay) for your entire trip. If you happen to be going on an extended vacation and your insurance company won't quite cover a refill of your medication just yet,
ask your pharmacist
to call the insurance company to request a vacation supply.  Most insurance companies will accommodate this request and you'll be on the road in no time.
Tip #2 –"Honey did you pack the…"Ever been on vacation and experienced heartburn or a headache but your medicine cabinet was 500 miles away?  Planning for all your over-the-counter medication needs can be easily overlooked.  At minimum, be sure to pack Tylenol for headache or fever, Zantac or Pepcid for acid indigestion, a first aid kit for minor cuts and scrapes, and an OTC sleep aid for any hotel room insomnia.
Tip #3 – What about my insulin?
  Insulin is kept under refrigeration prior to use which presents a problem when traveling.  However, did you know that vials and pens of insulin, once in use, can be kept at room temperature for up to 28 days, some up to 42 days?  Some eye drops, suppositories and even oral medications are also stored in the fridge so
consult your pharmacist
about options for traveling with those.
Tip #4 – Keeping regular.  Traveling can disrupt day-to-day bathroom activities adding an uncomfortable wrinkle in vacation plans.  Taking fiber supplements or a stool softener (Colace) once daily while traveling can certainly help persuade a stubborn digestive system while on the road.  Be sure to stay hydrated and eat lots of fruits and vegetables too in order to ease things along.
---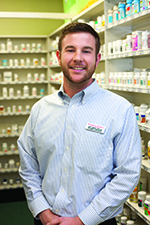 Matt Baker is a pharmacist with Brookshire Brothers Pharmacy in Lufkin.  He received his undergraduate degree from Texas A&M University in 2005 and his Doctor of Pharmacy from the University of Houston in 2010.  He writes a monthly pharmacy and wellness article for the Lufkin Daily News and is active in the community.  Matt's passion is serving his patients while ensuring that they are equipped to understand and take their medications properly. 
Thursday September 22, 2016
The Emerging Role of the Pharmacist
There is a certain chemical process that occurs somewhere deep in the brain of individuals that I meet casually at galas, museum openings, or at the Chick-fil-a where I really hang out.  The obligatory "How are you?" is uttered by myself and the other party summarily followed by the standard "So, what do you do for a living?"
"I am a pharmacist."
Now, no one has ever told me that I don't look like a pharmacist or that they are shocked I am not in the NBA, but it is at this point in the conversation where I usually get a semi-sideways head tilt followed by a slow nod and then, "Oh, ok!"  Once my conversational counterpart comes to terms with my occupation and my extreme good looks (not pharmacy related) I get an array of questions that generally follow a similar pattern.
"What can I take for this runny nose?"
"Why did my medicine go up in price?"
"My insurance won't pay for my blood pressure pills anymore.  What do I do?"
While I love to answer these important questions and others, a concern of mine underlies our back and forth.  Maybe pharmacists as a profession are doing a poor job of communicating what we do besides dispensing to the public.  Maybe we talk more amongst ourselves about our desire to be a healthcare resource for our patients than with our patients.
Ask any pharmacist, especially one who has been practicing for decades, the pharmacy game has changed dramatically.  Dispensing has always been the mainstay (and still is) of the profession, but in the last 10 or 15 years pharmacists have also taken on vaccination as a critical component of pharmacy practice.
With cough and cold and flu seasons in our near future, you will most likely visit a local pharmacy at some point over the next few months.  While you are waiting you will witness flu vaccines being administered right there at the pharmacy to well individuals (let me remind you here that the flu shot is the best way to avoid getting the flu and it will not make you sick!)
Pharmacists, though, are not limited to giving only flu vaccines.  We can also administer pneumonia, shingles, pertussis, tetanus, hepatitis, meningitis and a host of other vaccines all without a prescription.  Traveling abroad?  You may be advised to visit a pharmacy to receive the appropriate vaccines required by your destination country.  Pharmacists undergo continual training related to immunizations and are valuable resources when it comes to determining if you are eligible or not to receive a particular vaccine.
Medication therapy management is another initiative embraced by pharmacists nationwide.  Participating insurance plans pay for face-to-face and telephonic medication reviews where side effects, cost-savings opportunities, adherence problems, duplicate therapy, therapy omissions and more can be addressed before a trip to the doctor or hospital is needed.  In a day and age where healthcare costs are dominating much of our political conversation, this proactive approach is the future.
Of course, pharmacists are still available to help with practical things like helping you figure out your blood glucose meter, questions regarding compounded or specialty products and helping you select an over-the-counter product to fix what ails you.
Pharmacists are pharmacists because we love to help people.  If you don't already, imagine your pharmacist as part of your healthcare team.  We genuinely value your wellness and offer many services to keep you that way.  Get to know your pharmacist and you'll begin to experience their authentic desire to meet your healthcare needs.  See you at Chick-Fil-A.  
Matt Baker, PharmD
Brookshire Brothers Pharmacy – Lufkin, TX
Wednesday July 24, 2013
Hometown Pharmacist Fills the Bill!
Brookshire Brothers in Ganado will soon have a full service pharmacy to fill the needs of residents in the region.  To add to it, the registered pharmacist at the counter will be East Bernard native Lauren Lyon Kainer. A 2009 Texas A & M graduate, Lauren obtained her Doctorate of Pharmacy from the University of Houston in May 2013.  She says, "I grew up in a small town and I always knew I wanted to practice pharmacy in a place where I could get to know the people.  I am a small town girl, and Ganado is just perfect for me and my family."  In making the announcement, Pharmacy District Director Keith Moseley, R.Ph. says, "Lauren is a great addition to our Brookshire Brothers' management team. In addition to providing excellent pharmacy health care to the people of Ganado, she will become a vital part of the community, committed to making a difference there."
Kainer's skill set will be of tremendous value to the region. Under her direction, the new pharmacy will provide services such as compounding, immunizations against the flu, shingles and pneumonia and provide medication therapy management for chronic illnesses such as diabetes and hypertension.  Kainer says, "This can help improve a patient's quality of life, while decreasing costs."  Kainer goes on to say, "At Brookshire Brothers, we hope to be an easily accessible healthcare provider for the people of Ganado, and I am very excited to be part of it."
The new pharmacy in Ganado is set to open July 29th with grand opening festivities scheduled for August and September.  Look for Lauren and her team starting July 29th at their location at 305 West York in Ganado. The pharmacy will be open Monday through Friday from 8:30 AM- 6:30 PM and from 9:00 AM - 2:00 PM on Saturday.
Brookshire Brothers is an employee-owned company operating 76 retail grocery stores and 35 convenience stores in Texas and Louisiana. Started in 1921 by brothers Austin and Tom Brookshire, the company and its 7000 employee-owners remain customer driven, dedicated to celebrating family and community.  For more information, visit our website at
www.brookshirebrothers.com
.