Tuesday December 18, 2018
Mrs. Lynne's Famous Holiday Party Punch
This holiday, we are delighted to feature Mrs. Lynne Haney with Lufkin Coca-Cola and her famous Holiday Party Punch. Simple to make and spectacular to taste, this punch is everything you and your favorite folks needs for a holiday get-together. Trust us, you'll be thanking Mrs. Lynne later!
Lufkin Coca-Cola has always been one of our favorite companies to collaborate with because our stories and values have grown from the same rich Texas roots. We both began as family-owned companies in the early 1900's and care deeply about our local communities. What an honor it is to live and work alongside another local business always seeking better growth for our community!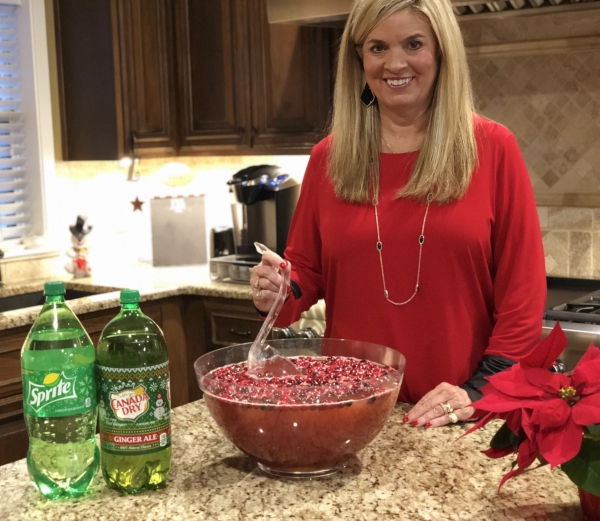 And oh by golly,
DON'T FORGET
: The deals are coming down like confetti this week, one of which is PERFECT for this recipe!
Coca-Cola and Dr Pepper products (2 liter bottles) are $0.88,* now through January 1.**
THAT'S RIGHT, you better check your RSVP list twice—you might need to double down on this great deal!! 
*When you buy 5
**Offer valid at these participating stores: Groveton, Trinity, Apple Springs, Corrigan, Diboll, Huntington, Pollok, Wells, Zavalla, Livingston, Onalaska, and all Lufkin locations.
Mrs. Lynne's Famous Holiday Party Punch
This recipe is wonderful for any occasion but we especially love it during the holidays! So easy, so yummy, such a great compliment to your holiday party!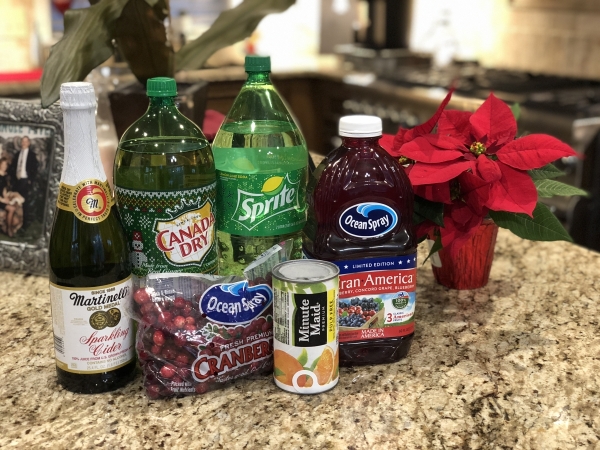 INGREDIENTS
One 2 liter bottle of Sprite, chilled
One 2 liter bottle of Ginger Ale, chilled
25 ounces (one bottle) Sparkling Cider, chilled
12 ounces Frozen Orange Juice Concentrate, slightly thawed
64 ounces (one bottle) Cranberry Juice, chilled
Fresh Cranberries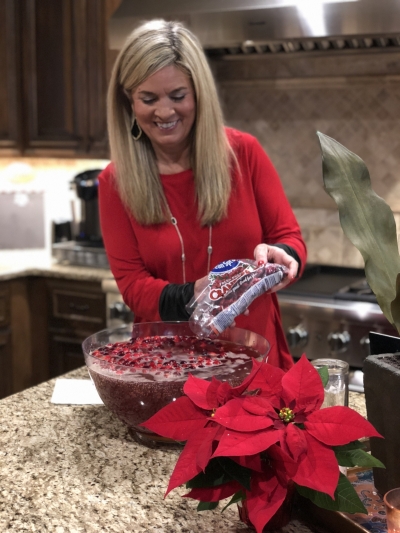 DIRECTIONS
Combine all ingredients together, stir… and serve! ENJOY!
PRO TIPS
Serves approximately 35 one-cup servings. Depending on party size, you may want to double or triple the recipe. When determining amount to make, take into consideration the size of your cups, and keep in mind that guests may want seconds (or even thirds).
If you would like your party punch to have a little more "punch", add champagne!
Tuesday December 18, 2018
Have Yourself A Healthy Little Christmas
Real Fresh, Real Delicious: Roast Chicken
Looking for a Christmas dinner that's a little different from the traditional fare but just as special and delicious? Try a variation of one of my go-to nutritious dishes—roast chicken and potatoes! This meal is even better when it's prepped a day ahead, which can
ease some of your stress
with all the holiday hustle and bustle. When it's chow time, all you have to do is throw the feast in the oven and spend some time with the ones you love. The instructions are the same for each recipe, so pick the variation that suits your holiday mood, fix up the marinade, prep the chicken (up to a day in advance), and let the oven do all the hard work. Easy, healthy, and satisfying!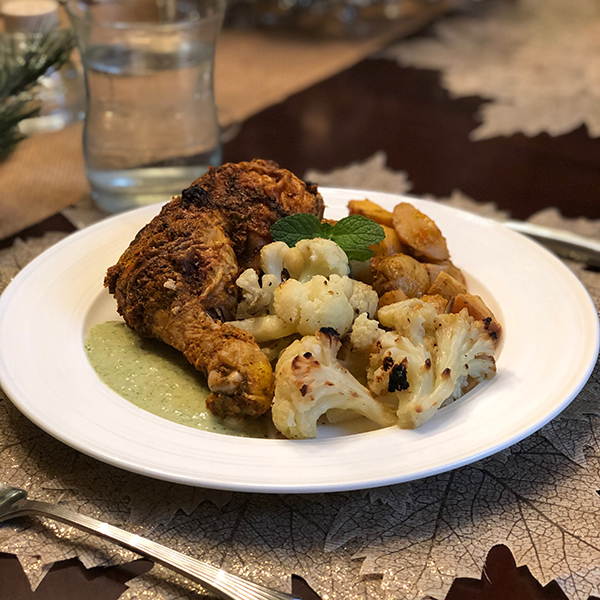 For a bigger crowd, this recipe can be easily doubled with the chickens placed side by side on the same large sheet pan. While the chicken is resting after coming out of the oven, I like to work on a family-favorite all-purpose side dish: roasted cauliflower. Quick and simple, all this takes is fresh or frozen cauliflower pieces plus a drizzle of olive oil and a sprinkle of salt and pepper. I put the veggies in the oven to roast at 475℉ for 20-25 minutes until the tips are caramelized and golden brown. And that's it! Dinner is served.
DIRECTIONS FOR ALL VARIATIONS
Combine all ingredients except chicken and potatoes in a food processor or blender and blend, scraping down sides as needed, until a thin paste forms, about 30 seconds.  
Cut out chicken's backbone with a sharp knife or kitchen shears and open the chicken out flat with skin side up. With your palm, firmly press down the breast area to flatten (you should hear a snap when the breast bone breaks).  Stuff most of the herb paste under skin (separate skin from meat gently with a spoon if needed), and spread remaining marinade all over the rest of the chicken (the easiest way to do this is in a casserole dish). Cover casserole dish and place in the refrigerator to marinate until ready to cook, up to 24 hours. The longer marinade time will make a more flavorful dish.
When ready to begin cooking, adjust oven rack to middle position and preheat oven to 400F. Scatter potatoes evenly on a sheet pan. Sprinkle potatoes evenly with salt pepper to taste. Place chicken, skin side up, on top of potatoes.  Pour any excess marinade from chicken over potatoes. Roast 70-90 minutes until the thigh meat reaches 175℉ on an instant read thermometer and the juices run clear.  Check potatoes about halfway through cooking; if pan is dry, add 1/2 cup of water.  
Allow chicken to rest for at least 10 minutes before carving. Serve with potatoes and pan juices on the side.  
---
Mediterranean Roast Chicken with Green Olives, Fennel Seeds, and Thyme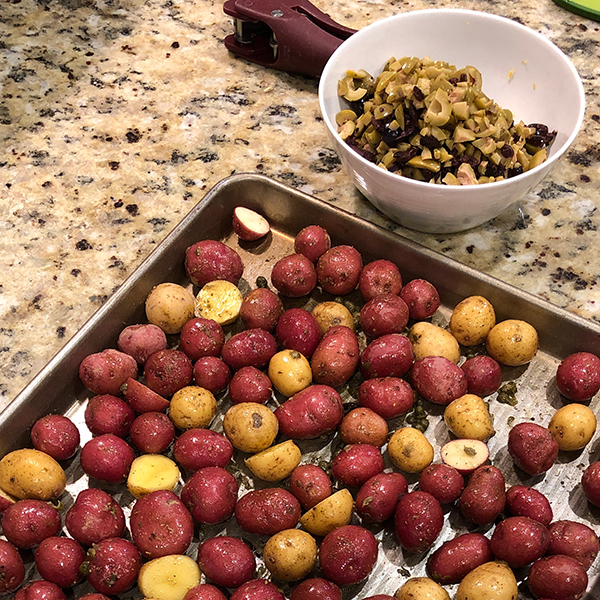 Adapted from The Perfectly Roasted Chicken by Mindy Fox
INGREDIENTS
1 3½ to 4 pound chicken
3 lbs red or gold potatoes, washed and cut into 1/2 inch pieces
For the marinade:
1 cup pitted green olives
2 Tbs dried thyme
2 teaspoons fennel seeds
3 garlic cloves, peeled
2 tsp lemon zest
1 Tbs fresh lemon juice
3 Tbs extra virgin olive oil
2 Tbs kosher salt (or 1 Tbs table salt)
Follow directions above.
---
Peruvian Roast Chicken with Cilantro and Jalapeno Sauce
INGREDIENTS
1 3½ to 4 pound chicken
3 lbs red or gold potatoes, washed and cut into 1/2 inch pieces
For the marinade:
3 Tbs extra-virgin olive oil
1/3 cup lightly packed fresh mint leaves
6 garlic cloves, peeled
1 Tbs ground black pepper
1 Tbs sugar
2 Tbs ground cumin
3 ½ teaspoons smoked paprika
1 Tbs dried oregano
2 ½ tsp fresh lime zest
¼ cup fresh lime juice
1 habanero chile, seeds and ribs removed (use gloves when handling)
1 red bell pepper, seeds and ribs removed and chopped coarse
2 Tbs kosher salt (or 1 Tbs table salt)
Follow directions above.
Cilantro and Jalapeno Sauce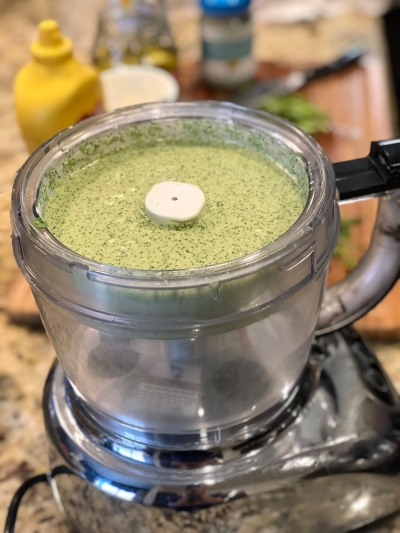 Ingredients
¾ cup mayonnaise
¼ sour cream
1 teaspoon onion powder
1 Tbs fresh lime juice
½ cup jarred pickled jalapenos (mild variety is best)
2 tsp pickled jalapeno juice
1 medium bunch cilantro leaves and tender stems (use entire bunch)
1 garlic clove, peeled
2 tsp yellow mustard
1 teaspoon kosher salt (or ½ teaspoon of kosher salt)
Instructions for sauce:
Blend all ingredients in a food processor or blender for about 1 minute until all ingredients are smooth and well blended. Taste to adjust seasoning. Serve with Peruvian chicken.
---
Balsamic Roast Chicken and Potatoes

Adapted from The Italian Country Table by Lynne Rossetto Kasper
INGREDIENTS
1 3½ to 4 pound chicken
3 lbs red or gold potatoes, washed and cut into 1/2 inch pieces
For the marinade:
1 medium onion, peeled and chopped coarse
6 cloves garlic, peeled
1/2 tightly packed cup of fresh basil leaves
3/4 teaspoon dried basil
1 teaspoon dried oregano
6 slices of bacon or pancetta, chopped
1/2 cup high quality balsamic vinegar (thicker, well-aged varieties are best)
2 Tbs kosher salt (or 1 Tbs table salt)
Follow directions above.
---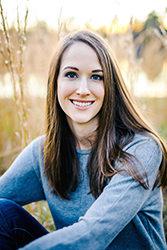 Angela Larson is a registered dietitian (RD) who works with Brookshire Brothers promoting 
real fresh, real delicious
 foods and nutrition education to the community. She is also a clinical dietitian representing Woodland Heights Medical Center in Lufkin where she does outreach education on food and nutrition. Food is her passion, so Angela loves trying new recipes and exploring the more holistic side of nutrition. Angela loves to cook, garden, and spend time outdoors. In addition to the 
Brookshire Brothers blog
, look for Angela's monthly articles in Charm East Texas. 
Monday December 5, 2016
Happy Holi-Trays
The Christmas season is here, full of parties galore! We're here to serve your party-planning needs. What makes a celebration go from "fine" to "amazing"? Ordering party trays from your local Brookshire Brothers Bakery & Deli! With cookies, sliders, wings, fruit, vegetables, and more, we can bring the party. Call your store for more today!
Still are unsure of what to order? Take our advice and try one of these menus at your next Holiday Party! 
Office Christmas Brunch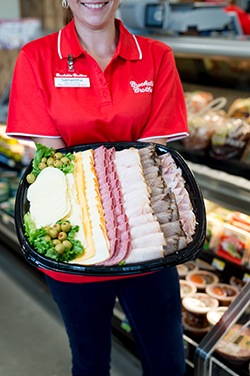 Start your party off with a Breakfast Tray filled with bite-sized pastries and scones. You can also grab a Bread Tray to pair with our Gourmet Meat & Cheese Tray from the deli. To finish off your brunch, grab a Mini Meatball Tray to satisfy your cravings.
No "Pot" Potluck
That's right. Throw a potluck party, but don't make yourself or your friends and family worry about what to cook. Forget the pots and pans and order trays! You can easily coordinate who can bring what tray to plan a beautiful dinner. Assign an  appetizer, such as the Cheese Tray, to your friend down the street. Ask Mom to bring a Hors D'oeuvres Tray of her choosing  - we suggest the stuffed peppers! You can take care of the Sandwich Tray and maybe even swing over a couple of aisles to grab some chips to go with it. And finish it off with a Cookie or Dessert Tray brought by your sister. 
Merry Christmas and Happy Holi-Trays to you and your family!