Tuesday September 11, 2018
Celebrate Family Meals Month
Brookshire Brothers Commits to Helping Families Eat at Home Together More Often During National Family Meals Month
The proven health and societal benefits of family meals inspire a month-long event aimed at helping families get back to the table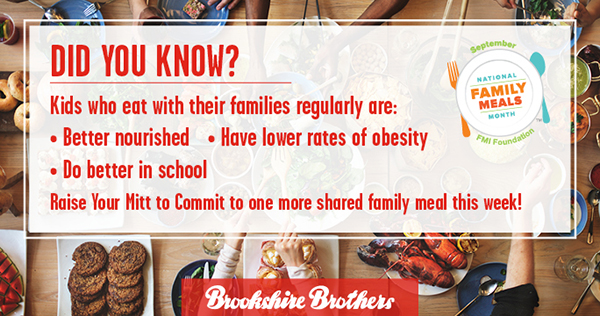 Lufkin, TX (August 31, 2018) - 
September is National Family Meals Month,™ an industry-wide movement to raise awareness about the benefits of frequent family meals. Brookshire Brothers has joined
the initiative to encourage families to spend more time this month enjoying a meal together
. In support, customers will enjoy special savings on ready-to-cook options and grab-n-go solutions all month long, as well as special deals and recipes every week. We're bringing value and ease to family meal times because we believe FAMILY MEALS MATTER.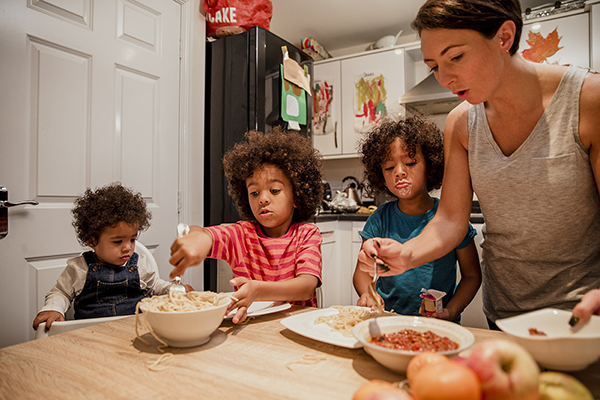 Did you know?
Kids and teens who share meals with their family three or more times per week are significantly less likely to be overweight, more likely to eat healthy foods and less likely to have eating disorders. 
With each additional family meal shared each week, adolescents are less likely to show symptoms of depression, less likely to use/abuse drugs and less likely to engage in delinquent acts.
People who eat most the most home-cooked meals eat healthier and consume about 130 fewer calories daily, on average, compared to people who cook less or not at all.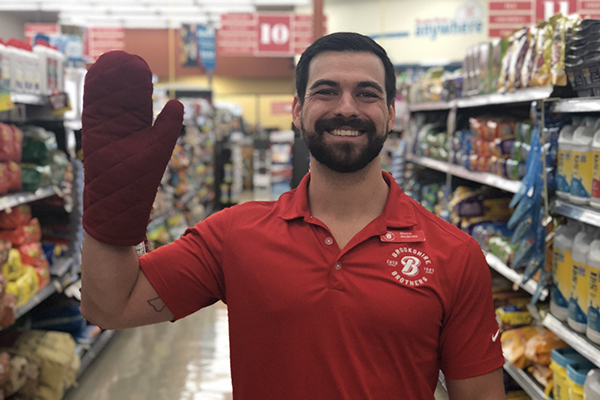 To get the month started,
Brookshire Brothers
and its employee-owners across Texas and Louisiana raised their mitts to commit to one more family meal at home. You, too, can raise your oven mitt to commit to making more memories around the kitchen table with those you love. Make it official, and shareable, by posting a selfie wearing your favorite oven mitt with the hashtag #familymealsmonth #brookshirebrothers. Follow Brookshire Brothers on Facebook, Instagram and Twitter to join the conversation this September. 
---
Gather 'Round The Table
September 5 through September 11
Week 1: Bring the family together for PIZZA NIGHT
FREE:
Fresh Harvest Salad (6-11oz)
Food Club Salad Dressing (16oz)
Fresh Harvest Tea (128oz)
WHEN YOU BUY:
3 Digiorno Pizzas (13.6-34.2oz)
---
Meal In Minutes
September 12 through September 18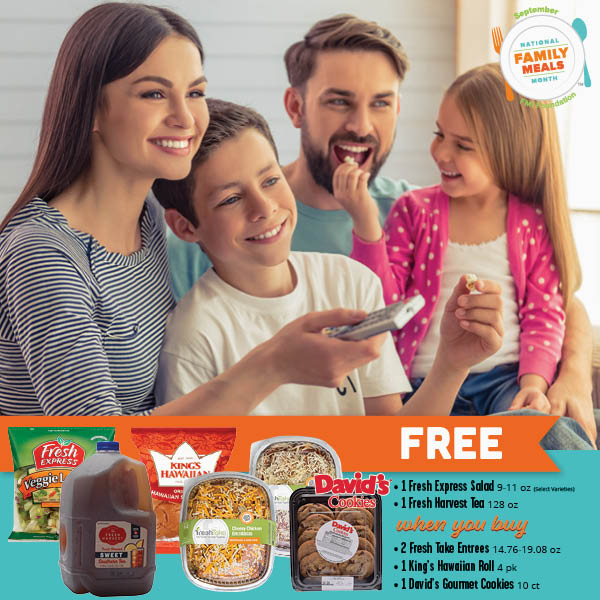 Week 2: Mom's Night Off
FREE:
Fresh Harvest Salad (6-11oz)
Fresh Harvest Tea (128oz)
WHEN YOU BUY:
King's Hawaiian Roll (4pk)
David's Gourmet Cookies (10ct)
---
Let's Taco 'Bout Family
September 19 through September 25
---
Slow Cooker Shortcuts
September 26 through October 2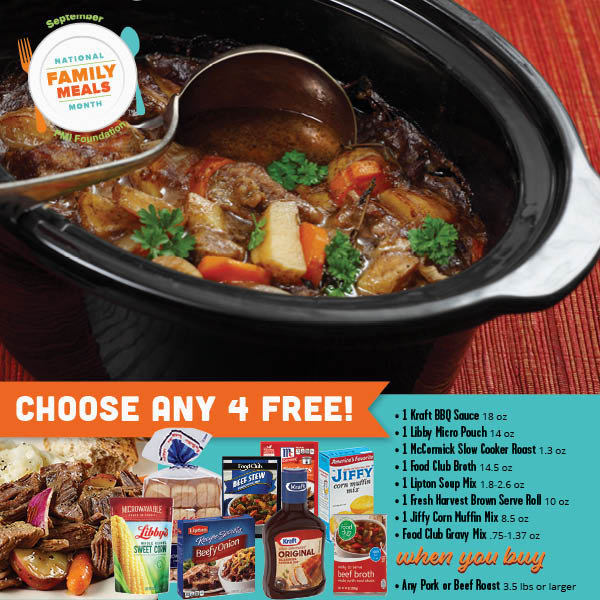 Week 4: Slow Down For Dinner
CHOOSE ANY 4 FREE:
1 Kraft BBQ Sauce (18 oz)
1 Libby Micro Pouch (14 oz)
1 McCormick Slow Cooker Roast (1.3 oz)
1 Food Club Broth (14.5 oz)
1 Lipton Soup Mix (1.8-2.6 oz)
1 Fresh Harvest Brown 'N Serve Rolls (10 oz)
1 Jiffy Corn Muffin Mix (8.5 oz)
1 Food Club Gravy Mix (.75 - 1.37 oz)
WHEN YOU BUY:
Any Pork or Beef Roast (3.5 lbs or larger)
Friday December 11, 2015
Make it a Meal
Feed 4 for just $4 each! Visit your local deli for your next family dinner!