Tuesday October 17, 2017
5 Pink Treats for Breast Cancer Awareness
National Breast Cancer Awareness Month is one of our favorite causes to support. Communities everywhere come together to build relationships and raise awareness for those at every step of the breast cancer journey, whether it's a bake sale, luncheon party, or 10K run. As such, we'd like to help if you're looking for easy ideas to "think pink" with these occasions. Courtesy of our vendor partners, we've compiled five fun recipes below, each of which are perfectly pink for Pink Ribbon awareness.
What we love about pink themed desserts in particular is that they're not always all sweet. Usually, these recipes feature pink fruits (strawberries, raspberries, etc.) or pink lemonade to enhance the pink theme. As such, these focal ingredients tend to add some zest to the dessert, which to us makes these recipes even more appropriate to honor breast cancer awareness. While those affected embody a stirring hope, it's not an all-sweet journey. Often it's quite bittersweet.
So, raise a pinky and indulge yourself with one of these treats for this month's cause. And even when the tart raspberries bite back in the cream cake, remember there's nothing sweeter than hope.
Read more: Find out Pharmacist Kelly Kinney's four suggestions on how to "Fight Like A Girl" when it comes to breast cancer awareness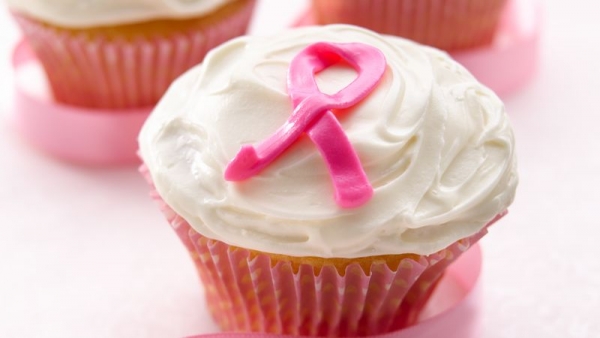 Pink Together Cupcakes
 Prep: 20 min | Total: 1 hr 30 min | Servings: 24
Ingredients
1 box Betty Crocker™ SuperMoist™ yellow cake mix
2 containers Betty Crocker™ Rich & Creamy vanilla or Whipped cream cheese frosting
Betty Crocker™ pink gel food color
PSST!!! Are you signed up for our text promotions yet? Join before this Thursday (10/19) and you could receive a special offer perfect for all of these recipes! To sign up, text JOIN [insert the number of the store you shop at, i.e. "25"] to 59652. If you're not sure what your store number is, you can look it up on the store's information page!
Directions
Heat oven to 350°F (325°F for dark or nonstick pans). Place paper baking cup in each of 24 regular-size muffin cups.
Make and bake cake mix as directed on box for 24 cupcakes. Cool in pans 10 minutes; remove from pans to cooling rack. Cool completely, about 30 minutes.
In small bowl, reserve 1 cup frosting. Frost cupcakes with remaining white frosting. Stir pink food color into reserved 1 cup white frosting until desired pink color. Spoon frosting into freezer plastic bag; cut 1/4-inch hole in 1 bottom corner. Or use decorating bag with flat tip with 1/4-inch wide opening. Gently squeeze bag to pipe frosting ribbon on cupcakes. Store loosely covered.
Read more: Organizing a luncheon? Check out these tips for a perfect pink ribbon party.
Don't forget to check out these other pink themed dessert ideas:
Friday October 2, 2015
Think Pink Luncheon
October is National Breast Cancer Awareness Month, so why not honor the women in your life with a lovely fall luncheon? You can gather guests to plan a future fundraiser, host the party to show your support for a particular friend or relative, or raise money for breast cancer research. Depending on the size of the crowd, this menu could be served as an intimate sit-down meal or a lively buffet.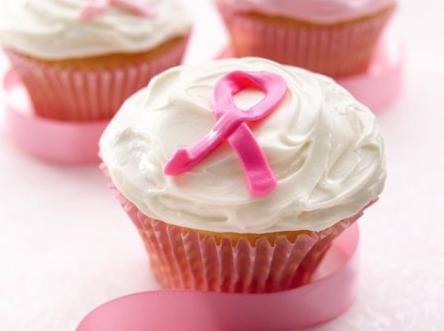 The Invitations
In a nod to the theme, print invitations on white cardstock and punch two holes along the top of each one; thread a pink ribbon through the holes and tie. 
Ask guests to come ready to share a story about a survivor or an inspiring reading.
If the event is a fundraiser, provide information about alternatives to monetary donations such as volunteering opportunities. 
If your goal is to reach more women, ask invitees to extend an invitation to friends.
The Setup
Line tables with cream-colored runners and set them with small arrangements of pink blooms such as azaleas, peonies or sweet peas.
Set out pink-ribboned name tags for guests to put on as they arrive.
Assign seats with pink place cards to make sure everyone meets someone new during lunch.
Set up a drinks station so guests can help themselves to a beverage. In addition to pitchers of "pink" drinks such as raspberry lemonade, strawberry smoothies, or punch, offer a selection of soothing, fragrant herbal teas and provide pots of hot water along with lemon wedges, honey, cream and sugar. 
The Favors
Fill cellophane bags with homemade "pink" treats and tie them closed with pink ribbon. Attach cards with information on how to donate or give back to the cause. 
Create gift baskets featuring pink lids to help make a difference. The Yoplait Save Lids to Save Lives program now includes products like Yoplait, Honey Nut Cheerios, Green Giant, Progress, Nature Valley, Pillsbury, Betty Crocker and Bisquick. Include a note to guests to dedicate their pink lids in honor of a loved one.
The Activities
Invite guests to share a story about their battle with breast cancer, or that of a friend or family member. 
Plan a walk or run to raise funds for breast cancer awareness or research. Visit the website of Susan G. Komen for the Cure® to find out how to join in a walk, run or other event in your area.
Ask guests to read poems or encouraging words they've used for strength during difficult times. Share helpful books, both inspirational and practical.