Tuesday September 27, 2016
Brookshire Brothers and Its Customers Fight Hunger...One Gallon at a Time!
The Great American Milk Drive provides milk and its high-quality protein to families in need during September's Hunger Action MonthTM.
That gallon of milk you consider a staple in your refrigerator is missing across Texas and Louisiana, but Brookshire Brothers and its partners want to change that.
During National Dairy Month in June, Brookshire Brothers and David's customers donated thousands of dollars at the registers to 'help fill the glasses' of children throughout our market area. During the next week, vouchers for nearly 8500 gallons of milk will be distributed to nine food banks to give to their clients.
According to Feeding America®, the nation's largest domestic hunger-relief organization, milk is one of the items most requested by food bank clients, yet there is a nationwide shortage because it is rarely donated. That's because Americans are generous with canned and dry goods, but milk is much harder to donate because it's perishable. Feeding America clients receive the equivalent of less than one gallon of milk per person per year. The Great American Milk Drive, the first-ever national program to help deliver highly desired and nutrient-rich gallons of milk to hungry families who need it most, is working to change that in Texas and Louisiana and across the country.
Hunger impacts 1 in 6 Americans, including nearly 16 million children, who may be missing out on milk's nine essential nutrients. Hunger has no boundaries and is a problem that exists in urban, suburban and rural communities.   
September is Hunger Action Month. It's an ideal time for our company and its partners to help fill nine food banks with milk.  8,307 vouchers have been sent to the following food banks:  East Texas Food Bank, Houston Food Bank, Capital Area Food Bank of Texas, Southeast Texas Food Bank, Second Harvest Food Bank of Greater New Orleans and Acadiana, Food Bank of the Golden Crescent, Food Bank of Central Louisiana, Tarrant Area Food Bank and the North Texas Food Bank.  Those food banks will give the vouchers to their clients who will exchange them at their local Brookshire Brothers or David's store for a gallon of milk.
Since the Great American Milk Drive launched two years ago, more than 400,000 gallons of milk have been donated to people who rely on the nation's food banks to help supply their families with not only food but also the good protein found in milk that helps power their potential.  Karolyn Davis with the East Texas Food Bank adds, "Milk is among our most requested items. We are grateful to The Great American Milk Drive and Brookshire Brothers and its customers for making these donations possible."
Feeding America is the nationwide network of 200 food banks that leads the fight against hunger in the United States. It provides food through 60,000 food pantries and meal programs in communities across America. Individuals, charities, businesses and government all have a role in ending hunger. Donate. Volunteer. Advocate. Educate.  Together we can solve hunger. Visit www.feedingamerica.org, find us on Facebook or follow us on Twitter.
Monday June 1, 2015
Man Up With Men's Health Advice
With all the information concerning men's health, we no longer have to wait for symptoms of an illness to take better care of ourselves. On average, a man reaching the age of 65 can be expected to live until 83.4 years of age. As the medical community begins to learn more about the human body and with continued implementation of healthy behaviors, this age will likely increase.
Through different media sources, we are provided with countless reasons why men should be proactive about their health. Although there may be many different ways to achieve a healthy lifestyle, one thing every man can agree on is "you are what you eat". Meals high in fat and calories can add inches to your waist and increase the risk of heart disease, high blood pressure, and even diabetes. Fuel for your body should come from a variety of food sources such as fruits, nuts, vegetables and whole grains. Combine this snacking strategy with the use of low cholesterol products when preparing meals and you're sure to keep hunger and the sweet tooth at bay. During the day, carrying raw almonds to munch on, or other protein-packed snacks, satisfy hunger and reduce the likelihood of eating salty and sweet treats that contain no nutritional value. While eating healthier can take a little more time and planning, your time will be earned back as your life longevity increases.
Celebrate this month by scheduling an appointment with your primary care provider or encouraging the man in your life to do so. As always, visit with our pharmacists for advice on how to better take care of your body and mind.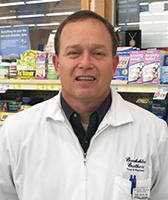 Olen English, RPh
Brookshire Brothers Pharmacy – Carthage, TX