Sunday October 15, 2017
Celebrating Hispanic Heritage 2017
Six Dishes, Four Countries, One Kitchen. 
While today marks the last day of National Hispanic Heritage Month, we think this bold and exciting culture is always worth celebrating. At Brookshire Brothers, we continually strive to understand and celebrate other cultures so that we can better serve our communities.  Hispanic heritage is particularly important to us as a company with a richly diverse workforce, as well as a footprint that reaches as far south as Ganado.
As such, we'd like to share six traditional dishes—courtesy of our vendor partner Goya Foods—to take a journey of flavors across the world without ever leaving your home kitchen. With a menu that's perhaps both familiar and foreign, treat your friends and family to an adventure at your next dinner or gathering.
Visit your local Brookshire Brothers to get started today!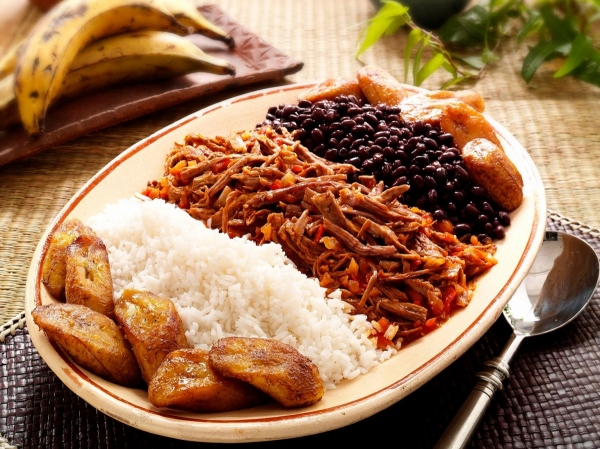 Venezuelan Shredded Beef (Pabellón Criollo)
 Yields 4-6 Servings
Ingredients
1 flank steak about 2 lbs., cut in 4 pieces
1 onion roughly chopped
2 packets GOYA® Beef Bouillon*
1 quart water
2 cups chopped onion
2 tsp. GOYA® Minced Garlic, or 4 cloves fresh garlic, minced* 
2 tbsp. GOYA®Corn Oil*
1 can (8 oz.) GOYA® Tomato Sauce*
1 packet GOYA® Sazón without Annatto*
½ tsp. GOYA® Leaf Oregano*
½ tsp. GOYA® Adobo with Cumin*
1 can (15 oz.) GOYA® Black Bean Soup, heated*
1 packet (11 oz.) GOYA® Frozen Ripe Plantain, cooked according to package directions*
3 cups cooked CANILLA® Extra Long Grain Rice*
* Brands are substitutable
Directions
In saucepan, combine meat, onion, bouillon and water. Bring to boil, lower heat and simmer until very tender (about 1½ hours). Add more water as necessary to keep meat covered. Allow meat to cool in broth. When cool enough to handle, shred meat. Reserve 1 cup of broth.
In meantime, puree onion, red pepper and garlic in food processor.
In skillet heat oil on medium high. Add shredded meat and lightly brown. Add pureed vegetables, tomato sauce, Sazon, oregano, Adobo and reserved broth. Bring to boil, lower heat and simmer until mixture dries about 20 minutes. 
Arrange meat, black beans, rice and plantain on platter and serve.
CONTINUE THE JOURNEY
Mexico
Chicken Flautas — "Tacos are an everyday event in Mexico with many different fillings. When tacos are rolled tightly and pan-fried until crisp so they resemble tubes or "flutes," they become flautas. This delicious, crunchy variation of tacos comes from Jalisco, Mexico, where it is a popular snack food. Here, chicken stewed with tomato sauce and onions is the filling of choice, but can be substituted for steak or pork. Whichever protein you choose, the flautas should be prepared and eaten right away for the best taste." (GOYA)
Grilled Chicken Fajitas — "For an outdoor meal that's fun for everyone, serve up a sizzling batch of Grilled Chicken Fajitas! Here, boneless, skinless chicken breasts come alive with flavor and pizzazz when marinated in GOYA® Mojo Criollo. Grill the marinated chicken breasts, peppers and onions and serve with the toppings of your choice for a festive dinner, tonight!" (GOYA)
Chicken and Avocado Quesadillas — "These chicken and avocado quesadillas are guaranteed to be the life of your summertime fiestas! Here, a tasty combination of GOYA® Fancy Pimientos, GOYA® Diced Green Chiles, scallions, fresh cilantro and GOYA® Salsita are topped with shredded cooked chicken and creamy avocado, coming cozily together in GOYA® Soft Taco Flour Tortillas with melted shredded cheese. This flavor-loaded quesadilla is bound to keep your party guests coming back for more!" (GOYA)
El Salvador
Salvadoran Pupusas with Cabbage Salad

 — "A staple of Salvadoran cuisine, 

pupusas

 are handmade, stuffed corn tortillas. Savory, flavor-packed 

pupusas 

Salvadoreñas are traditionally filled with beans, cheese, and pork. This 

pupusas

 recipe is especially easy, made with GOYA® Masarica Instant Corn Masa Flour, and stuffed with a choice of GOYA® Refried Red Beans (Volteados Style) and white cheese. 

Pupusas

 are served with a tangy pickled cabbage salad." (GOYA)
Colombia
Colombian Beef and Pork Empanadas

 — "These typical Colombian-style 

empanadas

 are tasty turnovers made with savory yellow corn dough stuffed with seasoned pork and beef mixed with cooked potatoes. The meat filling is typically made with cooked and shredded beef and pork, but here, we use ground meat to cut down in cooking time with similar tasty results. Served at social gatherings, family parties and celebrations throughout the year, these Colombian Beef and Pork Empanadas are the perfect tasty, hand-held party food. Serve with lime wedges and a 

ají picante

." (GOYA)
Monday September 14, 2015
Cooking with Kate: Mexican Independence Day
Although often confused with Cinco de Mayo, Mexican Independence Day, commemorated on September 16th, is the most important national holiday in Mexico. To commemorate the Mexican War of Independence in 1810, celebrations in Mexico and across the world will include parades, carnivals and more. Many locals choose to celebrate by spending time with family, eating great food, and watching a fireworks display - a celebration very similar to the Brookshire Brothers company message.
Several popular items are served in family gatherings such as "antojitos", "tortas ahogada", and "horchata". However, one of the most popular is a pan dulce that can be found throughout Central Mexico and the Yucatan Peninsula called "campechanas" - a crispy, puffy, carmelized treat. Here's an easy recipe to try this delicious treat at home in honor of Mexican Independence Day.
Campechanas
1 pound puff pastry dough
½ cup granulated sugar
unsalted butter
all-purpose flour 
If using frozen puff pastry, thaw for 20 to 30 minutes before rolling. When ready to roll out, preheat oven to 400°F. Generously butter two baking sheets. Dust your counter and rolling pin lightly with flour. Roll out both puff pastry sheets gently to about 9- or 10-inches by 11-inches. Sprinkle them with the sugar, as evenly as you can. Then lightly roll again with the rolling pin, just enough to press the sugar into the puff pastry. Cut the sheets into rectangles of about 3- by 5-inches with a knife. You should have 12 rectangles. Place the campechanas on the baking sheets. Position rack in the upper third of the oven. One batch at a time, bake for 7 to 8 minutes at 400°F. Raise the oven temperature to 500°F and bake for an additional 4 to 5 minutes, just until all the sugar has melted and caramelized. Be very careful not to burn the sugar caramel or it will turn bitter. Repeat with the other batch. Once cooled completely, store in an airtight container so they stay crisp.