Wednesday January 30, 2019
Charitable Foundation 2019 Recipients
Organizations that lay the foundation for stronger communities will have more resources to help them help others thanks to Brookshire Brothers. On Wednesday, January 30th the Brookshire Brothers Charitable Foundation awarded $130,000 in grants to 26 nonprofit organizations and 5 education foundations across its market area. The grants give organizations the resources they need to continue living out their mission of serving those in need. Trustees and company executives presented funds to the recipients at the Brookshire Brothers' Distribution Center in Lufkin, Texas.    
In making the presentations, Brookshire Brothers President, CEO and Charitable Foundation Board Member John Alston said, "You make things happen in your communities. You change lives. We are grateful to have the opportunity to help you live out your mission. We thank you for what you do everyday."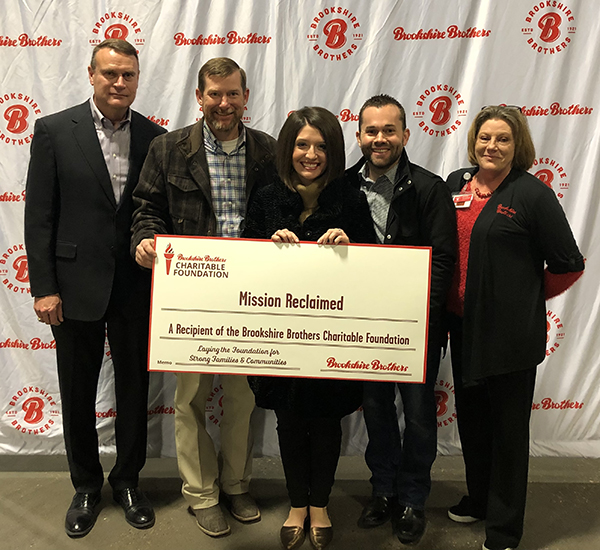 During the last decade, the Brookshire Brothers Charitable Foundation has given more than a million dollars to a variety of non-profits. For nearly twenty years, Brookshire Brothers has invited its vendors to play in two Charitable Foundation golf tournaments each year. Vendor partners appreciate the opportunity to network with their colleagues while raising money for nonprofits – all which support children and families and align with Brookshire Brothers' core value of being a community grocer.  Each year, the funds are granted based on the organizations' needs and application requests.
The 2019 recipients are:
Alcohol and Drug Abuse Council of Deep East Texas (ADAC)
American Cancer Society
Angelina Alliance for Children (Harold's House)
Angelina Arts Alliance
Boys & Girls Clubs of Deep East Texas
Buckner Children and Family Services
Christian Information and Service Center, Inc.
Dublin Goodfellows
Food Share Bank of Newton County
Friends of the Ellen Trout Zoo
Habitat for Humanity of Angelina County
Junior Achievement of East Texas
Junior League of Lufkin 
Lake Whitney Ministerial Alliance
Legacy Institute for Financial Education
Lufkin Neighborhood Strong
Mission Reclaimed 
Texas Forestry Museum
The Joseph House, Inc.
The Mosaic Center, Inc.
The Salvation Army
Twin City Mission
Volunteer Services Council
Women's Shelter of East Texas
Women's Sober House
Zavalla Food Pantry
Education Foundations:
Angelina College Center for Non-Profit Leadership
Hemphill ISD Education Foundation
Lufkin ISD Education Foundation
McGregor ISD Education Foundation
Vidor ISD
In addition to these contributions, Brookshire Brothers has a separate employee-run Donations Committee which meets monthly to consider hundreds of donation requests from throughout the company's footprint.
Thursday January 30, 2014
Foundation Furthers Work of a Dozen Non-Profits
Brookshire Brothers warmed the hearts of twelve non-profits Thursday, January 30th by recognizing the amazing work they do in the communities they serve.  The Lufkin-based company's Charitable Foundation distributed checks totaling $110,000 to organizations whose core mission aligns with Brookshire Brothers' A Celebration of Family and Community.
Company spokesperson Sally Alvis says, "It was fitting we distributed checks to these deserving organizations from our Distribution Center. It truly is the heart of this employee-owned company.  Our guests saw how the merchandise they see in the store gets from the warehouse, to the eighteen-wheelers and off to our 123 retail locations.  They also got to meet a cross section of our employee-owners, many of whom volunteer and serve beside them in the non-profit arena or are served by their organization. "
It is the vendors who sell their lines of groceries and goods to Brookshire Brothers that make these grants possible. They play in the Foundation's spring and fall golf tournaments. Their entry fees go directly to the Charitable Foundation.  An invite to the Brookshire Brothers tourneys is among the most sought after in the industry because the golfers know their participation fuels Brookshire Brothers passion for giving.
Brookshire Brothers Charitable Foundation Recipients:
Boys and Girls Clubs of Deep East Texas
Volunteer Services Council - Lufkin State Supported Living Center
The Mosaic Center
Friends of the Ellen Trout Zoo
Sarah's Hope
East Texas Alliance for Children - Harold's House
Junior Achievement of East Texas
American Cancer Society/Pineywoods Cattle Barons Gala
Friends of Blue Hole
Alzheimer's Association - Capital of Texas Chapter
Alzheimer's Association - Southeast Texas/Houston Chapter
Angelina Arts Alliance
Brookshire Brothers also has an employee-run Donations Committee that meets monthly to consider hundreds of funding requests.  Alvis explained, "That committee represents every single Brookshire Brothers employee. The money they earmark for donations comes directly from our employee-owners.  Committee members discern how  best to allocate our giving in every market we serve.  From education to wellness, community celebrations to fundraising efforts, we give back in extraordinary levels - financially and with our gifts of time, re   sources and volunteer service."