Monday June 24, 2019
Summer Sweet Tooth: Grilled Peaches with Pecan Brown Butter Sauce
Everybody knows that what a grill really wants is just some sweet summer fun, and this easy recipe for grilled peaches has every bit of summer and sweet fun you can find.
Grilled Peaches with Pecan Brown Butter Sauce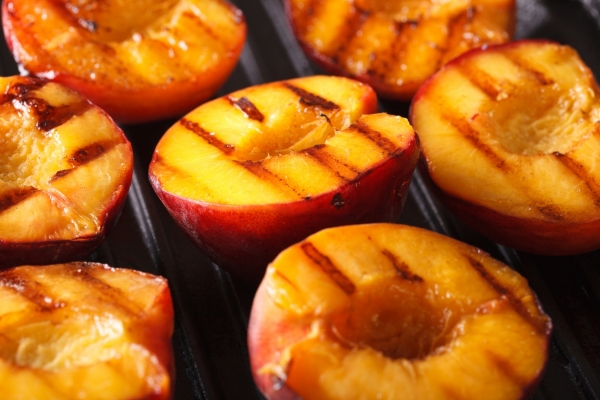 INGREDIENTS
4-6 peaches, fresh
Food Club non-stick cooking spray
1 stick Food Club salted butter
1/4 - 1/2 cup pecans, chopped
1/2 teaspoon cinnamon sugar
fresh whipped cream
DIRECTIONS
Slice peaches in half and remove pit. Lightly spritz cut side of peaches with non-stick cooking spray. Place cut side down on a hot grill. Cook about 2-3 minutes. Remove peaches from grill and place in a lightly greased baking dish or sheet pan. Return dish or pan to grill. Cover and continue to cook until the peaches are soft – about 5 minutes. Remove from heat and serve immediately.
To make the sauce: In a small sauce pan, melt butter. Continue to cook over medium heat until butter begins to brown and smells slightly nutty. Remove from heat and add pecans and cinnamon sugar. Swirl or stir to mix.
To serve: Place 1-2 peach halves on a dessert plate. Drizzle with Pecan Brown Butter and a scoop of whipped cream. Garnish with fresh mint and pecan halves, if desired.
Monday June 26, 2017
Fourth, Food, Fun, Fireworks
Independence Day is right around the corner and we couldn't be more excited! The 4th of July is a time to gather your friends and family, spend time outdoors, and enjoy the sunshine. For a great way to celebrate America's Independence, follow these fun steps –
1. Plan Ahead
The questions usually start arising about a week before... "What are your plans for July 4th?" Beat everyone to the question by inviting friends and family to a backyard barbecue! You may not have time for paper invitations, but send a group text, create a Facebook group or send e-vites so everyone can mark it on their calendar.
2. Create the Menu
Don't stress about preparing each dish. Guests want to help out by bringing dishes. So, when you get RSVPs from friends and family, ask them if they could bring a side dish or dessert. We've got a great selection of recipes here. Once everyone contributes a dish or two, you'll have a 4th of July spread that's worthy of celebrating!
3. Take Grilling Tips
Our Market Experts are Expert Grillers! Ask them for their best grilling tips when you're picking out your favorite cuts of meat. Search our wide variety of Market items in our Meat Department.
4. Think Outside the Box
Meat and veggies are NOT the only items that are grill-worthy. Try your hand at grilling some of your favorite fruits, too. Our Catering Coordinator, Kate Rudasill, suggests splurging for a grill basket or grill wok to place your favorite fruit and vegetable slices in. Find other tips from her on our Cooking with Kate blog!
5. Enjoy the Fireworks
Now that all the cooking, socializing, and eating has commenced, you can sit back and relax while watching the firework show!
Have a safe, fun, and tasty 4th of July!