Tuesday April 19, 2016
Sutter Home DIY: Wine Cork Vase
Let's get creative and uncork your crafty side with this DIY cork flower vase project.​ It will add handcrafted flair to your décor and makes for a great conversation piece when friends and family come to visit. ​
Starting this project is as easy as drinking your favorite Sutter Home wines. All you have to do is collect enough corks to get started. This cork flower vase makes a wonderful centerpiece for any table or fireplace mantel, a candelabra or a vase for your favorite seasonal floral arrangements. If you love discovering new DIY projects and reasons to uncork your favorite Sutter Home wines for family and friends, we think this handcrafted and unique vino-inspired vase will really hit home.  ​
​What You'll Need:​
•   4-sided glass vase​
•   About 40-80 wine corks, depending on the size of your vase​
•   Craft glue​
 Directions: ​
​Position the corks horizontally and glue them along the sides of the vase with a strong adhesive craft glue.​
Stack the corks vertically along the four outer edges and glue into place.​
When the glue is dry, fill the vase with water and add flowers of your choice.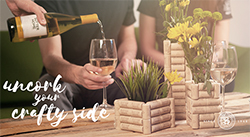 Friday October 23, 2015
"A Bottle of Boos" - A Halloween Wine DIY
Don't throw away those wine bottles you've been drinking the past few weeks... Halloween is coming and with it comes parties. Save your wine bottles, corks, and even some of your older wine glasses, and have a Halloween DIY! Did you know you could paint, accessorize, cut, decorate, and melt wine bottles and glasses? We've got some great ideas of how to spice up your Halloween party!
Candy Corn Wine Bottle
Are you like me and can't get enough candy corn this time of year? If so, you'll love this DIY! Collect 3 similarly shaped wine bottles and paint them orange, white, and yellow to match candy corn. You could even make them a focal point or centerpiece at your get together and have a bowl of candy corn in front of the 3 bottles.
Upside Down Wine Glass Candle Holders
Frankenstein, ghosts, witches, and mummies come to life in this project. Using a standard wine glass, paint the entire glass with colored paint (green for Frankenstein, white for ghosts and mummies, purple for a witch) and then sprinkle glitter on the wet paint (in the same color). Let dry and create your character by adding eyes and face, hair, clothes, etc (remember to decorate upside down). Finally, use them as candle holders by displaying upside down and putting tea candles on the bottom of the glass.
Cork Pumpkin
As you're opening your wine, try to keep your corks in good condition and repurpose them to be a pumpkin. Paint or color 24 wine corks orange and let dry. Next, glue the corks in a pumpkin shape - we recommend the following pattern: 4 corks, 5 corks, 6 corks, 5 corks, 4 corks. Finally, find a cream color wide ribbon or use wide burlap ribbon and wrap around the edges and tie at the top. You've just made your first cork pumpkin!
Wine Glass Characters
By using small amounts of fabric and your imagination, you can create your party guests and friends their own wine glass character. For example, a witch can have a hat that acts as a wine glass topper and a few ribbons acting as the stem's clothes. 
Let your imagination soar and Happy Halloween!