Friday May 19, 2017
Celebrate Your Graduate
No matter the age of your graduate or the size of your celebration, we're congratulating all graduates this year! Let us help you navigate through the tears of joy as your loved one moves on to the next phase of life.
Our Bakery Experts love making each masterpiece more than just a cake. It's the centerpiece! Let us put the "good" in your next baked good!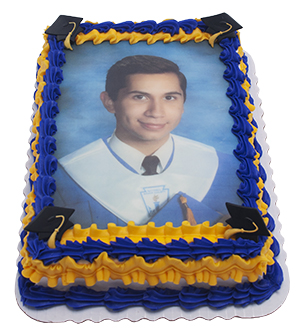 From single layer to double layer, 1/8 sheet to a full sheet, we know how to customize your specialty cake.
Not sure what you want? Talk it out with us! We're highly creative and love thinking outside the box. Not only do we have every color to match your school, but we have an assortment of flavors that will have you coming back for another piece. We can even put a picture on your cake with our Edible Image Technology!
And don't forget matching cupcakes for an added touch of fun. Available in large or small, these cupcakes will go fast!
If you want to treat your graduate to a down-home treat, look no further than our variety of Crème Cakes, Cakerie Cakes, and Mousse Cakes! These glazed and glorious, silky and light, decadent and delicious cakes fly off our shelves. There may not be anything like Granny's cake, but we come pretty close with these!
Stop by your local Brookshire Brothers today to find out how we can help you plan a celebration your graduate will be proud of! 
Congratulations, parents..you made it. And more importantly...
Congratulations, Class of 2017! 
Tuesday September 20, 2016
Thank You for 95 Great Years!
In 1921, brothers Austin and Tom Brookshire opened the first Brookshire Brothers in Lufkin, Texas on September 21st. Little did they know, 95 years later, their company would grow to employ over 7,000 employee-owners with 113 retail locations. Over the years, our company has seen a number changes. There have been many expansions, acquisitions, and new business ventures that we've experienced. All of these have made us stronger. On behalf of all our employee-owners, we say thank you! 
1921 - Brothers Tom and Austin Brookshire founded Brookshire Brothers in Lufkin, Texas.
1928 - The first expansion of Brookshire Brothers began as the Brookshire family rallied to build a strong regional company.
1929 - Wood and W.A. Brookshire withdrew from the company to form a separate company in Tyler, Texas. This was the birth of Brookshire Grocery Company.
1952 - Brookshire Brothers acquired Moore Grocery and Lufkin Produce Company.
1966 - Three sons of Austin Brookshire, R.A., Eugene, and Oscar, assumed leadership of the company, which grew to 69 stores in East Texas and Western Louisiana.
1991 - Brookshire Brothers began offering gasoline on its supermarket parking lots.
1997 - Brookshire Brothers opened its first Tobacco Barn and expanded its offerings to include discount tobacco.
1999 - Brookshire Brothers embarked on a employee-owner stock buyout.
2006 - Brookshire Brothers achieved 100% employee ownership.
2007 - Brookshire Brothers merged with Polk Oil Company, which added fuel distribution and the convenience store format.
2013 - Five new supermarkets and six new convenience stores were added to Brookshire Brothers' operations.
2014 - Brookshire Brothers acquires the assets of David's Supermarkets. 
2016 – Brookshire Brothers expands west to Canyon Lake and begins construction on four new Brookshire Brothers Express locations. 
Wednesday December 23, 2015
A Simple New Year
Celebrate New Year's Eve without a lot of fuss! Gather friends and neighbors for a warm, cozy evening inside, or go outdoors if you're an active group. You'll find all the recipes and party-planning tips you'll need for an appetizer and dessert celebration to ring in this new year.
Easy Decorations
Casual get-togethers are often impromptu and require no special decorations. If you want to decorate, consider one of these:
Encourage guests to bring a battery-operated alarm clock. Set the alarms to go off at midnight, and place the clocks all over the party area! Or place a collection of the clocks on a mirrored tray as a centerpiece.
Make a quick centerpiece by placing glittering ball ornaments in a wire basket or crystal bowl.
Fun Serving Ideas
Use hollowed-out colorful bell peppers, cabbage, squash or round bread loaves for fun and colorful containers to hold veggie dip.
Embellish mug handles or bases of stemware with metallic curly ribbon. A different color of ribbon for each guest can keep drinkware from being misplaced.
Bump up plain coffee served with dessert to an inviting espresso bar! Set up espresso carafes (regular and decaf) with extras for stir-ins and toppers.
- Stir-Ins: flavored syrups, flavored creams or eggnog, cream and sugar 
- Toppers: whipped cream, ice-cream toppings, candy sprinkles, ground nutmeg or cinnamon
Casual Party Activities
Got snow? Make a snowperson! Ask guests to wear appropriate clothing.
Build a huge bonfire--remember to check your city's ordinances! Or just gather around your backyard fire pit. Tell stories of bygone years, or predict the future.
Hide a treasure of gold-colored medallions, gold foil-covered chocolate coins and golden baubles and beads found in craft stores. Entice guests with creative clues to answer so they can discover the treasure by the stroke of midnight.
Thursday April 30, 2015
Hats Off to You!
As yet another school year is ending, senior-itis has kicked in full force for high school and college seniors alike. The only thing your student can think of is walking across the stage and receiving a diploma; but you know there is a lot that needs to happen between now and then. Senior receptions, class parties, graduation celebrations and awards banquets are just a short list of events that you'll need to prepare for. With the help of our advice, you'll be relaxed on graduation day knowing your parties were planned with ease.
Opt for a healthy choice for all party guests by picking up a vegetable tray from your local store. Earn extra hostess points by plating the vegetables on your own platter for presentation. Forego the stress of buying, washing and chopping veggies by serving our pre-chopped and readily available vegetables. This party-planning secret will allow time for celebrating and visiting with friends and family.
Cater to your graduate's appetite by serving our signature, fried chicken. Straight from Granny Brookshire's family recipe to your family gathering, our legs won't disappoint. Fresh, never frozen and good to the last crumb, this pleasing entrée is great for any size occasion…big or small.
What party isn't complete without a sweet treat? Finish off the evening with an assortment of our David's cookies that are a bite above the rest. These chunky, chewy favorites are for everyone to enjoy. Although they may be too good to pass off as your own, you can certainly boast about the ease and satisfaction of serving such an enjoyable dessert.
On the day of graduation, surprise the graduate in your life with a fresh floral bouquet from expert florists. We offer a delightful experience from start to finish when ordering your arrangement. After presenting the flowers at graduation, take the display home and set them as a centerpiece on your table as you prepare for another celebration.