Wednesday September 4, 2019
Gather Around For Better Breakfast Month
September is just a fantastic month on top of being
Family Meals Month
and the start of Fall, it is also Better Breakfast month! So before everything is all pumpkin, let's make breakfast even better with the tasty recipes below.

Ham and Biscuit Egg Bake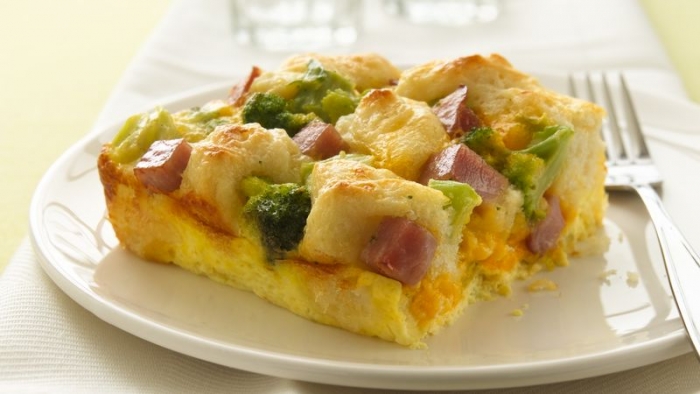 *
Recipe courtesy of our vendor partner Pillsbury.
Ingredients
2 Pillsbury™ Grands!™ frozen Southern Style Biscuits (from 25-oz bag)
1 cup frozen broccoli cuts
2 eggs
1/2 cup milk
1/4 teaspoon ground mustard
1/2 cup diced cooked ham
1/2 cup shredded sharp Cheddar cheese (2 oz)
Directions
Heat oven to 350°F. Place biscuits on cutting board; let stand 10 minutes to thaw.
In small microwavable bowl, microwave broccoli uncovered on High 1 minute; drain on paper towel.
In medium bowl, beat eggs, milk and mustard with wire whisk until blended.
Stir in ham, cheese and broccoli.
Spray 8x4-inch (1-quart) glass loaf dish or 1-quart casserole with cooking spray.
Cut each biscuit into 8 pieces; arrange evenly in dish. Pour egg mixture over biscuit pieces in dish.
Press down with back of spoon, making sure all biscuit pieces are covered with egg mixture.
Bake 30 to 35 minutes or until edges are golden brown and center is set.
Let stand 5 minutes before serving.
---
One Skillet Sausage and Veggie Hash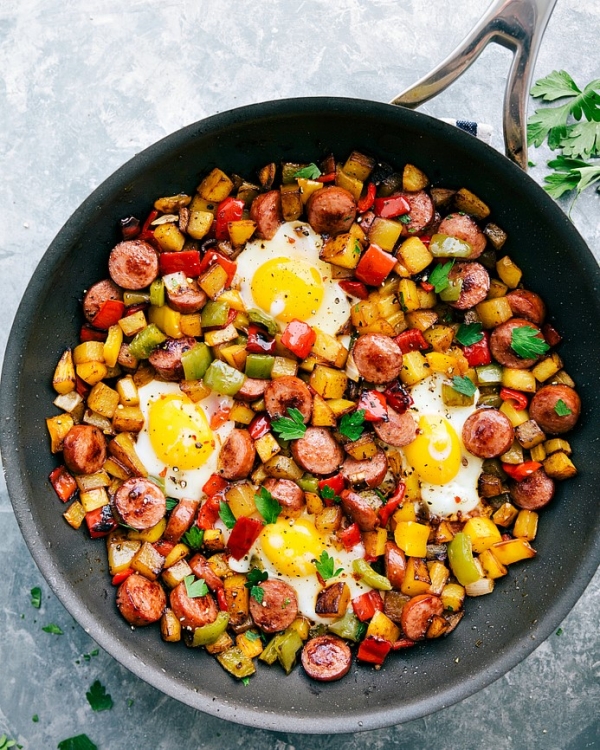 *
Recipe courtesy of our vendor partner Butterball.
Ingredients
2 large russet potatoes, scrubbed, washed and dried
1 package BUTTERBALL® Everyday Smoked Dinner Sausage (13 ounces)
3 medium bell peppers
1 small yellow onion, diced
1 tablespoon olive oil
3 tablespoons unsalted butter
1 teaspoon minced garlic
2 teaspoons dried parsley flakes
1 teaspoon Italian seasoning
½ teaspoon paprika
Salt and black pepper
Eggs, fresh chopped parsley and chopped green onions (optional)
Directions
Poke holes in potatoes with fork. Place potatoes on microwavable dish; microwave on HIGH 5 minutes. Flip and microwave 3 to 5 minutes. Remove and allow to cool.
Cut sausage into thin slices and chop bell peppers.
Heat oil in large Dutch oven over medium-high heat until sizzling. Add sausage; cook 4 to 5 minutes or until lightly browned. Remove sausage to plate.
Add butter; cook and stir 1 minute. Add bell peppers and onion.
Meanwhile, dice potatoes (remove skins, if desired). Add potatoes to Dutch oven; cook and stir 4 to 7 minutes or until vegetables are crisp-tender and potatoes have crisp exterior.
Add garlic, parsley flakes, Italian seasoning, paprika, salt and black pepper. (If you want eggs, make four "wells" in hash; crack eggs into wells. Add eggs before vegetables are finished so they don't get too browned. Cook until whites are set.)
Top with fresh parsley or green onions, if desired. Season with additional salt and black pepper.
---
 Apple Muffins with NUTELLA® Hazelnut Spread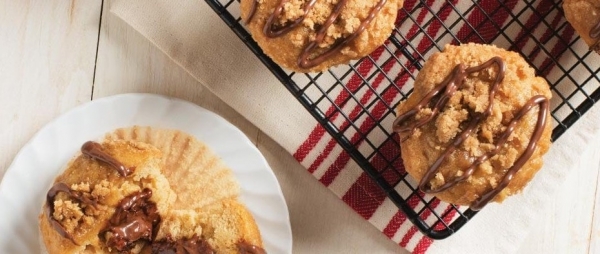 *
Recipe courtesy of our vendor partner Nutella.
Ingredients
Muffins:
2 1/4 cups all-purpose flour
1 tsp baking powder
1/2 tsp baking soda
1/2 tsp salt
1 cup firmly packed brown sugar
1 cup unsweetened applesauce
1/3 cup vegetable oil
2 eggs
1 tsp vanilla
1 apple, peeled, cored and diced
1/2 cup Nutella® hazelnut spread
Streusel Topping:
1/4 cup firmly packed brown sugar
1/4 cup all-purpose flour
2 tbsp cold butter, diced
Directions
Preheat oven to 350°F. Line 12 muffin cup pan with paper liners.
In bowl, whisk flour with baking powder, baking soda and salt.
In separate bowl, whisk brown sugar with applesauce, vegetable oil, eggs and vanilla.
Add flour mixture to wet ingredients and stir until combined. Fold in apples.
Pour mixture into lined muffin cups dividing evenly among the 12 cups.
Prepare streusel topping in bowl by whisking brown sugar with flour. Using fingertips or pastry cutter, combine flour mixture with butter until crumbs form.
Divide topping evenly over muffins.
Bake for 20 minutes, or until golden on top and tester comes out clean when inserted into center of muffin. Let cool completely.
Fit pastry bag with plain tip and fill with Nutella® hazelnut spread. Insert tip into center bottom of each muffin. Squeeze to fill each with about 2 tsp of Nutella® hazelnut spread.
Squeeze remaining Nutella® hazelnut spread over the top of muffins.
---
Bananas Foster French Toast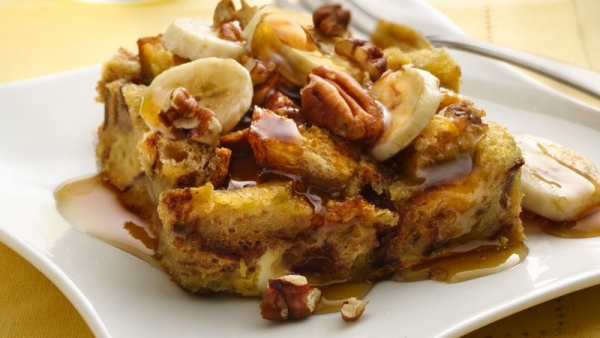 Ingredients
8 slices cinnamon bread, cut into 1/2-inch cubes (about 8 cups)
8 eggs
1 cup milk
2 1/2 cups real maple syrup
1 teaspoon rum extract
6 ripe bananas, cut into 1/2-inch slices
1 cup chopped pecans
Directions
Spray bottom of 13x9-inch (3-quart) baking dish with cooking spray.
Arrange bread cubes in baking dish.
In large bowl, beat eggs, milk and 1/2 cup of the maple syrup with wire whisk.
Pour over bread in baking dish. Cover and refrigerate 8 hours or overnight.
Heat oven to 350°F. Uncover; bake 35 to 40 minutes or until golden brown along edges.
Let stand 7 to 10 minutes before serving.
Meanwhile, in medium microwavable bowl, microwave remaining 2 cups maple syrup uncovered on High 1 to 2 minutes, stirring every 30 seconds, until warm.
Stir in rum extract.
Sprinkle banana slices and pecans evenly over bread; drizzle with 1 cup of the warmed syrup mixture.
Serve immediately with remaining syrup.