Wednesday August 21, 2019
5 Meals for $50 - 8/28/2019
Do you dread the process of planning dinners for the week? Do you feel overwhelmed with all the shopping, prepping, and cooking when it comes to feeding your family? Sweat no more. We're here to make it easier for you with this easy guide that will save you time AND money. Keep reading for five complete dinners to feed your family of four—all under $50! You can find all the 
recipes
 below, as well as an easy to follow 
shopping list
!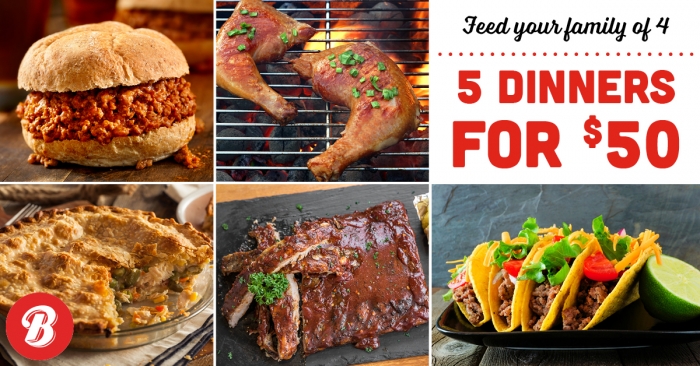 Meal 1- Sloppy Joes & Onion Rings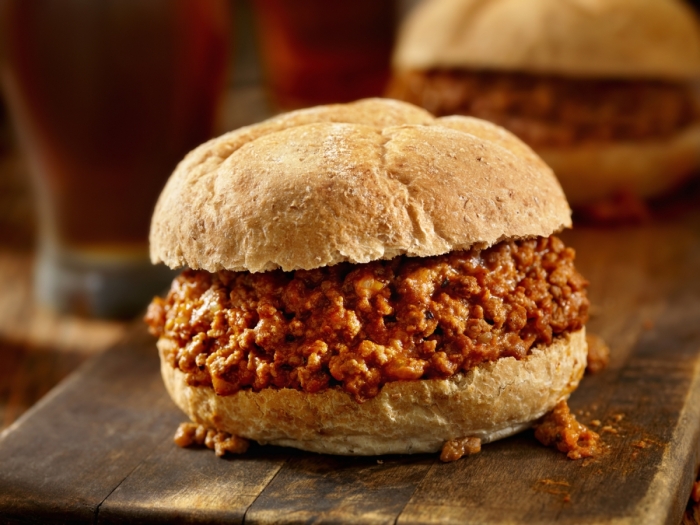 Ingredients
1 pound of ground beef
1 can (15 oz each) Manwich Original Sloppy Joe Sauce
1 package of Fresh Harvest Hamburger Buns (8 ct)
Instructions
Cook beef in large skillet over medium-high heat 7 minutes or until crumbled and no longer pink, stirring occasionally; drain.
Stir in Sloppy Joe sauce; heat through.
Divide meat mixture evenly between buns.
Serve with Ore-Ida Onion Rings. Follow package cooking instructions.
LOW CARB ALTERNATIVE: Sub out the buns and make Sloppy Joe Zucchini Boats!
Ingredients
4 medium zucchini, cut in half lengthwise
1 pound ground beef
1 can (15 oz each) Manwich Original Sloppy Joe Sauce
1 teaspoon garlic powder
1/2 cup cheese
Instructions
Preheat the oven to 400 degrees.
Using a small spoon (ex: teaspoon), hollow out the zucchini halves to create boats. Make sure to leave about a 1/4 inch thick shell on each half.
Chop up the excess zucchini and use a paper towel to drain the excess water. Save about 1/2 cup to 1 cup of the zucchini to add to the sloppy joes.
Brown the ground beef in a medium sized skillet. Once the beef is browned, add the garlic powder, excess zucchini, and Manwich sauce and stir to combine. Simmer on low heat for 5-10 minutes or until it is all combined.
Spoon about 1/4 cup of the Manwich sauce from the skillet and add to the bottom of a 13x9 pan.
Using a spoon evenly fill the hollowed zucchini boats with the sloppy joe mixture. Top each zucchini boats with 1 tablespoon of cheese. Place the zucchini boats in the 13x9 baking dish on top of the sauce.
Cover the baking dish with foil and bake for 35 minutes or until the zucchini is tender and cooked through.
---
 Meal 2 - Oven Baked Barbecue Ribs and Baked Potatoes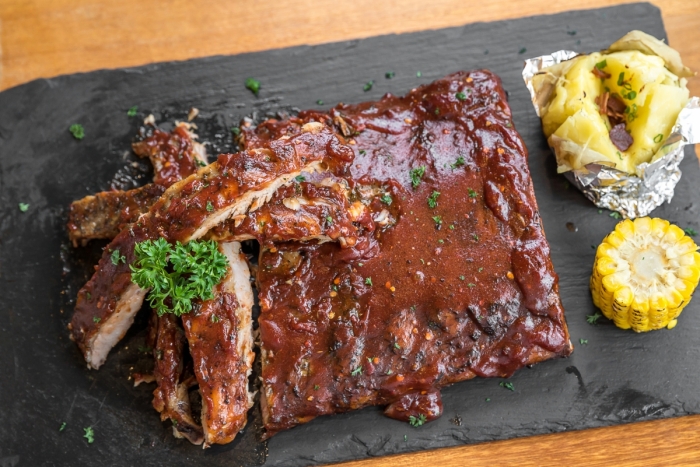 Oven Baked Barbecue Ribs
Ingredients
2.5 lbs. of Pork Spare Ribs
1 jar barbecue sauce
Dry Rub
1/2 cup brown sugar
1 tablespoon garlic powder
1 tablespoon onion powder
1 teaspoon salt
1 tablespoon chili powder
2 teaspoon cumin
2 tablespoons smoked paprika
1-2 teaspoons cayenne pepper depending on the heat level you like
Instructions
Preheat oven to 275 degrees
In a small bowl mix dry rub until combined and set aside
Rinse pork ribs and pat dry with paper towels
Remove the membrane from the back of the ribs, I've provided a how-to link above
Spread the dry rub all over the ribs making sure to cover both sides.
Wrap ribs tightly in foil meat side up, place on baking sheet
Bake for 3 hours for spare ribs, 2 hours for baby back ribs or until fork tender
Open foil and drain the liquid from the ribs. Brush your favorite barbecue sauce on the ribs, broil for 5 minutes
Remove and let the ribs rest 5-10 minutes before cutting. Serves 4-6
How To Make A Baked Potato in the Oven
A baked potato is very simple to make, just 3 ingredients needed to get a deliciously crisp skin and a fluffy interior perfect for topping! The classic method of making a perfect baked potato is in the oven (although on a hot summer day, I often cook 
baked potatoes in the slow cooker
).
WASH: Scrub potatoes to remove any dirt or debris.
POKE: Poke holes all over the potato using a fork – about 5 to 6 times. This prevents steam from building up inside of the potatoes while they bake. A potato can explode if steam builds up so make sure you poke right into the potato to create holes, not just pierce the skin.
BAKE: Brush the potatoes with olive oil and salt. Place the potatoes directly on the oven rack and bake.
To Foil or Not to Foil?
If you want a softer skin on your baked potatoes, wrap them in foil before they go in the oven. This helps to steam the skin keeping it from crisping up as much (although I prefer the skin to be crispy and skip the foil)!
How Long To Bake A Potato
A baked potato will take 45-60 minutes in the oven. Cooking times can vary depending on the size of the potatoes and the temperature of the oven, so the easiest way to test them is with a fork to make sure they're soft throughout.
The great thing about baked potatoes is they can be baked at any temperature. If you have other things cooking in the oven, baked potatoes can just be thrown in quickly without too much to worry about.
Cooking Times:
350°F 60 to 75 minutes
375°F 50 to 60 minutes
400°F 40 to 50 minutes
If the temperature is adjusted to match whatever else is cooking, just adjust the cooking time accordingly!
Want to save some time? Bake A Potato in the Microwave
If you are pressed for time (or coveted oven space), the microwave method will be your savior!
Scrub the potato and poke it with a fork as above.
Place it on a plate and microwave it on HIGH for 5 minutes.
Turn it over, and microwave it for 3-5 minutes longer or until fork-tender. Top and enjoy!
REMINDER: Do not to use foil if you are making baked potatoes in the microwave.
SIDE DISH TOPPINGS
Butter, salt & pepper – of course!

Cheese – cheddar cheese is the best but experiment with your favorites!

Sour cream

White Onions
---
 Meal 3 - Taco Dinner with Refried Beans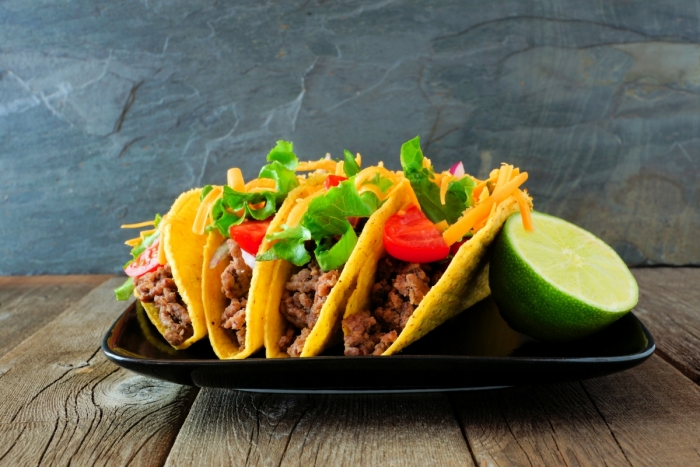 Ingredients
2 teaspoons olive oil
2 lb. ground beef
1 packet of taco seasoning
1 (8 oz) can tomato sauce
1 package of taco shells
Instructions
Heat olive oil in a large non-stick sauté pan over medium heat.
Add in ground beef and taco seasoning.
Cook, breaking up the meat as you go until the beef is no longer pink and cooked through. About 5 minutes.
Stir in tomato sauce.
Simmer, uncovered, for 3-5 minutes, or until most of the tomato sauce has thickened, stirring occasionally to prevent sticking.
Taste and re-season, if necessary
Heat taco shells in oven then start building!
What to Serve with Tacos
Shredded cheese

Onion

Sour cream

Refried beans

Shredded lettuce
---
 Meal 4 - Crispy Baked Leg Quarters with Vegetable Shish-kabobs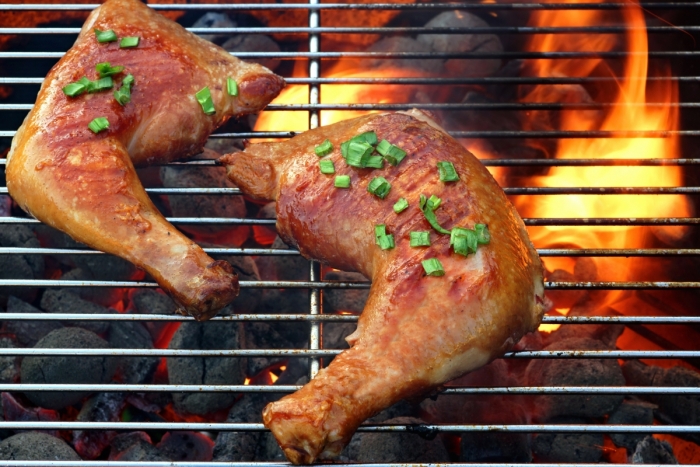 Ingredients
6 chicken leg quarters
2 tsp salt (or to taste)
1 tsp Black pepper (or to taste)
2 tsp garlic powder)
2 tsp granulated onion (or onion powder)
1 tbsp Ancho chile powder
1/2 tsp cayenne pepper (optional, adjust the amount to taste)
1/2 tbsp vegetable oil (for rubbing)
1/2 cup cooking oil (for frying)
Directions
Preheat oven to 400F.

Dry the chicken quarters with paper towels and rub with oil.

Evenly sprinkle the seasonings on both sides of each quarter and gently pat to make the seasonings stick.

Heat 1/2 cup of cooking oil in a large skillet over medium-high heat.

In two batches, sear the chicken quarters, about 2 minutes per side or until the skin is deep golden brown. 

Transfer the chicken onto the baking sheet, fitted with a cooling rack. Pour about 1 Tbsp of the cooking oil from the skillet over each chicken quarter.
Bake at 400F for about 35-45 minutes, or until the chicken skin is crispy and deep golden brown. Different ovens bake differently so the exact time may vary.
Remove from the chicken from the oven, let rest for 3 minutes and serve with the vegetable shish-kabobs.
*You will cook an extra pound of chicken without the seasoning at the same time for Meal 5's Chicken Pot Pie.
Vegetable Shish Kabobs
Ingredients
1 yellow bell pepper
1 zucchini
1 red onion
1 squash
Directions
Preheat oven to 400F.
Soak wooden skewers in cold water to prevent them from burning.
Rinse and dry the vegetables. Slice the peppers in thick rounds if they are small enough or chunks if they are large. Cut the zucchini and squash in rounds or half-moons. Cut the onion in chunks.
Thread them onto skewers, place on a baking sheet lined with baking paper.
Roast for about 15-20 minutes or until tender.
---
 Meal 5 - Chicken Pot Pie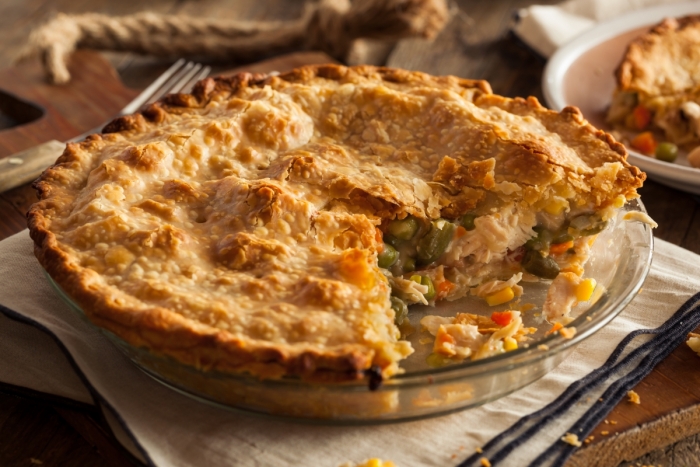 Ingredients
1lb shredded chicken left over from Meal 4 (Crispy Baked Leg Quarters)
1 pkg PictSweet Farms Mixed Vegetables
1 can Food Club Cream of Chicken Soup
1 Food Club Frozen Deep Dish Pie Shell
Instructions
Preheat oven to 400 degrees
In a medium size sauce pan mix the chicken, peas and carrots, cream of chicken soup. Heat until bubbling and hot.
Place contents of sauce pan in the pie crust.
Please second crust over the top venting the center with a fork.
Bake for 20 minutes or until golden brown.
---
Be sure to tell us #HowIFeedMyFamily at your 
local
 #BrookshireBrothers store and don't forget to download all of the 
recipes
 and your 
shopping list
 today!