(Recipe courtesy of Pillsbury)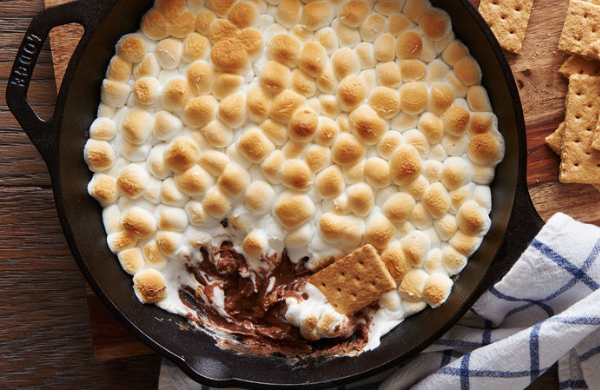 Ingredients
1 bag (12 oz) miniature chocolate-covered peanut butter cup candies, unwrapped
2 1/2 cups miniature marshmallows
16 graham cracker rectangles

Directions
Heat oven to 450°F.
Place peanut butter cup candies in single layer in bottom of ungreased 10- or 12-inch cast-iron skillet; top with marshmallows.
Bake 5 to 10 minutes or until marshmallows are golden brown and toasted.
Serve immediately with graham cracker pieces for dipping.
Pro tips
Trying to avoid peanuts? Use chopped chocolate or another favorite candy bar in place of the peanut butter cup candies.
This dip can be made in any 10- or 12-inch ovenproof skillet. Or you can use an 8-inch square baking dish or an 8-inch round cake pan in place of the cast-iron skillet.