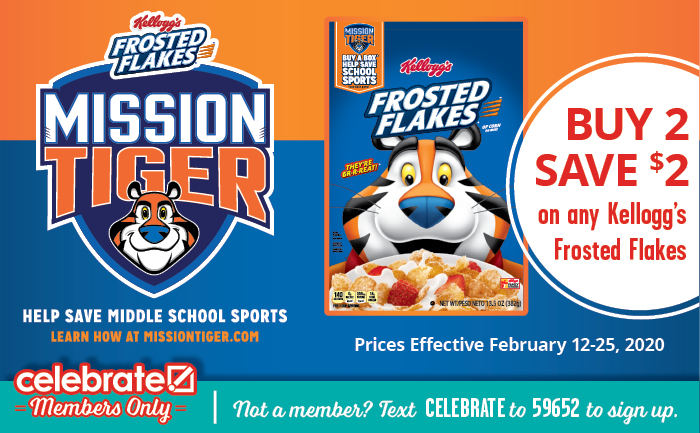 Buy a Box, Support the Mission.
We've joined Tony's Team to help save middle school sports, and you can too! DId you know that 6 in 10 middle school athletic programs are barely funded or underfunded? Knowing this, Tony the Tiger refuses to sit on the sidelines. To help give every kid the opportunity to be a Tiger, every purchase of Frosted Flakes triggers a $1 donation to Mission Tiger to help fund local middle school sports programs in need. In order to further Tony's mission, Brookshire Brothers is offering Celebrate Members a G-R-R-REAT deal - Save $2 off on two boxes of any Frosted Flakes cereal from February 12th, 2020 - February 25th, 2020. 
Not a Celebrate Member? Sign up for free today to take advantage of this deal and more!  
 How to Join Tony's Team
1. Eat like a tiger! - Buy a box of Kellogg's Frosted Flakes.
3. See the Impact! - Real kids, real stories and how you can make a difference. 
Purchase Kellogg's Frosted Flakes at your local store today to help support Mission Tiger.