(Recipe courtesy of Betty Crocker)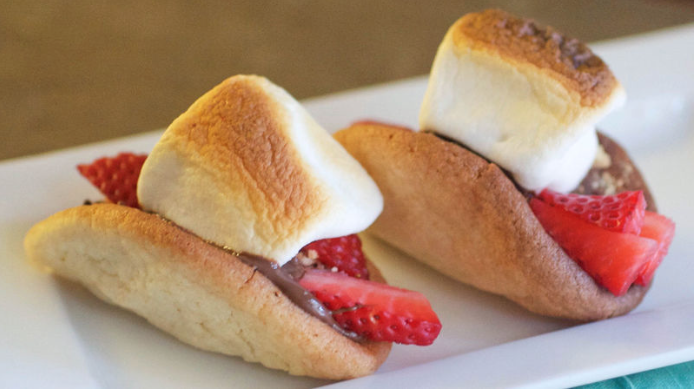 Ingredients
1 pouch Betty Crocker™ sugar cookie mix
1 tablespoon all-purpose flour
1/2 cup hazelnut spread with cocoa
1/3 cup miniature semisweet chocolate chips
1/3 cup graham cracker crumbs
20 strawberries, stemmed and sliced

Directions
Heat oven to 375°F. Line cookie sheet with cooking parchment paper, or spray with cooking spray.
Stir together cookie mix, flour, butter and egg until dough forms. Shape into 20 (1 1/2-inch) balls. Place on cookie sheet. Bake about 10 minutes or until edges start turning brown.
Quickly shape each around mini rolling pin to form mini "taco shells." Cool completely.
Set oven control to broil. Spread inside of each taco with 1 teaspoon hazelnut spread; top each with 1/2 teaspoon chocolate chips, then 1/2 teaspoon graham cracker crumbs. Top each with 1 marshmallow.
Broil with tops about 5 inches from heat about 1 minute or until marshmallows start to brown. Top with strawberries. Serve immediately.
Pro Tips
Bake in batches, and use a spatula to lift warm cookie to rolling pin.
Make sure cookies are not underbaked, or they will fall apart. The edges should be turning brown.