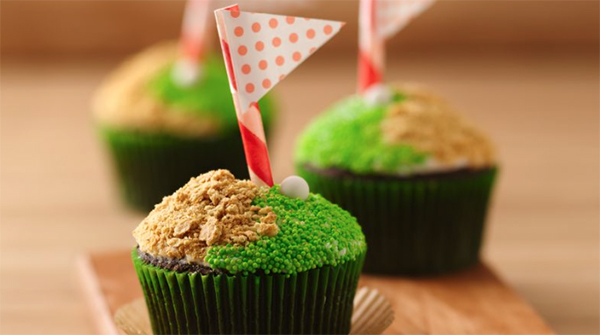 Ingredients
Cupcakes:
2 cups flour
1 1/4 teaspoons baking soda
1 teaspoon salt
1 cup hot water
2/3 cup unsweetened baking cocoa
2/4 cup shortening
1 1/2 cups granulated sugar
2 eggs
1 teaspoon vanilla
Vanilla Buttercream Frosting:
6 cups powdered sugar
2/3 cup butter or margarine, softened
3-4 tablespoons milk
Decorations:
3 graham crackers squares, crushed
1/3 cup green candy sprinkles
24 colored straws
Colored paper and tape
24 white gum balls or other round white candies
Directions
1. Heat oven to 350°F. Place paper baking cup in each of 24 regular-size muffin cups.
2. In medium bowl, mix flour, baking soda, salt and baking powder; set aside. In small bowl, mix hot water and cocoa until dissolved; set aside.
3. In large bowl, beat shortening with electric mixer on medium speed 30 seconds. Gradually add granulated sugar, about 1/4 cup at a time, beating well after each addition. Beat 2 minutes longer. Add eggs, one at a time, beating well after each addition. Beat in 1 teaspoon vanilla. On low speed, alternately add flour mixture, about a third at a time, and cocoa mixture, about half at a time, beating just until blended.
4. Divide batter evenly among muffin cups, filling each about two-thirds full.
5. Bake 20 to 25 minutes or until toothpick inserted in center comes out clean. Cool 5 minutes; remove cupcakes from pans to cooling racks. Cool completely, about 30 minutes.
6. In large bowl, mix powdered sugar and butter with spoon or electric mixer on low speed. Stir in 1 tablespoon vanilla and 3 tablespoons milk. Gradually beat in just enough remaining milk to make frosting smooth and spreadable. Frost cooled cupcakes.
7. On one side of each cupcake, sprinkle about 1/2 teaspoon graham cracker crumbs for "sand." On other side of cupcake, sprinkle generous 1/2 teaspoon green sprinkles for "grass."
8. Cut straws into 3 1/2-inch lengths. Cut colored paper into flags. Tape each flag to one end of each straw piece; poke into cupcake. Gently press one gum ball into each cupcake for golf ball.
(Recipe courtesy of Betty Crocker)