Grilled Honey Mustard Chicken Salad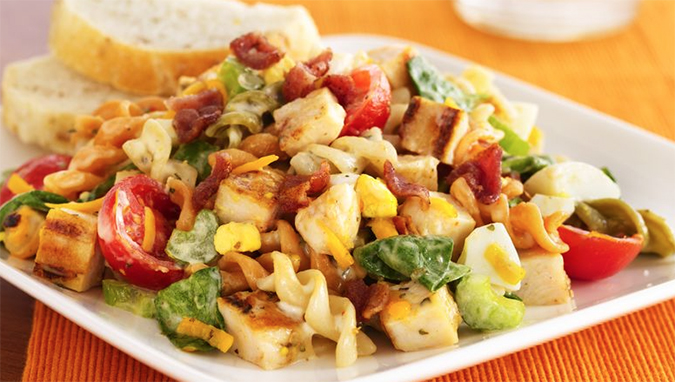 Ingredients
1 box Betty CrockerTM Suddenly Salad® classic pasta salad mix
1/2 cup mayonnaise
1 tablespoon honey mustard
2 cups cubed grilled chicken
2 cups washed fresh baby spinach leaves
1 cup cherry tomatoes, halved
1 stalk celery, chopped (1/3 cup)
1 cup shredded Cheddar cheese (4 oz)
3 hard-cooked eggs, coarsely chopped
3 slices bacon, crisply cooked and crumbled
Directions
1. Empty Pasta mix into 3-quart saucepan 2/3 full of boiling water. Gently boil uncovered 12 minutes stirring occasionally.
2. Drain pasta; rise with cold water. Shake to drain.
3. In large bowl, stir together seasoning mix, mayonnaise and honey mustard. Add pasta, chicken, spinach, tomatoes, celery, cheese and eggs; toss gently to coat. Top with crumbled bacon. Serve immediately, or cover and refrigerate 1 hour to chill.