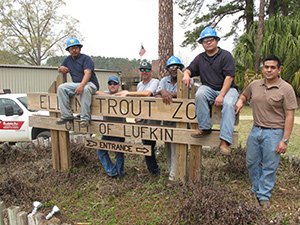 We are a celebration of family and community! Whether it's providing solutions in-store for a party at home or event at work, or counseling a customer on medication interactions, our experts are here to serve. The meat cutter you see in the market department may also be the little league coach. Your pharmacy tech may tutor at your child's school. A cashier may work at the local food pantry. We give of our time and our company gives of its resources through our donations process. We find that the relationships that start in our stores carry out into the world.
We Celebrate!
Fun Fests!
Fairs, festivals and celebrations weave into the very fabric of a community. We support local and statewide festivals that draw visitors to town and excite the folks who live there. The Texas Forest Festival, Fiddlers Frolics, Butterfly Festival, music festivals, watermelon festivals, and Cinco de Mayo celebrations are just a few we sponsor.
Ag is US!
4-H, FFA and FHA – these programs speak to us. We engage with our young people who work hard raising livestock throughout the year. Our Store Directors support hundreds of local programs and the students they serve.
Health Matters!
Your health is also important to us. On any given day you might find our pharmacy teams at health fairs, breast cancer awareness events, or diabetes clinics educating folks on how to take better care of themselves. Our passion to promote good nutrition takes us to school events where we show and tell about some of our favorite things like fruits and vegetables. We consider it our mission to equip our customers with the information they need to live well.
Life's a Zoo!
Lufkin's Ellen Trout Zoo is dear to us. America's Best Small Town Zoo is across from our Corporate Headquarters. Each spring our employee-owners invest a day of sweat equity building habitats, replacing fences, planting foliage and generally sprucing up the Zoo. The Zoo draws visitors from almost every one of our market areas. We love to support our neighbors at the Zoo throughout the year.
Every time a customer buys a box of ValuTime Animal Crackers, a portion of the purchase goes to the Ellen Trout Zoo. Now that's a partnership that serves many.
WE are Brookshire Brothers!
We are Brookshire Brothers and we are proud to be an employee-owned company. This sets us apart. It means each of our team members has an ownership interest in Brookshire Brothers. As owners, we not only invest in our company, we invest our time, talent and treasure in the communities where we live and work. It's a unique relationship that serves our employee-owners and our communities well.
Pay It Forward
Where will you find us? Wherever there is a need. Our customers help us feed the hungry by participating in the Brown Bags of Hope program in store. When customers purchase a Brown Bag of Hope, our staff distributes the bags to food pantries, veterans organizations and schools in their towns. Together we pay it forward!
We engage with our customers and with our towns in every way imaginable. On any given day you may find us supporting:
Food Banks
Hurricane/Disaster Relief
School Partnerships including Junior Achievement, Mentoring, Project Celebration
Environmental programs
Find out more about what we support »