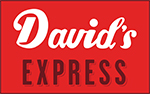 A blend of convenience and quality; that's what you'll find at our David's Express stores located in Itasca and Whitney. These stores cater to folks on the run who expect quality offerings and variety in a setting that's always convenient.
Offering fast meal solutions, pay-at-the-pump fuel, and an extended offering of items typically only found in traditional supermarkets allows us to deliver what our customers need when they need it. We are constantly evaluating our item selection to ensure our loyal customers can find the brands and variety that are important to them.
Convenience is key and that's what customers can expect at David's Express.