Thursday November 10, 2016
Cooking with Kate: A Thankful Heart
This year, more than ever, there seems to be a rush to skip over November and Thanksgiving and get right to the Christmas season. I am, however, clinging to my pumpkins, waiting for the leaves to fall and working on being thankful daily for this season. Thanksgiving is my favorite holiday, so I'm looking forward to spending time with my friends and family. I hope you take time, as you make your Thanksgiving plans, to gather around a table with your loved ones, share why you are thankful this year and enjoy this quick and easy recipe. Many blessings for a Happy Thanksgiving!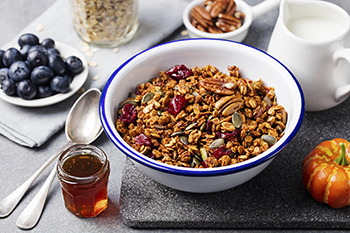 Pumpkin Seed Pecan Oat Granola                        
2 cups old fashioned rolled oats
12 ounces pecan pieces
¼ cup all purpose flour
2 teaspoons cinnamon
¼ cup brown sugar
2 sticks salted butter
12 ounces roasted pumpkin seeds
Preheat oven to 350°F. In a medium bowl, combine rolled oats, pecans, flour, cinnamon, and brown sugar. Add the softened butter and use a fork or pastry blender to combine until the oat mixture is crumbly and the butter is evenly distributed. Spread onto a greased cookie sheet and bake for 8-15 minutes in the preheated oven until golden brown and toasty. Watch closely as the pecans tend to burn easily. Remove from the oven, cool completely, and mix in the roasted pumpkin seeds. Store in an airtight container until ready to use.
NOTE: This granola is fantastic sprinkled on yogurt, fruit, and ice cream; or eaten with milk as a cold/warm cereal. You can also add your favorite dried fruit for an extra kick of flavor.
Click here to see other recipes from Brookshire Brothers Catering Coordinator, Kate Rudasill.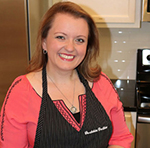 Kate Rudasill, Catering Coordinator for Brookshire Brothers, has been in the food-service industry for the past 14 years. As a graduate of Texas A&M University, a student of The Texas Culinary Academy, and a Nacogdoches, Texas native, Kate grew up with Southern tradition in her blood which caused her to have a deep love for bringing people together with food.
Monday October 17, 2016
Cooking with Kate: Happy Halloween!
It's hard to believe that Halloween is right around the corner...especially when it still feels a bit summery outside. Hopefully the temperature will drop some before the trick-or-treating weekend is upon us! Have some fun this year with your kiddos making these fun after-school and party recipes that are simple, quick, and delicious!
Toothy Apples
3-4 apples – Granny Smith, Gala, or Fuji
smooth or crunchy peanut or almond butter
mini marshmallows
Slice apples into quarters and remove the core. Slice each quarter in half and spread a small amount of peanut or almond butter on one of the sides. Add 5-7 mini marshmallow "teeth" to one slice and top with another slice, peanut butter side down to hold the marshmallows in place. Refrigerate your "toothy" apples until ready to serve.
Fall Party Snack Mix
6 cups Chex or Crispix cereal
1 cup mini pretzel twists
6 tablespoons butter, melted
¼ cup brown sugar
1 teaspoon cinnamon
1 cup peanut butter pieces or chocolate candies
1 cup mini marshmallows
1 cup candy corn or other fall candy
Pre-heat the oven to 275°F. Line a baking sheet with parchment paper and set aside. Melt the butter in a large bowl. Add the cereal and pretzels and toss evenly to coat. In a small bowl, mix the brown sugar and cinnamon, then toss with the cereal mixture to evenly coat. Spread the cereal mixture onto the baking pan and bake for 20 minutes. Cool the cereal mixture completely. Once cool, add the candy, candy corn and marshmallows. Serve in a large bowl for a party or package into small bags to give out to friends 
Spiced Apple Cider
Makes 16-20 servings
2 ½ quarts apple cider
24 ozs pineapple juice
24 ozs orange juice
1 teaspoon ground nutmeg
1 teaspoon ground cinnamon
4-6 cinnamon sticks
1 tablespoon whole cloves
In a large crock pot, mix apple cider, pineapple juice, orange juice, ground nutmeg, and ground cinnamon. Add cinnamon sticks and cloves (see note). Heat on high for 1 hour.  Turn heat to low and continue heating for 1-2 hours or until ready to serve. Refrigerate any remaining cider.
NOTE: If you have cheesecloth available, use a small square of cloth to wrap the cinnamon sticks and cloves and then tie with twine. Add to the pot and remove before serving. If cheesecloth is not available, use a slotted spoon to remove the cloves before serving.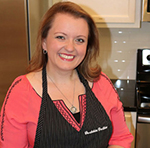 Kate Rudasill, Catering Coordinator for Brookshire Brothers, has been in the food-service industry for the past 14 years. As a graduate of Texas A&M University, a student of The Texas Culinary Academy, and a Nacogdoches, Texas native, Kate grew up with Southern tradition in her blood which caused her to have a deep love for bringing people together with food.
Monday August 8, 2016
Cooking with Kate: The Last Hoorah of Summer
It's August…otherwise known as the month that Texans wonder why they live in Texas! But besides the scorching temperatures and seatbelt buckle branding irons, August also means that school is just around the corner. Before school lunches, schedules, and report cards take over every thought – enjoy one last pool party or backyard barbeque with friends and one of these great recipes featuring some of our favorite summer fruits, available at your local Brookshire Brothers!
Amaretto Peach Parfaits
from Catering with Kate
4-6 cups sliced peaches
1 cup sugar
1 cup water
½ cup good quality amaretto liqueur
8 ozs mascarpone cheese
½ cup white sugar
2 tablespoons vanilla extract
3 cups heavy whipping cream
1-2 packages Amaretti or almond shortbread cookies
½ cup sliced or slivered almonds, toasted
In a small saucepan, bring water and sugar just to a boil, stirring occasionally, until the sugar is completely dissolved. Let cool completely. Add amaretto and mix well. In a large container with a lid, mix sliced peaches with the amaretto syrup. Refrigerate for at least 24 hours. In an electric mixer, beat mascarpone cheese, sugar, and vanilla until smooth and creamy. Set aside. With an electric mixer and the whip attachment, whip heavy cream until soft peaks form. Fold ¼ of the soft whipped cream gently into the cheese mixture until well blended. Continue whipping the remaining cream until stiff peaks form. Fold whipped cream into the cheese mixture, cover well, and refrigerate until ready to assemble. Crumble ½ of the cookies and leave ½ whole.
To assemble: In parfait or dessert glasses – add 3-4 sliced peaches with a small drizzle of the amaretto syrup, a small spoonful of mascarpone cream, 2-3 whole cookies and a small handful of cookie crumbs. Repeat layers 2 times (depending on the size of your glasses). Add another scoop of cream on top, another whole cookie, and a sprinkle of toasted almonds. Chill for up to 1 hour before serving.
NOTE: Amaretti cookies will get soft very quickly. If you prefer a bit of crunch in your dessert – wait until just before serving to add the top cookies and almonds.
Peach Blueberry Upside-Down Cake
Original Recipe from www.howtocakeit.com
For the batter:
1 cup butter, softened
2 cups sugar
1 teaspoon vanilla
4 eggs
1 cup milk
2 ½ cups all purpose flour
2 ½ teaspoons baking powder
½ teaspoon salt
For the cake:
6 peaches, pitted and sliced into 8 wedges each
¼ cup butter
¼ cup brown sugar
1 cup fresh blueberries
¼ cup sugar
1 teaspoon cinnamon
¼ teaspoon nutmeg
Whipped Cream, for serving
Preheat the oven to 350°F. Grease a 10" round cake pan with butter. Line with parchment paper on the bottom and sides and grease the paper with butter. For the batter: Using an electric mixer, cream butter and sugar until pale and fluffy. Add vanilla and eggs, and cream until well mixed. In a separate bowl, mix flour, baking powder, and salt. To the mixer, on low speed, add 1/3 of the flour mixture, then ½ of the milk. Continue alternately adding the dry ingredients and milk, ending with flour. Set the batter aside. In a medium skillet, melt 2 tablespoons of butter over medium heat. Add ½ the peach slices, sliced side down and not overlapping. Sauté for 1 minute and then flip to the other side. Sprinkle the slices with 2 tablespoons of brown sugar and sauté for another minute. Remove to a plate and repeat with remaining sliced peaches, butter, and brown sugar. In a small bowl, mix ¼ cup sugar with cinnamon and nutmeg. To assemble the cake for baking: In the bottom of the pan, arrange your peach slices in a single-layer, fanned out from the center, close together, but not overlapping. Sprinkle blueberries on top of peach slices. Carefully spread ½ of the cake batter over the fruit. Sprinkle with the cinnamon sugar, swirling it into the batter, and then spread with the remaining cake batter. Bake the cake at 350°F for 1 hour and 30 minutes or until a toothpick inserted in the center comes out clean. Allow the cake to cool for 15-20 minutes before inverting it onto a cake stand and removing the parchment paper. Serve warm or room temperature with whipped cream!
Wednesday July 13, 2016
Cooking with Kate: Sweet and Salty Chex Mix Recipe
You'll love this famous mix from Catering Coordinator, Kate Rudasill, featuring Pedernales Brewery's Robert Earl Keen Honey Pilsner!
Sweet and Salty Chex Mix
Ingredients:
1 cup light corn syrup
1 ½ cup light brown sugar
¾ cup butter
1 pinch baking soda
Robert Earl Keen Honey Pilsner syrup (recipe below)
12 cups assorted cereals – Golden Grahams, Cheerios, Chex, Kix, or Crispix
4 cups mini pretzel twists
2 cups assorted nuts – pecans, peanuts, almonds, cashews
Directions:
Preheat the oven to 250°F. Lightly grease a large, rimmed cookie sheet or large roasting pan. In a very large bowl, mix assorted cereals, nuts, and pretzels.
In a medium saucepan over medium heat, bring corn syrup, butter, and brown sugar just to a boil, stirring to dissolve sugar. Remove from heat and add baking soda and beer syrup, mixing well. Carefully pour over cereal mixture and toss to coat.
Spread mixture in greased pans. Bake in preheated oven for 1 hour, stirring every 15 minutes. Remove from oven, spread on waxed paper, and cool completely. Store in airtight containers.

Robert Earl Keen Honey Pilsner Syrup
1 (12 oz) can REK honey pilsner (from Pedernales Brewing Company)
½ cup granulated sugar
In a large saucepan over medium-high heat, bring the beer just to a boil, stirring frequently. Reduce the heat to medium, keeping the beer at a low simmer for 30-40 minutes until the beer has reduced to about ½ cup, stirring every couple of minutes so that it does not burn. Remove the saucepan from the heat and add the sugar. Stir until the sugar has completely dissolved. Use immediately or cool completely and store in an airtight container.
Note: Syrup can be stored in the refrigerator for up to 6 weeks. Let come to room temperature before using.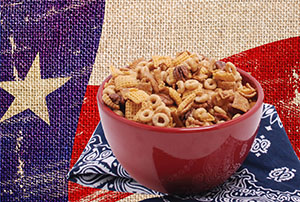 Tuesday July 5, 2016
Cooking with Kate: Beat the Heat with Sweet Nectarines!
June flew by this year, and before we noticed it's already July. I always forget how hot it gets during a Texas summer until we hit mid-July and it feels like the whole world is melting! But fortunately, we have two great recipes to help you beat the heat this summer with the July Produce Pick of the Month – nectarines! This fruit is similar to peaches, but slightly sweeter. And with its smooth skin, nectarines are in season throughout the summer. Pick some up today at your local Brookshire Brothers and try out these great recipes.
Strawberry Nectarine Bruschetta
½ cup strawberries, diced
1 nectarine, diced
1 baguette, sliced into ½ inch thick slices and lightly toasted
4 ozs goat cheese (we recommend MontChevré Fresh Goat Cheese – Honey, Lemon, or Blueberry Vanilla flavors)
1 tablespoon balsamic vinegar
5-6 fresh basil leaves, cut into thin ribbons
In a small bowl, mix the strawberries and nectarine pieces. Set aside. Spread the baguette slices with the goat cheese and top with the fruit mixture, pressing the fruit into the cheese to keep it in place. Drizzle with balsamic vinegar and sprinkle with the basil ribbons. Chill for up to 2 hours. Serve at room temperature.
Sweet Nectarine Sangria
1 bottle prosecco, champagne, or sparkling rosé, chilled
4 fresh nectarines, pitted
½ cup brandy or white rum
1, 11 or 12 oz, can peach nectar – Kern's or Jumex
Juice from 1 lemon
In a large bowl, add brandy or rum, peach nectar, lemon juice and cubed nectarines. Toss gently to coat. Cover and chill for at least 4 hours. Add chilled mixture to the bottom of a large pitcher. Top with prosecco or sparkling wine and serve immediately.
Friday May 20, 2016
Cooking with Kate: Blackberries, May & Summer
The month of May brings a welcome break from school and lots of anticipation for the summer. The days are getting longer, it is warm enough for swimming, and baseball season is in full swing. With the warmer weather, May also gives us an exciting array of fresh produce. Here are two recipes with the Produce Pick of the Month for May – blackberries!
Mascarpone Dip with Balsamic Basil Blackberries
1 container (8-9 ounces) mascarpone cheese
1/3 cup balsamic vinegar, good quality
1 tablespoon light brown sugar
1 (6 oz) package (1 ½ cups) fresh blackberries
2 tablespoons fresh basil leaves, thinly sliced
½ teaspoon freshly ground black pepper
1 large pinch sea salt
Assorted crackers, for serving
Bring vinegar and brown sugar to a simmer in a saucepan over medium-high heat. Simmer until reduced to 2 tablespoons. Pour into a medium bowl and let cool completely. Once cooled, gently stir in blackberries, basil, pepper and salt. Dip the bottom of the mascarpone container in a small bowl of very hot water for about 5 seconds. Using a rubber spatula, unmold mascarpone onto a serving platter. Spoon blackberry mixture over mascarpone, being sure to scrape all the juices out of the bowl. Serve with assorted crackers.
Blackberry Skillet Cake
1 ½ cups all-purpose flour
1 ½ teaspoons baking powder
¼ teaspoon fine salt
10 tablespoons unsalted butter, room temperature, divided
¾ cup granulated sugar
2 large eggs, room temperature
2 teaspoons pure vanilla extract
½ teaspoon grated lemon zest
½ cup whole milk, room temperature
1/3 cup dark-brown sugar
3 cups fresh blackberries
Preheat oven to 350°F. In a medium bowl, whisk together flour, baking powder, and salt. In a large bowl, using an electric mixer, beat 6 tablespoons butter and sugar on high until light and fluffy. Beat in eggs, vanilla, and zest until combined. With mixer on low, add ½ of the flour mixture, then the milk, then the remaining flour mixture. Blend until combined.
In a 10-inch, oven-proof skillet, melt remaining 4 tablespoons butter over medium heat. Add brown sugar and cook, stirring constantly for until bubbly (about 30 seconds). Remove from heat and arrange blackberries evenly in skillet. Pour cake batter over berries and smooth top. Bake in preheated oven until cake is deep golden brown and a toothpick inserted in center comes out clean, 35 to 40 minutes. Let cake cool in skillet on a wire rack for 5 minutes. Run a knife around edge and carefully invert cake onto a serving plate. Serve warm or at room temperature with whipped cream.
Monday March 21, 2016
Cooking with Kate: Stroll Into Spring
Springtime is finally here! Even with the mild winter, it's great to see the sunshine and the azaleas, daffodils, and dogwoods in full bloom. This time of year brings Easter celebrations, ball games, and family picnics. Here are two quick and easy dishes that are sure to please at any potluck.
Glazed Ham with Pineapple and Thyme
1 (8-10 lb.) boneless, smoked ham
2 cups pineapple juice
½ cup brown sugar
1 tablespoon fresh thyme leaves 
Preheat oven to 325°F. Spray a deep, 9" X 13" aluminum pan with non-stick spray. Cut ham in half lengthwise and then slice into ¼" – ½" slices. Lay slices in sprayed pan. Pour juice over ham slices. Sprinkle with brown sugar and thyme. Tightly wrap the pan with aluminum foil and bake in preheated oven for 2 ½ - 3 hours or until ham slices are heated through. Keep warm to serve.
Cheesy Corn Casserole
1 can whole kernel corn, drained
1 can creamed-style corn
1 cup sour cream
½ cup butter, melted
2 cups shredded cheddar cheese            
1 box Jiffy corn muffin mix
salt and pepper
Preheat the oven to 350°F. Spray a 9" X 13" baking dish with non-stick spray. In a large bowl, mix all ingredients until just combined. Pour mixture into sprayed pan. Do not cover. Bake in preheated oven for 30-45 minutes or until golden brown. Let casserole sit for 10 minutes before serving.
Tuesday January 26, 2016
Cooking with Kate: Heart Health & Valentine's Day
February is American Heart Month! What better way to celebrate the heart holiday then to get heart healthy?
Here are some simple tips for heart-healthy eating:
Use olive oil instead of butter.  Olive oil is rich in antioxidants and helps lower cholesterol.
Go nuts! Almonds and walnuts are packed with protein and fiber, and can help lower bad cholesterol levels.
Pump up potassium! Potassium-rich foods like oranges and low-fat yogurt help control blood pressure.
Eat more fish! Especially salmon or tuna that are high in Omega-3s. Check out the glazed salmon recipe below for a quick, heart-healthy dinner.
Add flavor to chicken and fish with fresh herbs (rosemary, dill, oregano, thyme, rosemary) instead of salt, butter, or oil).
Have a Happy and Heart-Healthy Valentine's Day!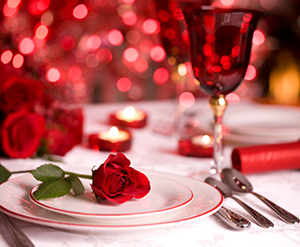 Citrus-Honey Glazed Salmon with Wild Rice and Sugar Snap Peas with Toasted Almonds
½ teaspoon fresh ginger, peeled, grated
2 cloves fresh garlic, minced, divided
1 ½ tablespoons olive oil, divided
2 teaspoons low-sodium soy sauce
1 teaspoon honey
2 tablespoons fresh or jarred lemon juice (1 lemon), divided
2 tablespoons chopped fresh basil or 1 tablespoon dried basil
1 lb. boneless, skinless salmon fillets, cut into 4 pieces
4 lemons, thinly sliced
1 package wild rice mix, cooked according to package directions
1 lb fresh sugar snap peas
2 tablespoons chopped fresh flat-leaf parsley
2 tablespoon sliced almonds, toasted
¼ teaspoon lemon zest
salt and pepper, to taste
Preheat oven to 450° F. In a large bowl, combine ginger, ½ of the garlic, 1 tablespoon olive oil, soy sauce, honey, ½ of the lemon juice, and basil. Add salmon fillets, tossing gently to coat, and marinate in the refrigerator for 10 minutes.
Prepare rice according to instructions on package, excluding any salt, oil, or butter. Cut 8 pieces of aluminum foil; wide enough to fit one piece of salmon and ¼ of the snap peas. Remove fish from marinade and discard remaining marinade. Arrange lemon slices on top and bottom of fish fillet. Place one fish fillet and ¼ of snap peas together on one piece of foil. Cover with another piece of foil and tightly fold together top and bottom edges of foil to create a seal to the steaming pouch. Repeat with remaining fillets and snap peas. Place packets on baking sheet and bake for 12 minutes.
In a small bowl, mix remaining garlic, ½ tablespoon olive oil, remaining lemon juice, parsley, almonds, lemon zest, and salt and pepper. When packets are finished baking, carefully cut them open. Divide the almond mixture evenly over the snap peas and stir to coat. To serve, place salmon fillets over wild rice and add seasoned snap peas.
Wednesday December 30, 2015
Cooking with Kate: Fight the Blues in 2016
The holidays are over, and winter, it seems, is finally upon us with cold temperatures and gloomy days. But with New Year's Eve and the 2016 coming quickly, there is no time to be overtaken by winter blues. Use these tips to take on the new year and keep those winter blues away:
Get some sunshine! Sometimes it's hard to do because of our unpredictable Texas weather, but 20-30 minutes of sun a day allows your body to produce much needed Vitamin D.
Eat high energy, low sodium snacks like the easy Cocoa Almond Trail Mix recipe below.
Get some exercise! 30 minutes of moderate exercise, 4-5 times a week boosts adrenaline and increases energy.
Turn up the tunes! Listening to upbeat, cheery music can help brighten your mood.
Get outside! Fresh air and spending time outside can reduce stress. Even if the weather is cold – bundle up and take a walk through the woods or go for a family bike ride.
Cocoa Almond Trail Mix
2 tablespoons unsweetened cocoa powder
2 teaspoons brown sugar
½ cup whole almonds
1 teaspoon honey
½ teaspoon vanilla extract
½ cup dried apricots, quartered
½ cup dates, halved
½ cup unsalted pecan halves, dry-roasted
½ cup unsalted peanuts, dry-roasted
¼ cup unsalted sunflower seeds, dry-roasted
¼ cup raisins
In a small bowl, stir together the cocoa powder and brown sugar. In a small skillet, heat the almonds, honey, and vanilla over very low heat for 1 to 2 minutes, or until the honey has melted and the almonds are sticky, stirring constantly. Add the almonds to the cocoa powder mixture, stirring to coat well. Add the almonds to a fine-mesh sieve, shaking gently to remove the excess cocoa. In a large bowl, stir together the almonds and the remaining ingredients. Store in an airtight container for up to one week.
Many blessings for a Happy New Year to you and your family! 
Tuesday December 1, 2015
Cooking with Kate: It's the Most Wonderful Time of the Year
Christmas season is here! Bring on the twinkle lights, hot chocolate by the fireplace, and fun times with family and friends at a myriad of Christmas parties. With all the hustle and bustle, it's easy to get overwhelmed by party details. Whether you're serving adults or a roomful of kiddos, keep things simple and quick with a few make-ahead appetizers and a decked out hot chocolate bar. Here are two crowd pleasing party appetizers and my favorite recipe for homemade hot chocolate mix.
Merry Christmas to you and your family as you celebrate this season!
Polish Mistake(s)
1 lb lean ground beef
1 lb Owens hot ground sausage
1 lb Velveeta cheese, cubed
½ teaspoon Worcestershire sauce
½ teaspoon garlic powder
½ teaspoon onion powder
½ teaspoon oregano
2 packages cocktail rye bread 
In a large skillet, brown ground meat and sausage over medium high heat until fully cooked. Drain well. Add cubed Velveeta cheese to the meat mixture and heat until melted. Add remaining ingredients and stir well. Mixture can be made up to 4 days ahead of time and refrigerated. To serve – Preheat oven to 350° degrees. Spread meat mixture over sliced cocktail rye and place on cookie sheets. Bake for 10-15 minutes until bubbly and lightly browned. Enjoy immediately.
Pinecone Dip
2 (8 oz) packages cream cheese, softened
1 package Hormel dried beef, diced
1 bunch green onions, thinly sliced
1 small can chopped black olives
3 tablespoons Accent seasoning
1 bunch flat leaf parsley, chopped (no stems)
1 small package sliced almonds
assorted crackers and pita chips, for serving
Blend cream cheese, dried beef, green onions, black olives and Accent seasoning in medium bowl until well combined. Shape into desired shape (pinecone or Christmas tree, etc) on serving platter. Press sliced almonds into dip to resemble a pinecone and sprinkle with chopped parsley. If making a Christmas tree – use almonds as tree trunk, chopped parsley as leaves/needles, and pieces of red/yellow bell pepper as ornaments. Cover and chill well until ready to serve. Dip can be made up to 2 days in advance.
FC's Hot Chocolate Mix
1 cup powdered coffee creamer, original or plain
1 ½ cups powdered sugar
2 ¾ cups powdered chocolate milk mix (like Nestle Quick)
3 cups powdered milk
1 tablespoon cinnamon
Mix all ingredients in a large air tight container. Hot chocolate mix can be stored for up to one year in an airtight container in a cool, dry area. To use: Mix 2-3 tablespoons of mix with 8-10 ozs hot water until blended. Add additional mix to taste.
Topping ideas for the hot chocolate bar:
whipped cream
chocolate and caramel syrups
mini marshmallows
flavored marshmallows – French vanilla, peppermint, toasted coconut, cinnamon bun, pumpkin spice
Kraft caramel bits (small balls of caramel used for caramel apples)
Andes mint pieces (found on the baking aisle near the chocolate chips)
Heath toffee bits (found on the baking aisle near the chocolate chips)
Chopped peppermint bits (use soft peppermint sticks)
Pages