Caramel S'more Cups
(Recipe courtesy of Betty Crocker)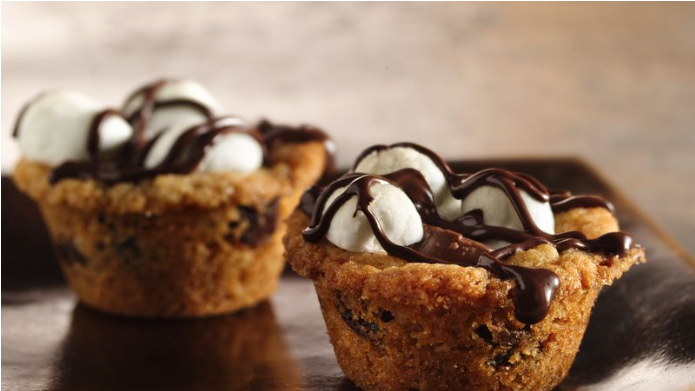 Ingredients
1 pouch (1 lb 1.5 oz) Betty Crocker™ chocolate chip cookie mix
1/2 cup butter or margarine, softened
1 egg
36 round chewy caramels in milk chocolate, from 5 (1.91-oz) rolls, unwrapped
108 mini marshmallows (1 cup)
1/2 cup semisweet chocolate chips
Directions 
Heat oven to 375°F. Spray 36 mini muffin cups with cooking spray.
Make cookie dough as directed on package, using butter and egg. Shape dough into 36 (1-inch) balls. Place 1 ball into each muffin cup.
Bake 8 to 9 minutes or until edges begin to brown. Remove from oven; firmly press 1 candy into center of each cookie until flush with cookie top. Top each with 3 marshmallows. Bake 2 to 4 minutes longer or until marshmallows are puffed. Cool 30 minutes. Loosen edges of cookie with small metal spatula and remove to cooling racks. Cool completely.
Place chocolate chips in small resealable freezer plastic bag. Microwave on High about 1 minute or until softened. Gently squeeze bag until chocolate is smooth; cut off tiny corner of bag. Squeeze bag to drizzle chocolate over marshmallows. Let stand until hardened, about 10 minutes.