Brookshire Brothers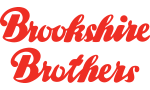 Since 1921, Brookshire Brothers has been the destination of choice for generations of proud Texans and Louisianans who demand the best for their families. Each Brookshire Brothers store has its own unique identity to best fulfill the needs of the community it serves. Our mission is simple: Provide an exceptional shopping experience resulting in complete customer satisfaction.
At Brookshire Brothers, customers depend on our food experts for innovative solutions. It is that atmosphere of service that sets us apart. You'll meet experienced meat cutters, creative cake decorators, professional pharmacists and friendly customer service teams all eager to make your shopping experience exceptional.
The freshest produce, the highest quality meats, and our famous fried chicken are just a few of our signature products. Our customers have come to expect us to not only stock these time-tested favorites, but offer the latest in new products. We're proud to offer an extensive selection of locally grown and sourced items from across Texas and Louisiana.
You'll find friendly folks, invested in their communities, who take pride in serving our customers and their families. We're proud to be your hometown store and invite you to come experience the difference.